Posted on
Tue, Apr 27, 2010 : 1:50 p.m.
Michigan athletic director Dave Brandon: more Michigan Stadium expansion ahead?
By Michael Rothstein
Ongoing renovations of Michigan Stadium aren't complete yet, but that hasn't stopped Michigan athletic director Dave Brandon from pondering future expansions of the venue.
Nothing is imminent, Brandon said Monday. But in looking at future sketches of scoreboards, some options added seats. Michigan Stadium currently has a 106,201 capacity.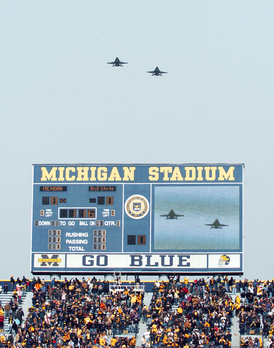 Ann Arbor News file photo
"The reality is the scoreboards are old. They are old technology," Brandon said after appearing on the Michigan coaches show Monday night. "So when you start looking at whatever you're going to do with the scoreboard, there's all kinds of things you can do with where you put the scoreboard and what kinds of things you put around it. I've already looked at sketches at what that might look like, and one of the scenarios could add a few seats. We don't have to, but we could.
"The key thing is that stadium is really flexible in terms of things you can do. So it's fun to kind of think about what's next. But Crisler is first."
The construction of the Player Development Center adjacent to Crisler Arena is expected to begin almost immediately after Saturday's commencement ceremonies. The renovation of Crisler Arena is expected to begin in 2011.
Brandon said they won't have updated numbers on how many suites have been sold for "another few weeks" as they wait on hearing from some potential buyers who visited during the spring game.
"It's a high priority and big opportunity for us," Brandon said.
Another potential addition in the future is lights to Michigan Stadium although Brandon said that isn't in plans currently.
When asked about night games in the stadium - Michigan will play host to its first one in 2011 when Notre Dame visits Ann Arbor - Brandon said the stadium has the capability of adding lights to the stadium.
"There's no plans to do that right now," Brandon said.
Michael Rothstein covers University of Michigan sports for AnnArbor.com. He can be reached at (734) 623-2558, by e-mail at michaelrothstein@annarbor.com or follow along on Twitter @mikerothstein