Posted on
Sun, Feb 5, 2012 : 6:10 p.m.
Michigan basketball team's Tim Hardaway Jr. struggles again; is chemistry the issue?
By Kyle Meinke
EAST LANSING — For all the praise that has been heaped on Trey Burke this season, it's never been more apparent how much this Michigan basketball team needs Tim Hardaway Jr. to play well.
On Sunday, and too often this season, he did not.
The sophomore's slump worsened against rival Michigan State in a 64-54 loss as he went a career-worst 1-of-10 from the field. He was 0-of-3 on 3-pointers and finished with a season-low four points.
His play fueled the Breslin Center crowd, which frequently taunted him with chants of "Daddy's better" and "Not like Daddy." Daddy, former NBA star Tim Hardaway Sr., sat in front of the Izzone, just a couple of rows behind the Michigan bench.
It wasn't just the erratic shooting against the Spartans, either. Hardaway had only one rebound — none on defense — and two assists. He said his shooting ills have not affected other parts of his game, but it's hard not to imagine the two could be correlated.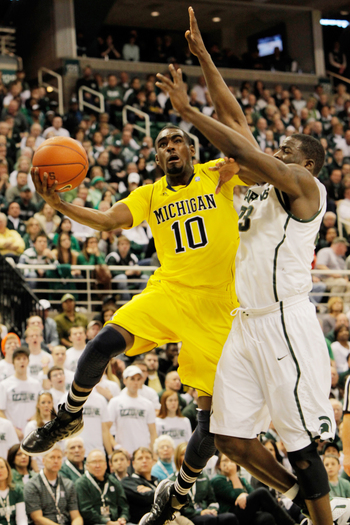 Chris Asadian | AnnArbor.com
Most disconcerting, though, is this game is not isolated. The sophomore, once expected to be Michigan's go-to player this year after the departure of point guard Darius Morris, has failed to score in double digits six times.
The Wolverines, who are 17-7 overall, are just 2-4 in those games.
Hardaway shot just 30.6 percent in Michigan's seven losses, including an anemic 15.8 percent (6-of-38) on 3-pointers.
The Wolverines' success clearly is tightly tied to the play of their scuffling wing man — as well as Burke, their star point guard who has burst onto the scene this season.
But Hardaway, who shredded defenses last year alongside Morris, said his chemistry with Burke, a true freshman, is coming along "a little more slow(ly)" than he would like.
"But it's not just me and Trey, it's the whole entire team," Hardaway added. "The chemistry is there, we just need it to be on a consistent basis. Just try to make a consistent effort.
"(Burke) still is learning where people are on the floor, and he's just got to keep working at it. We trust him with the ball 100 percent, and he's making the right plays."
Hardaway wasn't pinning his problems on Burke. He was accountable for his play, and gave a nod to Michigan State's defensive effort against him. However, it's clear he's not entirely comfortable with Burke.
Burke, for his part, said "we're cool on the court," but added that his chemistry is "sometimes" off with Hardaway.
"But we're going to have each other's back," Burke added. "He's our best player, we know that. If he's not hitting, we're going to have to win it on the defensive side."
When asked how the Spartans were so effective in shutting down Hardaway, Michigan State coach Tom Izzo first credited the job done by Branden Dawson and Brandon Wood.
Then, in the next breath, he jumped right to Burke.
"What we did was we shut down Burke's penetration a little bit, and their overall penetration, and that's how Hardaway gets shots," Izzo said. "So, it wasn't just shutting down Hardaway, it was shutting down how Hardaway gets shots.
"I don't think he got into the rhythm he normally gets in because of how they run things."
As Hardaway's misses piled up, Wood noticed a change in his counterpart's body language.
He became more passive.
"He wasn't as aggressive as I thought he would be," Wood said. "But when we have six eyes watching him and Burke at all times, and he's seeing someone on help side, it's hard to drive and create your own shot."
Hardaway had a similar defeated body language after the game. As the media entered Michigan's locker room, he was slumped in his locker, scowling, mouthpiece still in as assistant coach LaVall Jordan whispered in his ear.
First question: Did you ever feel like you were in sync, offensively?
"I can't even answer that question," Hardaway replied. "They came out with a good game plan and executed it."
Later: Are you starting to feel the pressure as the misses mount?
"Yeah, you feel the pressure add (up)," he said. "It all depends on whether you want to take it on."
Then I asked him if he's identified what's wrong with his shot right now.
"It's just not going in," he fired back. "The ball isn't going in the basket. It's point blank. And there's nothing else to talk about. It's just not going in."
What can you do to fight that?
"Just keep shooting open shots," he said. "I felt some of the shots I took were good, and some people disagree. ... Just trying to knock one down, and, unfortunately, it didn't happen today."
Michigan needs him to hit, and it needs him to get on the same page as Burke.
Or, there's going to be more days like this one.
Kyle Meinke covers Michigan football for AnnArbor.com. He can be reached at 734-623-2588, by email at kylemeinke@annarbor.com and followed on Twitter @kmeinke.