Posted on
Fri, Feb 3, 2012 : 12:12 p.m.
Michigan coach Brady Hoke says there is no Big Ten gentlemen's agreement; Dantonio, Bielema disagree
By Kyle Meinke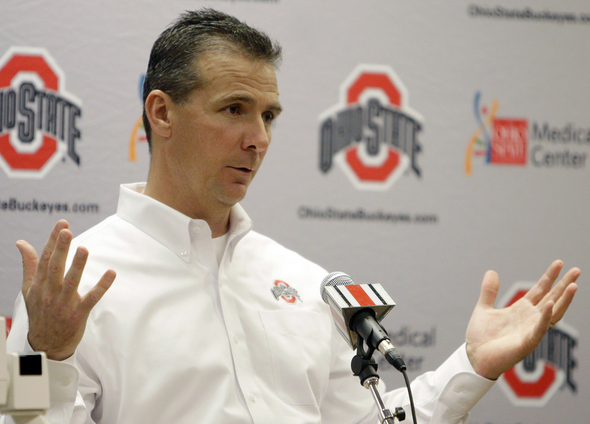 AP Photo
There sure is a lot of animosity in the air, for a league with a supposed agreement among gentlemen.
Welcome aboard, Urban.
Wisconsin coach Bret Bielema has called the recruiting tactics of new Ohio State coach Urban Meyer "illegal," citing a so-called "gentlemen's agreement" that Big Ten coaches will not recruit players who have verbally committed to another league school.
Bielema told Sporting News that Badgers athletic director Barry Alvarez would be talking to Big Ten commissioner Jim Delaney today in Chicago about Meyer's tactics.
However, Michigan coach Brady Hoke said Thursday night in an interview with an Ohio TV station that there isn't a gentlemen's agreement.
"As far as I've known, it's always been fair game until they sign," said Hoke, who's been in the league one year as a head coach and seven as an assistant. "I don't have as much a problem with that and, hopefully, we don't get too many of those that go away from you.
"But, I don't think there needs to be an agreement, to be honest with you. Kids are going to be kids. They're 18 years old, 17 years old. As long as everything has been handled in an ethical manner and professional manner, and by the rules, I don't have a problem with it."
Michigan's recruiting class is fourth according to Scout and sixth according to Rivals. Ohio State's is third and fourth, respectively.
Hoke poached one Ohio State recruit in five-star offensive lineman Kyle Kalis, who experienced backlash in the state for his decision. Meyer has not flipped a Michigan recruit -- yet.
He's flipped several others, though. In fact, eight of his first 10 recruits at Ohio State had verbally committed to other schools.
Michigan State coach Mark Dantonio lost his top prospect, defensive lineman Se'Von Pittman, to Meyer. The Spartans' recruiting class has since fallen to 36th in the country according to Scout and 39th according to Rivals.
"(Ohio State has) a new coach, and it's different," Dantonio told the Detroit News. "I would say it's pretty unethical, in the end."
Bielema echoed those sentiments after losing prized offensive lineman Kyle Dodson to Ohio State on signing day.
"There are a few things that happened early on that I made people aware of that I didn't want to see in this league, that I had seen take place in other leagues," Bielema said on Wednesday. "Other recruiting tactics, other recruiting practices that are illegal.
"I was very up front and was very pointed to the fact, actually reached out to Coach Meyer and shared my thoughts and concerns with him. The situation got rectified."
Meyer responded to the swirling criticism Friday morning, according to fan site the OZone. He seemed unfazed by the kerfuffle.
"You're pissed because we went after a committed guy?" he said at the Ohio High School coaches clinic. "Guess what? We got nine guys who better go do it again. Do it a little harder next time."
Kyle Meinke covers Michigan football for AnnArbor.com. He can be reached at 734-623-2588, by email at kylemeinke@annarbor.com and followed on Twitter @kmeinke.