Posted on
Tue, Mar 13, 2012 : 3:01 p.m.
Michigan football coach Brady Hoke says 'Ohio' not disrespectful to Bobcats; won't stop using it
By Kyle Meinke
Brady Hoke, just like millions of people in this country, sat down Sunday night to watch the NCAA tournament selection show.
As the Michigan basketball team's seeding flashed across the screen, wife Laura sitting next to him, the Michigan football coach knew where this was headed.
The Wolverines will play Ohio on Friday night in Nashville, Tenn. That's Ohio University, and not Ohio State, which Hoke calls Ohio. Got that straight?
"I thought it was ironic," Hoke told AnnArbor.com during an interview in his office Tuesday. "But it's Ohio. Ohio University. The Bobcats."
Hoke has called the Buckeyes "Ohio" since he was a 10-year-old in Dayton, Ohio. He started doing it to irk buddies, who were Buckeyes fans, he said. Even then, growing up in the heart of Ohio, he was a Michigan fan.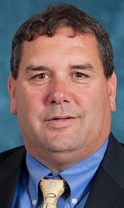 He never gave it up. And, after refusing to use "Ohio State" in a news conference after his hiring, it has become more or less institutionalized at Michigan. "Ohio" was used on the scoreboards at the Big House and Crisler Center. Fans chant "Beat O-hi-o," rather than the old refrain "Beat the Buck-eyes."
Wolverines basketball coach John Beilein and athletic director Dave Brandon also have picked up the naming convention.
So when Michigan's pairing against the real Ohio was released, Hoke knew he would have some explaining to do this week.
"Oh yeah, there's no question," he said. "You guys (the media) aren't dumb. Sometimes, dumb questions, maybe. But there's a difference between the two. We're playing Ohio University."
It's not all fun and games, though, after Ohio basketball coach Jim Groce called the system "disrespectful" last month in an interview with Ohio's student-run newspaper, The Post.
"It is kind of disrespectful, but it is what it is," said Groce, who also is a former Ohio State assistant. "You can't control what other people say. You can only control what you're doing on a daily basis. That's how we operate here, and I can assure you that's how Coach Matta operates in Columbus."
Hoke said he had not previously heard the quote, but didn't back down when it was relayed to him.
"It's his opinion," Hoke said. "It's not (disrespectful). We have a lot of respect for Ohio."
Can Hoke envision a scenario in which he would stop using Ohio as way to reference Ohio State?
"No," he said. "I've been doing if for 43 years. I'm 53 years old. I was 10 years old when I started the Ohio, and I'm not stopping now.
"Believe me, I get all kinds of letters from both sides."
Kyle Meinke covers Michigan football for AnnArbor.com. He can be reached at 734-623-2588, by email at kylemeinke@annarbor.com and followed on Twitter @kmeinke.