Posted on
Wed, Mar 30, 2011 : 2:43 p.m.
Michigan football defensive coordinator Greg Mattison encouraged by Wolverines' intensity
By Pete Bigelow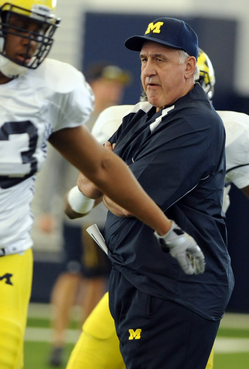 Melanie Maxwell | AnnArbor.com
Hours after Greg Mattison accepted his job as defensive coordinator of the Michigan football team, he asked his son, Bryan, to pack some of his belongings from their house in Mishawaka, Ind. One item stood out. "I said, 'Make sure you get my Michigan Rose Bowl ring,'" said Mattison, who had previously served as an assistant coach at the school from 1992 to 1996. "He said, 'C'mon, Dad.' I said, 'Seriously, I want that.' Really, it's a reminder of how proud I am to be back. Now our goal is to get more of those."
Two months into his new job, Mattison has made the most progress toward that goal since the Wolverines opened their spring football practice schedule two weeks ago. The annual spring game is scheduled for April 16 at Michigan Stadium. Six practices into the spring, he likes what he sees from a defense that ranked last in the Big Ten in 2010 in points allowed (35.2) and yards allowed (450.8) per game.
At first, that might sound like an odd sentiment from a coach who said Wednesday that he has retreated from ambitious plans to install the team's entire defensive scheme this spring in favor of extra work on fundamentals.
"Their grasp hasn't been what I thought it would be, but their 'want to' is good," Mattison said. He's more encouraged by that than whatever technicalities Michigan endures as it adjusts to the 4-3 defense. "If anything, I get more enthused every day, because of who we're working with. It's like taking the guys and molding exactly how you want to," he said. "I mentioned to my wife that I can't remember coaching, where you come into a meeting room every day and the players sit there like, 'Coach, what can we do?'" He knows the interest is genuine because he sees the corrections suggested in meetings made on the practice field the next day, possibly none more noticeable than the ones made by Cam Gordon. Only a sophomore, Gordon has already been on a whirlwind in his Michigan career. Last spring, he switched from wide receiver to safety, where he started seven games in 2010. Midway through his redshirt freshman season, he moved to the team's hybrid linebacker position. Gordon will play the SAM linebacker position in Michigan's 4-3. "The one guy - I should have mentioned this earlier - who has improved the most and I have really become excited about," Mattison said. "I really have high hopes for him." Another young player on Mattison's radar through six practices: sophomore defensive end Jibreel Black, who has already drawn comparisons to teammate Craig Roh. "Jibreel Black has shown signs of being an explosive-type guy that we're looking for," Mattison said. "On some days, (he) looks as good as Craig or better." Pete Bigelow covers Michigan football for AnnArbor.com. He can be reached at (734) 623-2556, via email at petebigelow@annarbor.com and followed on Twitter @PeterCBigelow.