Posted on
Sun, Jun 17, 2012 : 5:59 a.m.
Michigan football program on 'cutting-edge' of concussion research, protocol and prevention
By Kyle Meinke
Brady Hoke started playing football in the third grade, developed into a standout at Fairmont East High School in Kettering, Ohio, and later played linebacker for Ball State.
He suffered concussions throughout his career. He can't recall how many, but remembers how they were sometimes treated.
"You kept playing," the Michigan football coach said last week.
The world has evolved a lot in the past 30-plus years.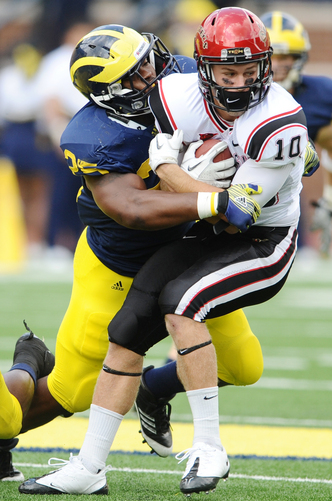 Melanie Maxwell | AnnArbor.com
Head injuries have always been part of the sport's fabric -- it is, after all, a violent game. But due to a confluence of factors -- most recently the suicide of former NFL players who suffered head trauma during their careers -- the injury is receiving heightened attention.
More than 2,000 former players have filed suit against the NFL, accusing the league of concealing the harmful long-term effects of head injuries. Those include early onset dementia and brain breaks, which can lead to depression.
That movement comes as players are becoming bigger, faster and stronger, which yields more high-speed collisions. Techniques also have shifted, with greater emphasis placed on hard hits rather than sure tackles.
The result: Concussion diagnoses at the high school and college level are up around 30 percent since 2006, according to Michigan football neurologist Jeffrey Kutcher.
Yes, the Wolverines have their own full-time neurologist.

Michigan takes
innovative approach

Michigan is the only Big Ten football team with a full-time staffer dedicated to head injuries. Kutcher, who was hired by the university's medical school in 2003 and began working as a part-time volunteer with the athletic department shortly after that, said he isn't aware of another FBS team that employs someone such as himself.
That has helped propel the Wolverines to the frontier of concussion research, protocol and prevention.
"It has been a process of growth, to the point where we really do have a very cutting-edge relationship," Kutcher said. "It's something other programs have started to do. They've looked at our program as a model, and we're very proud of that fact.
"Being at a place like Michigan, which has one of the best medical schools in the country, a health system that is really vibrant, in combination with the athletic program and having that block M, this was the perfect place to start a new field of medicine, which is essentially what we've done."
In addition to his landmark position with Michigan, Kutcher consults with the NCAA's Competitive Safeguards Committee, which oversees the rules and safety of college athletics. He helped author the NCAA's concussion policy in 2010, and the Big Ten's groundbreaking concussion policy later that year.
Kutcher also directs the NBA's concussion program and is a consultant to the NHL Players Association. He has testified before U.S. Congress on helmet and equipment safety.
He recently received a $400,000 grant from the NCAA that will allow him to conduct a long-term study that examines the effects of head injuries. Michigan football players will be included in the study.
That wide-ranging expertise is a major asset for the Wolverines, especially when it comes to the difficult task of diagnosing concussions.

Recognizing concussions

Kutcher declined to cite specific concussion stats for the Michigan football team, but did say college programs typically sustain more than the dozen or so concussions that occur annually on high school teams.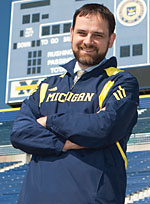 U-M Photo Services
He said the 30-percent spike in concussion diagnoses in high school and college is partly due to better awareness of concussions, rather than an actual spike in injury occurrence. The difficulty of identifying a concussion contributes to that noise in the data.
Since each brain functions differently, there isn't an objective test for diagnosing concussions. The only way to determine whether one has occurred is to measure current brain function, and compare it to a previously established baseline function.
Recognizing the finer points of brain injury is where a specialist such as Kutcher can aid a program.
"You have to have a skill of sorting through all the different variables, and that is something I think neurology as a specialty brings to the table," Kutcher said. "Not to knock anybody else, but that is just what we do."
Kutcher said players haven't always been receptive to seeking medical attention for an injury that, in many cases, isn't outwardly visible. For years, players continued playing even after "seeing stars" or other tell-tale signs a concussion has occurred.
"Players tell me exactly what it was like years ago -- that they would have played whole games, and not remember the games afterward," Kutcher said. "That was just part of it. You wouldn't really say anything, and just keep going."
That culture is changing.
Kutcher said he now has players coming to him more than ever about possible head injuries, either because they think they suffered one or a teammate is playing through one.
He thinks that is partly due to educating the players on the harmful long-term effects of the injury. He addressees the team before each season on the issue.

Preventing concussions

Michigan also is working to prevent concussions from happening in the first place. That starts with outfitting players with proper equipment, such as a well-fit helmet.
Quarterback Denard Robinson switched helmets before last season, for example. After meeting with equipment manager Jon Falk, Robinson, a dual-threat quarterback who has averaged 18.3 carries per game as a starter and is susceptible to withering collisions because of his speed, elected to swap his Riddell for a better-fitting -- and, in his case, safer -- Schutt.
Michigan also uses a third brand, Xenith. Players use whichever model best fits their head.
Kutcher said proper technique also is paramount to concussion prevention.
"The point is not to emphasize hitting, but tackling," he said. "I think if you watched football 20 years ago, and you watched it today, you would see a lot more hitting now.
"Players are getting in a position to deliver a force that is as powerful as it can be, regardless of the likelihood that it will stop the person."
Kutcher said properly enforcing current rules -- notably those that prohibit head-to-head collisions -- would help stem concussions. But that hasn't been the case, he said, and it's something the NCAA is addressing right now.
As for rule changes, momentum seems to be building to address the highest-impact play in football, the kickoff.
The NFL moved its kickoffs from the 30- to the 35-yard line before last season, and it says concussions dropped by 40 percent on that play (and 12.5 percent overall).
College teams already kick from the 35-yard line, but some administrators favor amending that.
"We have to do a lot of what you see the NFL doing, eliminating the most dangerous plays," Michigan athletic director Dave Brandon said. "The kickoff is clearly one of them. There's things we should be doing with the rules."
Another powerful athletic director backs getting rid of them all together.
"If it was up to me, (kickoffs) would be short-lived," Ohio State's Gene Smith said. "I coached special teams at Notre Dame for four years. ... I picked guys who were kamikazes, who could bust that wedge. Now I look back at it, and feel guilty."
Hoke said he's seen a difference in the way college players hit, since the NFL got tough on headshots. Pittsburgh Steelers linebacker James Harrison has been fined at least six times in the past two years for a total of $125,000.
Last season, he became the first NFL player to be suspended for an illegal hit.
"They're fining guys at a pretty good rate (in the NFL)," Hoke said. "They're trying to take away anything over the shoulders and leading with the head, the crown of the head, and I think everybody is conscious about it.
"We have to keep talking about it, keep the conversation going."