Posted on
Wed, Jul 11, 2012 : 5:59 a.m.
Michigan football over-under: Can the Wolverines' offense maintain its production?
By Kyle Meinke
Melanie Maxwell | AnnArbor.com
It's July, otherwise known as college football's silly season. It's a beautiful time when a recruit -- who has yet to begin his senior year of high school -- impersonating a college coach qualifies as breaking news.
So in the absence of real, you know, news, AnnArbor.com reporter Nick Baumgardner and I have decided to go at it in a series of over-unders concerning next year's Michigan football team.
First up is the offense, and whether it can match last year's output of 33.3 points per game while facing a more difficult schedule -- and doing so without All-American center David Molk.

Over/under: Michigan will average 33 points per game

Kyle Meinke: Michigan entered last season without former coach Rich Rodriguez, and the operating thought was the Wolverines would take one step back on offense and two steps forward on defense. That proved to be only half right.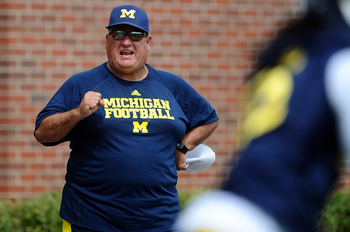 Melanie Maxwell | AnnArbor.com
The Wolverines actually increased their scoring by 0.5 points per game under first-year coach Brady Hoke and offensive coordinator Al Borges, despite switching offensive schemes and terminologies. But that transition was hard on their most important player, quarterback Denard Robinson, who fell into bad habits in the passing game.
His struggles, though, were to be expected. Quarterbacks have a history of struggling in their first year under Borges -- and then excelling their second years. A similar growth can be expected next year from Robinson, who does not have to be outstanding in the passing game, just consistent. He was one of the most productive players in the country last year, despite throwing a Big Ten-worst 15 interceptions.
Prediction: If the Wolverines can maintain production in the first year of Borges' scheme, how much better can they be when players actually have a handle on their assignments? As mistakes drop, scoring will rise. Take the over.
----
Nick Baumgardner:
While I can't deny that Michigan returns its two most potent point producers in Robinson and
Fitz Toussaint
, I can counter with two major issues.
The schedule's a lot (a lot, a lot) harder, and the offensive line is a continual work in progress.
Michigan opens the season against Alabama, a far cry from last year's season-opening opponent in Western Michigan. The Crimson Tide replace a ton, but hey, we all know Nick Saban grows titanic speed-crazed defenders on trees down there.
The Wolverines play three teams (Alabama, Michigan State and Illinois) that all finished in the top 10 in total defense last season. Also, Robinson will have to play six games away from home this year. Last year, in four road games (bowl not included), he threw six interceptions, barely completed 50 percent of his passes and left each contest due to injury.
Additionally, Michigan replaces Rimington winner David Molk with unproven center Ricky Barnum, loses venerable tackle Mark Huyge and might have to eventually start a true freshman (Kyle Kalis?) up front -- which is never ideal.
Prediction: I'm not saying Michigan's offense will be a dumpster fire. But in this bet, I'm going with the under.
Thursday: Can Michigan's defense match last year's overachieving unit, or is a slip inevitable?