Posted on
Thu, Sep 29, 2011 : 9 a.m.
Quarterback Denard Robinson gets down on himself as Michigan tries to solve passing woes
By Kyle Meinke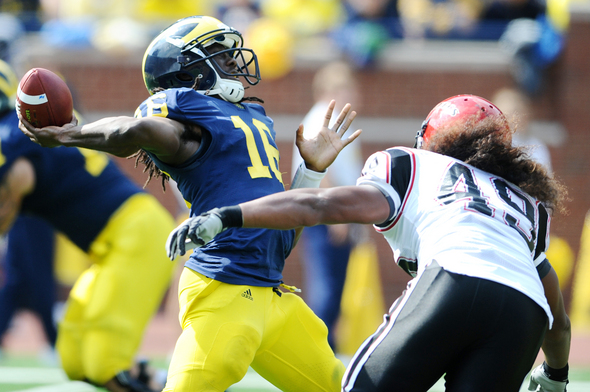 Melanie Maxwell | AnnArbor.com
It takes a lot to wipe that smile off Denard Robinson's face.
But the electrifying quarterback has smiled less around the media in recent weeks as his passing woes have accelerated. He is completing less than 50 percent of his throws as No. 19 Michigan (4-0) embarks on the start of Big Ten play Saturday against Minnesota (Noon, BTN).
He was at 71 percent after four games last year.
"I've been kind of pounding myself about missing guys, and I know I have to do stuff to get better," Robinson said.
The junior from Deerfield Beach, Fla., has yet to get untracked in the passing game, and much of it comes back to his accuracy. But the problem seems to be more than physical.
The pro-style elements installed by offensive coordinator Al Borges have put more emphasis on tougher throws and progressions than what Robinson ran last year in the spread-option attack. So far, he has struggled to adjust.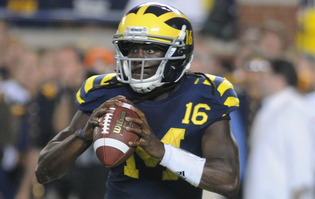 Angela J. Cesere | AnnArbor.com
Borges shouldered some of the blame, and he said he intends to switch his playcalling to get Robinson some easier opportunities to develop a flow.
"I've got to put him in position to complete some more balls so he can gain some confidence and gain some rhythm," Borges said. "This kid really threw the ball well in two-a-days and threw the ball well in spring. He did. All his numbers were better numbers than now. I think game situations are different."
Borges has tried to ease Robinson into the new offense. The original plan called for the junior to run 10 to 15 times per game, but he's exceeded that range in every game except the weather-shortened opener.
Robinson was expected to split time between being under center and in the shotgun, with an emphasis on the former to help get the tailbacks going. Instead, Borges has gone from 68.4-percent shotgun formations in the opener — which he said at the time was too much — to 79.0 percent Saturday against San Diego State.
Robinson attempted just four passes from under center against the Aztecs, three of which were 5 yards or shorter. He went 2-for-4 on them and finished 8-for-17 overall for 93 yards and two interceptions.
Clearly, Michigan's offensive game plan has changed due to Robinson's struggles.
THURSDAY LIVE CHAT
Come back to AnnArbor.com at noon Thursday for a live chat with Kyle Meinke. He'll recap the Wolverines' win over San Diego State, discuss news that emerged this week and preview the game against Minnesota on Saturday.
Borges isn't worried, though. He said Robinson's progression has been normal.
"You'll see the difference in a year," Borges said. "I had Cade McNown at UCLA. The first year, he was 10th in the conference in passing efficiency. His second year, he led the country in passing efficiency.
"How do you make that much of a quantum leap? Is it all of a sudden a magic wand touched you and you're an accurate passer? No. It's understanding the offense."
Part of the problem also is being able to recognize defenses, an issue that is exacerbated by Robinson. He is such a unique talent, opponents change their defenses when they face Michigan.
That means much of what the Wolverines' offense prepares for on film and in practice isn't featured on game day.
"Most people were locking up our receivers and try to sink a guy in to play Denard so they could play Denard partly with the (defensive line) and with an extra player on top," he said. "That's a good way to play him, if you don't have the weapons to exploit that and you're not throwing the ball well."
To be sure, Michigan hasn't thrown the ball particularly well.
Of course, the tricky part about evaluating Robinson is this: For as bad as he's looked in the passing game, he's thrived in the running game. Without him, Michigan likely wouldn't be 4-0.
He rushed for 200 yards and three touchdowns against San Diego. He leads the Big Ten in rushing by 131 yards, and he averages better than a yard per carry more than anyone else in the league.
Since the NCAA does not recognize the Western Michigan game statistically, Robinson actually leads the nation in rushing.
It helps to buoy his spirits, no matter how bad things get in the air.
"He's a little bit of an unflappable kid," Borges said of his conversations with Robinson during games. "He got frustrated because he's competitive, but I don't sense that he gets shaken or rattled. That's not really much in his demeanor.
"Everybody has times where you're not feeling good about the way things are going, but I don't see Denard Robinson turning into Jell-O. I don't sense it on the headset. I don't sense it in my every day interactions with him. He's a pretty cool kid."
Kyle Meinke covers Michigan football for AnnArbor.com. He can be reached at 734-623-2588, by email at kylemeinke@annarbor.com and followed on Twitter @kmeinke.