Posted on
Mon, Mar 19, 2012 : 3:05 p.m.
Michigan football staff hoping Will Campbell can finally turn a corner this spring
By Nick Baumgardner
For Will Campbell, the sand in the hourglass of his Michigan football career is starting to thin out.
The time for the once ballyhooed five-star defensive tackle to fulfill his promise is waning, and Campbell's journey to become a productive member of Michigan's defense officially began Saturday when the Wolverines opened spring practice.
Campbell has a shot to play a big role this season. Michigan defensive coordinator Greg Mattison said Monday he doesn't just believes the 6-foot-5, 322-pound senior can perform this season.
He expects him to.
"Here at Michigan, maybe more than any place, as a senior you're expected (to excel)," Mattison said. "It's so much in them, that when you are a senior, that is your job. That is what you had better do.
"Don't come out there as a senior and not improve. Don't do that. That's not accepted here."
To date, Campbell's career at Michigan hasn't exactly been memorable.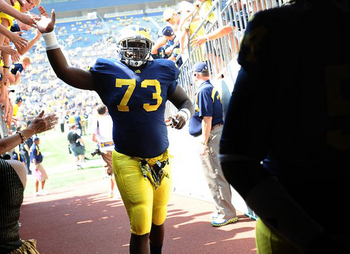 Melanie Maxwell | AnnArbor.com
He's appeared in 38 games, registered 19 tackles and made two sacks. For an underrated recruit with little attention out of high school, those might not be bad numbers.
But nothing about Campbell has ever been little. A mountain of a player, Campbell was one of the highest-rated recruits in the country when he inked with the Wolverines prior to the 2009 season. But, he has never been able to fully live up to that billing on the field.
This season, though, with the graduation of defensive tackles Mike Martin and Will Heininger, the opportunity for Campbell to see major snaps isn't just a hope for Michigan, it's a must.
Campbell is an obvious candidate to anchor the interior of Michigan's defensive line, but he'll have to start turning a corner now -- one play at a time.
"We need to see him, play in and play out, playing at a high level," Mattison said. "If he's had one good play, he's got to put two together. And then he's got to put three together. That's it, in a nutshell.
"He's shown that he has what you're looking for, for a play here or there, but now he's got to do it consistently."
With Martin and Heininger's departure, Campbell and junior Quinton Washington (6-foot-4, 302 pounds) are prime candidates to plug the middle of Mattison's defense this season. As is converted end Jibreel Black, who was moved inside this spring to help shore up an area of concern.
And whether it's Campbell, Washington, Black, or a combination of all three, Mattison says the production he gets from the interior of his line -- along with his middle linebacker and safety spots -- will be the ultimate key to the Wolverines' defensive success next season.
"My philosophy has always been, you're only as good as you are down the middle," Mattison said. "You can't have a great defense unless it starts at the nose, then it goes to the backers and then to the safeties.
"And any great defense I've ever seen, is strong right down the middle. And that, obviously, starts with the nose."
Campbell fits all the physical descriptions of a player who could star in Mattison's defense. But can he put it all together?
Time will tell.
Nick Baumgardner covers Michigan sports for AnnArbor.com. He can be reached at 734-623-2514, by email at nickbaumgardner@annarbor.com and followed on Twitter @nickbaumgardner.