Posted on
Tue, Mar 6, 2012 : 9:29 p.m.
Michigan football team alerts compliance department after receiver Roy Roundtree commits possible minor NCAA violation
By Kyle Meinke
Update at 11 a.m. Wednesday: Michigan linebacker Kenny Demens also tweeted at high school linebacker Mike McCray, writing after 9 p.m. Tuesday "@MJM92013 Welcome to the Maize & Blue my dog." Michigan alerted its compliance.
A Michigan football program spokesman said Tuesday night the school's compliance department was notified after receiver Roy Roundtree possibly violated a minor NCAA rule.
Roundtree, who will be a senior next year, tweeted earlier Tuesday to congratulate Ohio high school linebacker Mike McCray on committing to the Wolverines' 2013 class.
"S/O to my lil brotha Mike McCray @MJM92013 for committing to Michigan today," Roundtree tweeted.
McCray attends Trotwood-Madison High School, which is Roundtree's alma mater. The two did not play together, although they know each other from McCray's recruitment in Ann Arbor.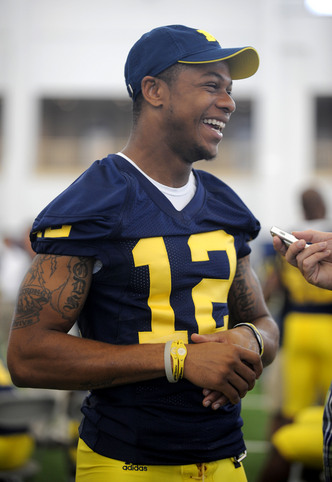 Angela J. Cesere | AnnArbor.com
The tweet, which has since been deleted, violates an NCAA bylaw that prohibits players from publicly contacting unsigned recruits. The rule, according to the NCAA's website, states:
"NCAA rules do not allow comments about possible recruits on an institution's social media page or a page belonging to someone affiliated with the institution. In addition, these pages cannot feature photos of prospects and messages cannot be sent to recruits using these social media technologies other than through their e-mail function."
Michigan remains on probation after it was found in 2010 to have committed major NCAA violations under former coach Rich Rodriguez. The school was cited, among other things, for violating rules that govern practice time and off-field activities.
However, the Wolverines are not expected to be punished heavily -- if at all -- for this infraction.
After Notre Dame's Tyler Eifert committed a similar infraction last week, an NCAA spokesperson told the Chicago Tribune (without speaking directly of Eifert) that secondary violations are those considered "isolated" and "inadvertent" and offer "no competitive advantage."
A request left for the NCAA late Tuesday seeking comment regarding Michigan's case was not immediately returned.
McCray is a four-star linebacker who is ranked by Rivals as the country's No. 44 overall player. He is the 14th player to commit to Michigan's 2013 class.
Roundtree has started 29 games for the Wolverines, including the past 24 in a row. He had 19 catches for 355 yards and two touchdowns last year, and 123 catches for 1,724 yards and 12 touchdowns in his career.
He is projected to start next season.
Kyle Meinke covers Michigan football for AnnArbor.com. He can be reached at 734-623-2588, by email at kylemeinke@annarbor.com and followed on Twitter @kmeinke.