Posted on
Tue, Feb 7, 2012 : 5:59 a.m.
Michigan football team celebrates recruiting haul by, well, recruiting for 2013
By Kyle Meinke
The Michigan football team has put the bow on a successful 2012 recruiting class. Coaches celebrated long into the night, drinking champagne and smoking cigars whilst spinning tales from the road.
OK, I'll stop kidding around now.
Big-time college football recruiting -- even mid-level recruiting -- has become a year-round sport of its own. The bags under the eyes of Wolverines receivers coach and recruiting coordinator Jeff Hecklinski told that story during the team's signing day news conference Wednesday.
"I think somebody asked me if I'm going to get some sleep tonight," Hecklinski said, smiling. "No, we never sleep."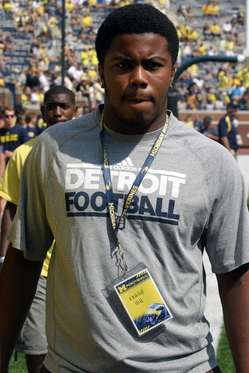 Courtesy of Scout
Ditto for head coach Brady Hoke, who hit the road nearly nonstop from his team's Sugar Bowl victory Jan. 3 to its signing day Feb. 1, while also keeping an eye on 2013.
He already has picked up three recruits for that class after Detroit Crockett tight end Khalid Hill committed to the Wolverines moments after being offered Wednesday. He follows Warren DeLaSalle quarterback Shane Morris and Ohio safety Dymonte Thomas, giving the program a swift start toward replicating the successes of 2012.
No other Big Ten team has as many as three commitments. Ohio State has two, and Michigan State, Nebraska and Wisconsin each have one.
"It's 12 months a year, 365 days a year," Hoke said. "If you're not writing a handwritten note, if you're not watching tape, if you're not calling a coach or having a kid call in to talk to you, then you're going to go backward.
"We don't intend to go backward."
Michigan signed a top-10 class last week, with Scout ranking it No. 4 and Rivals No. 7.
It was so strong in part because of its early jump, with the class rising to No. 1 by mid-summer, according to several outlets.
The Wolverines secured a Big Ten-high 21 commitments by August.
Related: A roundup of our coverage from signing day
Hecklinski said he's never had a class come together that quickly. Of course, this also was his first cycle as a recruiting coordinator at a BCS school.
'12 CLASS RANKINGS
SCOUT
1. Texas
2. Alabama
3. Ohio State
4. Michigan
5. Florida
6. Stanford
7. LSU
8. Miami (Fla.)
9. Auburn
10. Oklahoma

RIVALS
1. Alabama
2. Texas
3. Florida
4. Ohio State
5. Stanford
6. Florida State
7. Michigan
8. USC
9. Miami (Fla.)
10. Oklahoma

"In the Mountain West and in the MAC, kids don't make early decisions because they're waiting to see what their highest offers are going to be," added Hecklinski, who previously handled recruiting duties for Hoke at Ball State and San Diego State. "At Michigan, it's different. You're at the pinnacle, you're at the top, you're competing for the elite kids.
"If we're doing our job correctly, we're getting them on campus, we're showing them what Michigan has to offer and they're going to make early decisions."
Now, the Wolverines are trying to replicate those results for 2013. Less than a week after signing day, they already have offered a scholarship to 31 of ESPN's top-100 players, WolverineNation recruiting analyst Tom VanHaaren said.
Getting off to a fast start not only attracts others to join a class, it also allows a school such as Michigan to narrow its recruiting focus. It also can become more picky, Hecklinski said.
Morris is a good example. He's a top quarterback in the country, and expected to be a five-star prospect when the first rankings are released. And, he's one of the reasons 2012 receiver Amara Darboh signed with the Wolverines.
"Who wouldn't want to catch passes from him?" Darboh said.
Morris also has a magnetic personality, and has been actively recruiting for the Wolverines at all-star games and on Twitter. Thomas cited Morris' influence when he decided to become the second member of the Wolverines' next class.
Hecklinski said the emphasis of that class will be the same as this year's, and every other.
"Look, Big Ten football, Michigan football, has always been won up front," he said. "And, every year, the emphasis is going to be on getting kids who can help us win up front.
"That's where we truly believe Michigan football starts, and we truly believe that's where winning football starts."
Michigan's four-man offensive line class is strong, paced by five-star prospect Kyle Kalis, and it will be difficult to top next year.
But that won't stop the Wolverines from trying. And trying again a year later.
"We've been doing 2014 stuff for the past two months now," Hecklinski said.
Kyle Meinke covers Michigan football for AnnArbor.com. He can be reached at 734-623-2588, by email at kylemeinke@annarbor.com and followed on Twitter @kmeinke.