Posted on
Tue, May 22, 2012 : 5:59 a.m.
Michigan football team could alter philosophy of passing game after Junior Hemingway's departure
By Kyle Meinke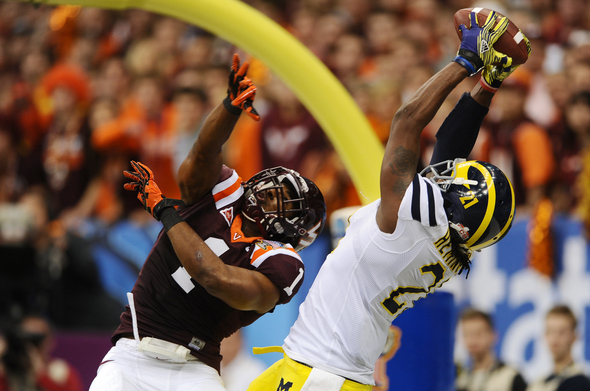 Melanie Maxwell | AnnArbor.com
The Michigan football team loses only six starters from last season, making it one of the more veteran teams in the Big Ten.
But it might take just one loss to reshape the Wolverines' passing game philosophy.
Junior Hemingway was Michigan's most reliable receiver last season, especially downfield. He often played bigger than his 6-foot-1 frame, as he developed a knack for snaring the ball at its highest point.
His proclivity for jump balls helped bail out quarterback Denard Robinson when he was under duress or not accurate, and finished third in the country in yards per catch (20.6).
And now, Hemingway is a Kansas City Chief. What does that mean?
"Maybe next year, we don't throw a bunch of jump balls," offensive coordinator Al Borges said Friday. "You kind of have to play to what you got."
Although that might be what he has to do, it's not what he wants to do.
Borges said he's become more fond of jump balls, after eschewing them early in his career. He once preferred his quarterbacks to put the ball where only his guys could get to it, even if that meant overthrowing receivers.
But as defensive backs became more athletic -- Borges says they now are the most athletic players on the field -- it's more difficult to simply outrun them. So, Borges adapted.
Last year, the jump ball became a prominent feature of the Wolverines' offensive philosophy.
"I've changed the way I coach balls," Borges said. "I used to coach, 'If you overthrow him, it's OK, it's OK.' I don't do that anymore.
"We throw the ball to where our kid has a chance to touch it, and if he doesn't touch it, the quarterback's going to get chewed out. We want him to get his hands on the ball."
Robinson took to that philosophy last year. When he missed downfield, he rarely missed long.
Sometimes, that meant his receivers would take a lick going up for an underthrown ball. But often -- in Hemingway's case, more often than not -- a Michigan receiver came down with the pass.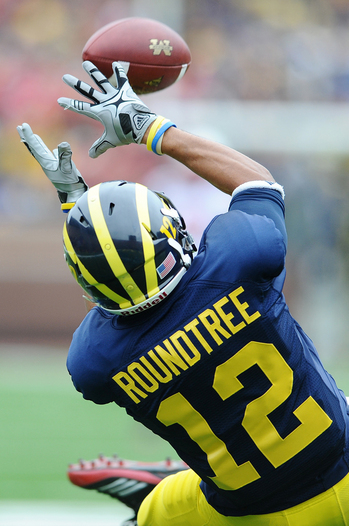 Melanie Maxwell | AnnArbor.com
Other times, Robinson leaned too much on the jump ball, throwing to receivers who were double- or even triple-covered. That's when he got into trouble.
"As long as it's just (the receiver) against the DB, and not him against two or three DBs," Borges said of when he wants the jump ball thrown. "That's what we got in trouble with at times, is we were throwing it up there when it wasn't one-on-one, and now you have some issues.
"But when it's one-on-one, throw it up and give your guy a chance. Let him touch the ball."
Borges said he is "a little bit" concerned he's lost his best jump-ball threat, but is pleased with the development of his other wideouts this spring and believes they can account for Hemingway's production, even if they can't account for his style.
Senior Roy Roundtree, entering his fourth year as a starter, has moved into Hemingway's old flanker spot. He's even received Hemingway's old No. 21 'legend' jersey, which honors Desmond Howard.
"Based on what I saw in the spring, (Roundtree) could be a difference -- a big difference," Borges said. "He may lose a jump ball that Junior might've won, but he may run by a guy that Junior didn't.
"I don't know if either one of those are going to happen, but I think he gives us the best chance to supplement what we might have lost in Junior."
Jeremy Gallon developed into a sure-handed option last year, and Borges identified the junior as a possible replacement for Hemingway on jump balls.
But while Roundtree (6-foot) and Gallon (5-8) have flashed talent, neither is big-bodied like Hemingway. Borges said the most comparable receiver in profile is sophomore Jerald Robinson, who is 6-foot-1, 206 pounds.
He surfaced in the spring as a leader to start alongside Roundtree and Gallon.
"Jerald Robinson had a very good spring, with a better understanding of the offense," Borges said. "He's more the type of receiver that we're looking for -- not that they all have to be big, tall guys, because Jeremy Gallon is a helluva receiver and he's small -- but he fits the profile of the position that we're looking for."
Kyle Meinke covers Michigan football for AnnArbor.com. He can be reached at 734-623-2588, by email at kylemeinke@annarbor.com and followed on Twitter @kmeinke.