Posted on
Sat, Nov 20, 2010 : 3:14 p.m.
Michigan football team falls to No. 6 Wisconsin, 48-28, in final home game of season
By Pete Bigelow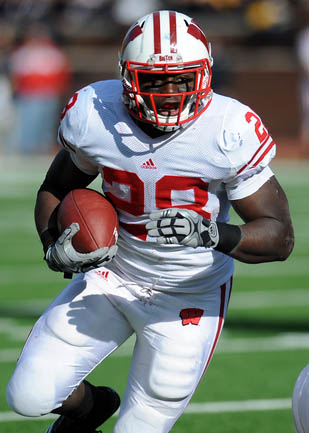 Melanie Maxwell | AnnArbor.com
All week, Rich Rodriguez offered serious praise for Wisconsin defensive lineman J.J. Watt, referring to him a serious all-American candidate. Turns out, Michigan's football coach knew the danger he presented all too well.
Watt was a disruptive force throughout Saturday's game, at one point ripping off Denard Robinson's shoe during a tackle and flinging it back toward the line of scrimmage.
Michigan couldn't do much to stop the 6-foot-6, 292 pounder at key moments that contributed to a 48-28 loss to No. 6 Wisconsin in the final home game of the regular season.
The shoe-flinging was more symbolic.
It was Watt's tip of a Robinson pass with 12:17 remaining in the fourth quarter followed by his interception near midfield that sealed the outcome in front of 112,276 at the Michigan Stadium.
The loss snapped a two-game Big Ten winning streak for Michigan (7-4 overall, 3-4 Big Ten), while Wisconsin bolstered a shot at the Rose Bowl.
The defeat came despite a furious third-quarter comeback by the Wolverines, who awoke from their first scoreless half of the season to put 21 points on the board in the third and closed within 10 points.
Darryl Stonum had four catches for 99 yards, including several of the acrobatic variety that played a key role in the Michigan comeback, but trainers carted him from the field following an injury on a kick return in the fourth quarter.
In the end, it was too little too late because the Wolverines fell behind, 24-0, by halftime. After playing its best game of the conference season last week against Purdue, Michigan's defense didn't help matters Saturday.
The Wolverines allowed 558 yards of total offense. It's the third time in the past four weeks the unit has allowed at least 40 points.
Wisconsin's Montee Ball carried 31 times for 194 yards and four touchdowns while his backup, James White had 161 yards on 21 touches and two TDs.
Watt's interception was the only blemish from Robinson on a record-breaking day. He set the NCAA FBS record for rushing yards by a quarterback in a single season on a 12-yard run early in the third quarter.
He surpassed Air Force's Beau Morgan, who ran for 1,494 yards in 1996. Robinson finished the day with 1,540 on the ground, and became the first quarterback in NCAA history to have at least 1,500 rushing and passing yards in the same season. It was a different game in the first half.
The Badgers rolled for 379 first-half yards and claimed a 24-0 halftime lead that could have been worse had James Rogers not intercepted Scott Tolzien with less than a minute remaining.
The interception was Tolzien's only blemish on an otherwise perfect first half. He completed 13 of 14 attempts for 196 passing yards, routinely finding open receivers across the middle of the field.
The Wolverines trailed 7-0 after the first quarter. But Seth Broekhuizen missed a 30-yard field goal early in the second quarter, and the team became unglued from there.
Two possessions later, Ball scored on a 27-yard touchdown run that left Wolverines' defenders strewn about the field.
Michigan's offense couldn't get much traction, going three-and-out in drives that took 1:44 and 0:48 off the clock. White broke free on a 61-yard scoring run that resulted in a 24-0 Badgers' lead.
The tumult wasn't over.
On the ensuing kickoff, Michigan's Jeremy Gallon fumbled and the Badgers recovered, giving Wisconsin a chance to extend its lead with 1:45 left in the half.
But Rogers' interception ended the Wisconsin surge.
It was the only time this season Michigan had been held scoreless in either half, and the first time the Wolverines hadn't scored a point in the first quarter all year.
Pete Bigelow covers Michigan football for AnnArbor.com. He can be reached at (734) 623-2556, via email at petebigelow@annarbor.com and followed on Twitter @PeterCBigelow.