Posted on
Wed, Jan 4, 2012 : 4:12 a.m.
Michigan football team triumphs again in unlikely, notable season
By Kyle Meinke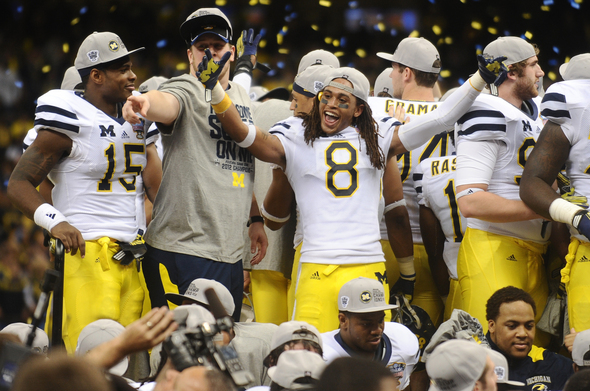 Melanie Maxwell | AnnArbor.com
NEW ORLEANS —
Brendan Gibbons
paced around the Superdome turf, coming to terms with what awaited him.
No worries. All that was on the line was his program's most important field-goal attempt in, well, when was the last time the Michigan football team had so much riding on one swing of the leg?
Players said in the past week no matter how good they felt about their 10 wins and victory against Ohio State, their accomplishments would be cheapened with a loss in the Sugar Bowl.
The miracle against Notre Dame and the road comeback against Northwestern and the defense discovering itself against Illinois and, yes, even the win against Ohio State, all would have lost some of their shine.
It was the difference between being remembered and becoming a legend for Team 132.
And there Michigan was, in overtime against the Hokies, just a 37-yard field goal separating them from validating the past 12 months.
But Gibbons wasn't thinking about any of that. He was thinking about girls.
Brunettes, to be exact.
"Every time we were struggling in kicking, Coach (Brady Hoke) tells me to think about girls on a beach or brunette girls," Gibbons said after the game. "So that's what we did, and I made the kick."
Gibbons split the uprights, to be exact, giving the Wolverines a 23-20 overtime win they badly needed.
The always quotable Taylor Lewan summed it up best, in his own special way: "So many emotions, but if I had to put one thing down, I'd say it's like a box of kittens.
"Have you ever seen a box of kittens? It's the feeling you get when you see a box of kittens. You're excited. You're happy by it. ... It feels all warm and fuzzy. I feel warm and fuzzy."
The Wolverines needed this one for their seniors, who went through a football hell none expected to incur when they signed up to play for college football's winningest program.
After going through two coaches — and the fifth-year seniors, three coaches — and a 15-22 stretch, they can appreciate a reversal of fortunes as few can.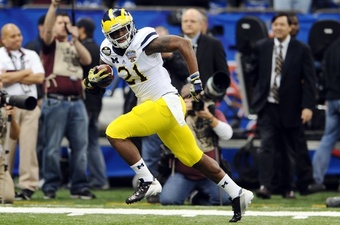 "It shows our hard work," said fifth-year senior
Junior Hemingway
, his voice cracking as he held back tears. "It shows everything we put in from Day One, all the long days, long nights. Man, I'm telling you, it feels too good, man. Too good."
Hemingway will go out as a Sugar Bowl MVP, and he turned the trick despite grabbing only two catches. But they were both big ones, scores of 45 and 18 yards — Michigan's only touchdowns of the day.
He began his career as one of the few players who participated in the program's last bowl win, a Capital One Bowl victory against Florida to end the 2007 season.
Michigan failed to qualify for the postseason the following two years, and was blasted last year by Mississippi State in the Gator Bowl. It was the end of Rich Rodriguez in Ann Arbor.
It also was the start of Hoke, who insists this team "is not about Brady Hoke, it's about the seniors." But the seniors are him. He is the seniors.
Together, they've built a resiliency that carried them to unlikely victories, most notably against Notre Dame. And now Virginia Tech.
"I think it was just an attitude, 'cause we've been through the worst of the worst," senior lineman Ryan Van Bergen said. "We've lost by 30 and we've won by 48. We've been through every situation.
"The one constant is what your mind-set is and what you're going to do to correct things. When you develop that mind-set, because of all that adversity, you're in every game."
Hoke has left his footprint on this program in 12 months, a stretch that is fittingly punctuated by Michigan's first BCS win since the 2000 Orange Bowl. A game that, oddly enough, also is memorable for being decided by the kicking game in overtime.
Only, that was one was gift-wrapped in the form of a missed extra point by Alabama. This one, Gibbons had to earn it, first with a 39-yarder on the team's final fourth-quarter possession and again from 37 yards in overtime.
As Gibbons came to his rest, eyes on holder Drew Dileo, there was weight on his shoulders. It was baggage.
It was team baggage. But it was personal, too.
He went 1-of-5 last year. He lost his job two games into the season and watched as his head coach held open tryouts to the student body for his position.
Gibbons has risen this year, going 10-of-14 in the regular season. But knew he had something left to prove, even after hitting to help force overtime.
"You make that (fourth-quarter) kick, everyone's confident in ya, but you still got haters that don't believe in you," he said.
This team has been about the seniors, but in a lot of ways, no one encapsulates it better than Gibbons, who has gone from depths some kickers never survive to becoming one of the Big Ten's most consistent kickers.
It was a triumphant season, in search of a triumphant ending. For Gibbons, and for Team 132.
As he lined up the kick, teammates crowded along the sideline. Some stood on benches to see over them. Fifth-year senior receiver Kelvin Grady stood off by himself on one knee, head down.
He couldn't look. Didn't have to, either, as the crowd behind him told him all he needed to know.
Michigan was back on top.
"He's a hero in my eyes," said Lewan, who lived with Gibbons last season. "It's a classic zero-to-hero moment."
The same could be said for the Wolverines.