Posted on
Wed, Mar 21, 2012 : 9:58 a.m.
Early enrollees look the part for Michigan football team, but the proof is in the pads
By Nick Baumgardner
Make no mistake, Greg Mattison loves having three new defensive pieces to work with this spring.
But through the first week, he's doing his best to curb his enthusiasm with regard to early-enrollee freshmen Jarrod Wilson, Joe Bolden and Kaleb Ringer.
Because, frankly, they haven't done anything yet.
"This isn't cross country," the Michigan football team's defensive coordinator said Monday. "They could come out there and run like crazy, I love those kids and I'm so happy they're here.
"And they could be the best runners in the world. If they don't hit anybody, I won't like them as much."
Per NCAA rule, teams must go through a spring acclimatization period that forces them to practice without full pads for the first two organized workouts.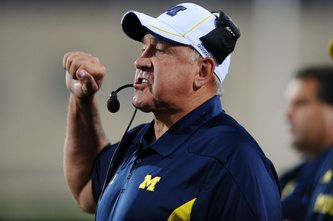 Melanie Maxwell | AnnArbor.com
The Wolverines opened spring ball on Saturday and held their second workout Monday, meaning Tuesday's closed workout was the team's first chance to don pads and actually hit.
Bolden, a 6-foot-3, 220-pound linebacker; and Wilson, a 6-foot-2, 190-pound defensive back; enter spring camp as highly-touted prospects. Both received four-star ratings from Rivals and Scout.
Bolden registered 86 tackles and three sacks as an outside linebacker last season at Colerain (Ohio) High School, and served as a captain in the Under Armour All-America Game.
Wilson, who was coached in high school by former Michigan running back Ricky Powers, racked up 71 tackles and three interceptions at Akron Buchtel -- eventually ending his season as a first-team all-state performer.
Ringer, meanwhile, is a 6-foot-1, 225-pound linebacker who received a three-star ranking.
All three will have their chance to get ahead of their fellow freshmen classmates this spring, if they can hit, that is.
Mattison was asked specifically Monday what he'd seen from Wilson in the early going, but he couldn't offer much insight outside of the fact that -- like most rookies -- he had a few stars in his eyes.
"I've seen that he's a guy that has books in his hand and came from a class that he's never seen before and saw some pretty girls, probably," Mattison said. "But I can tell you this, I'm glad he's here.
"I'm glad all those freshmen are here, I wish we could have our entire signee class come early. But I can't evaluate any of them yet because they've had no pads. But I do like their attitudes."
Nick Baumgardner covers Michigan sports for AnnArbor.com. He can be reached at 734-623-2514, by email at nickbaumgardner@annarbor.com and followed on Twitter @nickbaumgardner.