Posted on
Thu, Mar 18, 2010 : 3:37 p.m.
Michigan football will host night game against Notre Dame in 2011
By Dave Birkett
It didn't take Dave Brandon long to make his mark as Michigan athletic director.
A week and a half after taking over for Bill Martin, Brandon announced plans to bring the first night football game to Michigan Stadium.
The Wolverines will host Notre Dame in an 8 p.m. game Sept. 10, 2011.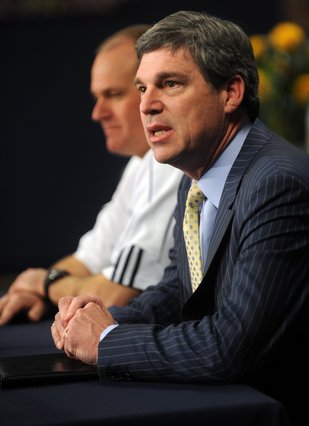 "For us, obviously, this is an experiment, this is the first time we've done it," Brandon said Thursday. "Hopefully we'll just get better and better at it, and if all goes well we'd love to at least have one game a year scheduled at Michigan Stadium. It'd be a terrific tradition to start."
Michigan is 22-11 all-time in night games, but the school has long resisted playing in prime time at Michigan Stadium.
Brandon said he started working on some of the logistical issues that come with hosting night games a couple weeks ago, then met with Notre Dame athletic director Jack Swarbrick when he was in Indianapolis last week for the Big Ten basketball tournament.
Michigan and Notre Dame have played three previous night games - in 1982, '88 and '90 - with the Irish winning all three at Notre Dame Stadium.
"(Playing night games is) part of what creates a big, exciting atmosphere in college football," Brandon said. "To play those games, if you listen to the coaches and the players and just as a fan, I know that being out there under the lights, in primetime in front of a national audience is something special. And we want to be a part of things that are special at the University of Michigan, so I'm pleased and proud that we're doing this."
Michigan coach Rich Rodriguez hosted a number of night games at West Virginia, and has long been a proponent of bringing the primetime experience to Michigan.
"Our guys have been involved in night games the last couple years, as coaches we've been involved in many of them throughout our careers," he said. "It's Saturday night, primetime college football is probably as popular as anything that's out there on television. So it should be a great thing for our program, should be a great thing for the University of Michigan."
The Wolverines lost their only night game last year at Iowa, 30-28.
Dave Birkett covers University of Michigan football for AnnArbor.com. He can be reached by phone at 734-623-2552 or by e-mail at davidbirkett@annarbor.com. Follow him on Twitter @davebirkett.