Posted on
Wed, Mar 14, 2012 : 5:59 a.m.
Michigan football coach Brady Hoke reveals Ricky Barnum is moving to center, other spring position changes
By Kyle Meinke
Uncertainty permeated the Michigan football team's spring camp last year, as the program transitioned to a new coaching staff and changed schemes on both sides of the ball.
This year, it's optimism after the Wolverines' 11-2 season and Sugar Bowl victory.
But despite all that has changed in the past 12 months, one thing has held constant: Coach Brady Hoke's concern about the health and depth of his offensive and defensive lines.
"We got very lucky a year ago, on both sides of the ball, in staying pretty healthy," Hoke told AnnArbor.com on Tuesday during an interview in his Schembechler Hall office.
He knocked on the wood of the coffee table in front of him as he said it.
The Wolverines had only eight scholarship offensive linemen last year, roughly half what Hoke desires, and played mostly with a rotation of six on defense.
Now, Michigan must address the departures of All-American center David Molk and right tackle Mark Huyge, as well as defensive linemen Mike Martin, Will Heininger and Ryan Van Bergen.
"And we still don't have nearly enough linemen in the program," Hoke lamented.
To shore up those issues, Hoke said he is making several personnel changes as the Wolverines kick off their 14-practice spring camp Saturday.
The most prominent of those moves impacts redshirt senior Ricky Barnum, the former starting left guard who now will receive the first crack at replacing the Rimington Award-winning Molk at center.
Barnum played in four games at left guard last year, and started three. He was strong when he was in there, but missed the first game of the season because of a suspension and much of the Big Ten season with two balky ankles. He did not play in the Sugar Bowl.
Returning centers Rocko Khoury, a senior, and Jack Miller, a redshirt freshman, also will be given a shot to win the job.
Meantime, Hoke said junior Michael Schofield, who filled in for Barnum at left guard, will slide back to his natural position of right tackle. He can play anywhere but center on the line, but his 6-foot-7, 299-pound frame makes him an ideal fit at tackle.
It appears the most wide-open job could be the vacated left guard position. When asked who were candidates for it, Hoke first mentioned Elliott Mealer, a senior who has played sparingly in his career.
"His opportunity, his time has come," Hoke said.
Mealer's main competition in spring camp will be Chris Bryant, a redshirt freshman who was lauded for his performance in bowl practices last year.
Hoke stressed that, no matter what happens, his goal is to put the five best players on the field. That means it is possible the loser of the center battle -- be it Barnum, Khoury or Miller -- moves to guard. Or, a true freshman could make his case in the summer.
Kyle Kalis, a five-star prospect from Ohio, is believed to be the leader among that group.
"We'll go through spring and kind of have an idea, and then in June, the young guys get in here and start lifting and all that," Hoke said. "We'll know probably the first two weeks of August who is going to help us, and who's not."
Junior Taylor Lewan is back at left tackle, and Patrick Omameh at right guard.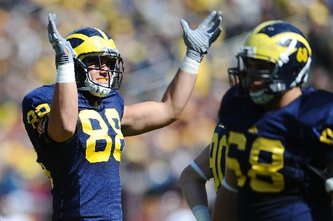 Melanie Maxwell I AnnArbor.com
Defensive line position changes
On the defensive side of the ball, the top two weak-side defensive ends are on the move. Hoke said senior Craig Roh has moved to strong-side end, and Jibreel Black will begin the spring at tackle.
"We think we might be a little more quicker than we were," Hoke said of moving Black inside. "But, it's a lot of heavy hitting and you got to find out where they're at."
Sophomores Frank Clark and Brennen Beyer, the latter of whom played linebacker last year, are expected to compete for Roh's job at weak-side end.
Joining Black at tackle will be Will Campbell, a highly touted recruit from Detroit who is entering his senior season. He will be one of the camp's most scrutinized players.
"Will Campbell, we think, has made a lot of improvements in his conditioning and all those things, but he's got to be more productive at the point of attack," Hoke said.
Junior Quinton Washington also is expected to factor in at tackle, and so too could an incoming freshman. Five-star, 320-pounder Ondre Pipkins is expected to be in the mix.
"You're going to have young guys competing," Hoke said. "It's going to be interesting."

Health is good, except for Brink

Hoke said he does not expect defensive tackle Nathan Brink "to do much" in spring camp as he recovers from offseason surgery. Brink did not play in the Sugar Bowl after suffering the undisclosed injury.
"Other than that, everybody else should be OK," Hoke said.

Departure(s) could be on horizon

When asked if any players have left the program since the conclusion of last season, Hoke said he would "address that issue Friday" and declined further comment. His first news conference of spring camp is scheduled for noon Friday at Schembechler Hall.
He did say he doesn't expect to incur any academic problems.
The only known departures since the end of the 2011 season are receiver Darryl Stonum, who was dismissed in January, and reserve linebacker Isaiah Bell. Neither played last season, although Stonum was expected to start next year.
Hoke didn't address whether any redshirt juniors would forgo a fifth year.

Beefing up depth at tight end

Hoke said linebacker Jordan Paskorz and defensive end Chris Eddins are moving to tight end "to get an on-the-line guy who can block a five-tech, or move a six-tech." Both could vie for time in the fall after the departure of starters Kevin Koger and Steve Watson.
"In this offense, tight ends, because we're not a true spread team, and won't be, we got to have a guy like Kevin Koger who can block at the point of attack and do those things," Hoke said.
Hoke was reluctant to name a leader for the starting spot at the position. When asked about redshirt senior Brandon Moore, the presumed leader, he said Moore "is a guy who we expect to get better from the fall, to the spring. ... It could be him (who starts)."
When asked about a true freshman such as A.J. Williams or Devin Funchess starting, Hoke said, "Maybe. There is no entitlement."
Kyle Meinke covers Michigan football for AnnArbor.com. He can be reached at 734-623-2588, by email at kylemeinke@annarbor.com and followed on Twitter @kmeinke.