Posted on
Sun, Aug 22, 2010 : 5:58 a.m.
Michigan officials say new water fountains, concession stands can handle water needs of football fans
By Pete Bigelow
Football fans remain prohibited from bringing bottled water into Michigan Stadium this fall. But after a deluge of complaints about the new ban, university officials are reminding fans of options to quench their thirst during Michigan football games, and adding a few new ones. Stadium renovations added 24 new water fountains around the concourse, bringing the total available to 28, according to Michigan spokesman Bruce Madej.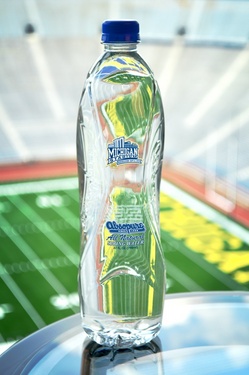 Four hydration tents will be set up around the stadium. In addition, Madej said "at least" 40 concession stands will serve water, with two to 12 lines available at each stand. There, fans can purchase a $4 bottle water or request a free cup of water. Sizes of the $4 bottle and free cup were unknown. "We're looking at a totally new fan experience, in terms of coming to the stadium," Madej said, asking fans to withhold judgment on water availability until they see the renovated venue.
For the season opener against UConn on Sept. 4, the first 25,000 fans entering the gates will receive a bottle of spring water from Absopure that commemorates the stadium renovation.
Security concerns prompted the ban, Madej said, and Michigan enacted it based on recommendations from the U.S. Department of Homeland Security.