Posted on
Tue, Apr 3, 2012 : 5:59 a.m.
Elliott Mealer overcomes tragedy, becomes leading candidate for starting spot on Michigan's offensive line
By Kyle Meinke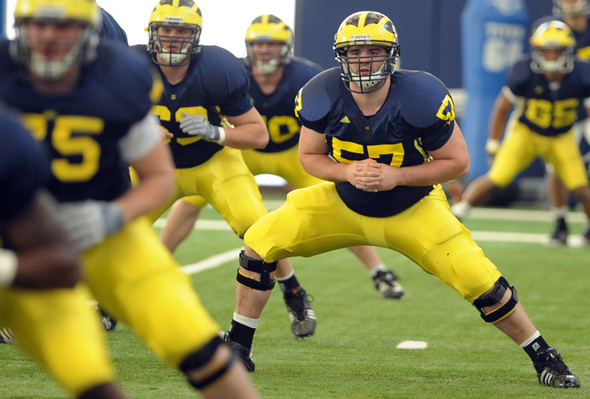 Melanie Maxwell | AnnArbor.com
Elliott Mealer committed to the Michigan football program in April 2007. Eight months later, his life shattered into tiny pieces in one fiery car crash.
His longtime girlfriend, Hollis Richer, died after their SUV was struck and sent spinning into a ditch. So did his father, David.
It was Christmas Eve night. They were returning from a holiday party.
Elliott survived, along with his mother, Shelly, and brother, Brock. But the accident left Brock with a severely damaged spinal cord, and paralyzed him from the belly button down. He was told he would never walk again.
Their story is well-documented, after Brock beat the odds and emerged from his wheelchair. He eventually led Michigan onto the field for its 2010 season opener, walking on his own power wearing a T-shirt that read "1%" -- his odds of walking again.
His story went national.
Now a redshirt senior, it just might be Elliott's turn to enter the spotlight.
The offensive lineman redshirted his first season, after he tore his right rotator cuff while trying to tip the SUV upright and free Brock from the wreckage. He developed into a utility man the past three years as he bounced from guard to tackle, left side to right.
But he could never crack the lineup, receiving only sporadic playing time the past two years.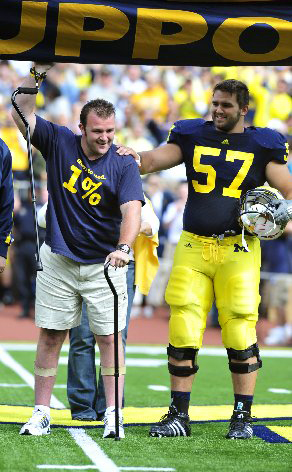 Melanie Maxwell | AnnArbor.com
"It's a frustrating thing, to want to reach that goal of starting and contributing on a major level, and come so close to achieving it, but never quite getting there," Brock Mealer said in a phone interview this week. "But again, I feel like he's like me, in a way, in that he's taken an optimistic view of things.
"I know he's living his dream of playing college football for Michigan, but at the same time, he's striving to get to where he wants to go. He's happy to be part of such a great football program, but at the same time, he's never satisfied. He wants to play, and he wants to win."
As a fifth-year senior, Elliott Mealer finally appears to be on the cusp of receiving that chance. He has emerged as the leader to start at left guard, with his main competition, redshirt freshman Chris Bryant, splitting snaps between left and right guard.
Video clips posted to MGoBlue.com show Mealer running with the first unit this spring.
The kicker: That's the position he wanted to play all along.
"I think it's where he always wanted to be, but he's always been willing to go wherever he was needed," Brock Mealer said.
Elliott Mealer has not spoken to the media this spring, but Brock says his brother has grown significantly since the crash. He's blossomed from a shy kid from Wauseon, Ohio, into a team leader.
Never big on public speaking, Mealer now hosts church meetings, does public readings for children and visits local schools. He's turned insufferable tragedy into something good.
He is making the most of his life on and off the field -- a life he almost never had.
"The biggest way he's grown is how he's been able to use his position as football player at Michigan to reach out, especially to kids," Brock said of his brother. "He's channeled that energy into something positive.
"He's inspired me."
The brothers drew close and developed a support system at Schembechler Hall, where Brock Mealer worked out with the team and its then-strength coach, Mike Barwis.
He continues to work out with Barwis three times per week, commuting from Ohio to BarwisMethods in Plymouth, and can now take 23 steps without any kind of support -- canes included.
Elliott Mealer, meantime, has bloomed into a confident 6-foot-5, 310-pound guard. Michigan coach Brady Hoke has sensed that transformation this spring, on and off the field.
"I think he's got a bit more confidence than he had last year at this time," Hoke said. "I think his confidence level is better, and that's a big part of it. I think guys feeling confident and guys being in the system obviously helps."
Hoke said the consistency of Mealer playing one position, with a year already spent in coordinator Al Borges' system, has helped him flourish this spring. His linemates are becoming increasingly comfortable with him as well.
"Elliott Mealer's a fifth-year senior. He's been through two coaches. He knows football. He gets it," starting left tackle Taylor Lewan said. "If he's the guy I play next to in the fall, I'll be excited about it."
Center Ricky Barnum, who played four games at left guard last season, said Mealer brings "good energy" to the position.
Mealer once was a long way off from good energy, but he's methodically pieced his life back together and appears to be emerging a better football player for it.
A better man, too.
"All those mental, emotional and physical tolls that he's beared, I think it's been really hard for him," Brock Mealer said. "But to see him get through that and be successful, and still have a shot to live out that dream he has, is inspiring.
"I think he's got that sixth sense of wanting to do all you can while you're here."
Kyle Meinke covers Michigan football for AnnArbor.com. He can be reached at 734-623-2588, by email at kylemeinke@annarbor.com and followed on Twitter @kmeinke.