Posted on
Sat, Sep 4, 2010 : 9:05 p.m.
Michigan quarterback Tate Forcier: 'All you need to know is I'm out'
By Michael Rothstein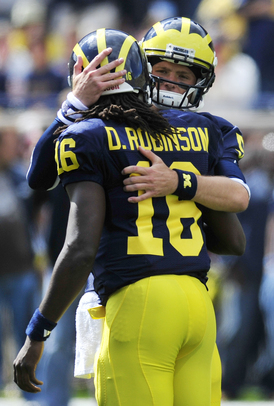 Melanie Maxwell | AnnArbor.com
Editor's note: A sentence about Tate Forcier leaving the field after the game was removed.
"All you need to know is I'm out." - Tate Forcier Less than a minute had passed since the Michigan football team beat Connecticut, 30-10, in the season opener and sophomore quarterback Tate Forcier appeared to make his decision.
Through his words and his body language, he had no interest in remaining at Michigan. When asked if he had a minute, he responded with those eight words.
Those eight words said a lot.
As the rest of his teammates celebrated a win, Forcier looked like he lost. He spent most of the game sitting on the bench, a towel alternating between his shoulders and wrapped around his head as he watched fellow sophomore quarterback Denard Robinson run through, over and past a fairly hapless Connecticut defense.
In those moments, Forcier looked like he wanted to be anywhere but Michigan. After the win, he went with his team to chant "Beat The Irish" before heading up the tunnel. He was the third person spotted out of the Michigan locker room, hugged a few people and began to walk off.
He blew off fans attempting to get autographs, instead jumping on his cell phone and searching for family and friends.
All of this was in such contrast to a year ago, when Forcier stopped and talked to almost everyone on his way out of Michigan Stadium. He was a smiling, happy-go-lucky freshman then.
He even went out of his way to search for his father when a reporter asked to speak with him.
A year later, he looked miserable.
On Saturday, the closest he came to seeing the field was warmups. He mostly sat in the back, a towel over his shoulders or his head, his helmet rarely on.
He threw the ball a handful of times Saturday, all warmup throws while Robinson, Rich Rodriguez's current attempt as a coaching savior, lay on the turf looking bothered by his hip.
It looked like Forcier would go in. True freshman Devin Gardner stepped on the field instead. Later, both Rodriguez and offensive coordinator Calvin Magee called it "a coach's decision."
In doing that, in burning Gardner's redshirt year less than a game into a season where it became apparent Rodriguez found a competent starter, the underlying message was this - Forcier wasn't going to be the guy.
If there's a question about the sophomore's demeanor, it is this. He rarely cheered an offensive play. In the fourth quarter, as Michigan ran out the clock, it appeared as if he could barely watch.
He sat alone on the Michigan bench. None of his teammates was around as that towel sat on his head. He talked for a while with a Michigan support staffer. Eventually running back Mike Cox, another of the Michigan players who was in competition for a job but didn't play Saturday, came over to chat with the sophomore.
Forcier once had the starting quarterback job for this season in his grasp. He started all 12 games last season, passing for 2,050 yards and 13 touchdowns. Saturday, with the way Robinson played and the decision Rodriguez made, there is really no way for him to win the job back, barring injuries.
How different it was a year ago, when Forcier ran off the field the happiest freshman in the world. He had dismantled Western Michigan with his arms and legs. The next week, he led Michigan to a dramatic win over Notre Dame.
There were people, me included, who said he might be the reason Michigan becomes relevant again, that he might be the reason the Wolverines returned to their previous dominance.
Then he struggled. He got hurt. Both Rodriguez and senior cornerback Troy Woolfolk called his character into question in the off-season. During the first few weeks of fall practice, he was called out by Rodriguez as someone who needed to step up his play - evidenced by the lack of wings on his helmet.
For the next two weeks, the word out of Michigan camp was that he had improved. He had settled down. He was making a real run at pushing for the starting job. Then on Saturday, he was a clear No. 3.
So as the game ended, Forcier's walk up the tunnel was a lot different this year. There was no smile. There was no running. There was no socializing with fans.
Instead, Forcier walked off a singular figure into the arms of his family and friends, perhaps for the final time as a Michigan football player.
Michael Rothstein covers University of Michigan basketball for AnnArbor.com. He can be reached at (734) 623-2558, by e-mail at michaelrothstein@annarbor.com or follow along on Twitter @mikerothstein