Posted on
Sat, Sep 25, 2010 : 4:49 p.m.
Michigan sophomore quarterback Tate Forcier returns to field, pledges he's not going anywhere
By Jeff Arnold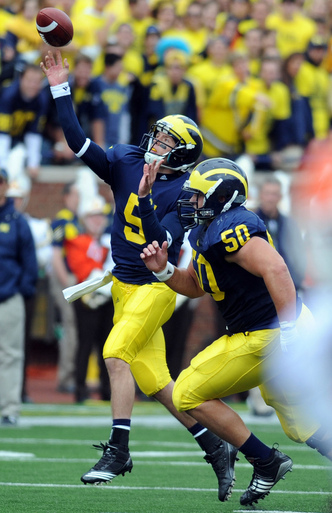 Melanie Maxwell I AnnArbor.com
Tate Forcier took a step off the sideline, the closest he had been to actually setting foot on the field this season.
The Michigan sophomore quarterback began bounding up and down, slapping any set of shoulder pads he could reach. Over the past month, he had been instructed to be patient and remain ready.
Waiting, he admitted Saturday, hadn't always been easy. But against Bowling Green, at least temporarily, Michigan was his team again. And, unlike the season-opener when Forcier sulked on the bench with a towel over his head, the smile that became a staple during his freshman season returned.
"Oh man, it felt good," Forcier said after completing all 12 passes he threw in Michigan's 65-21 win over Bowling Green. "I felt almost like my first start again and playing just felt so good."
Following an off-season when his teammates maintained he didn't work as hard as fellow quarterbacks Denard Robinson and Devin Gardner and when many doubted his desire to be at Michigan, Forcier made his position clear.
"A lot of people were saying I'm not staying here, but I'm still here," Forcier said. "I love Michigan and I love everything about it. I'm not going to leave. Not a chance."
In his competitive return Saturday, Forcier set a new Michigan record for quarterback efficiency, finishing the day 12-for-12 passing for 110 yards. He left in the fourth quarter after a hit to the leg left him with a noticeable limp.
But during his time on the field, Forcier appeared to be the confident quarterback from early last season. His passes were crisp, his decision-making precise. Michigan coach Rich Rodriguez said Forcier was beginning to see the entire field in a new way, opening up new possibilities.
But Rodriguez also said that as impressive as Forcier was, all three of his quarterbacks have a lot of room to grow before they reach their full potential.
"They've gotten a whole lot better, but you're talking about first- and second-year players," Rodriguez said. "When you're in a system three or four years and things become so much more natural for you and quicker for you in your decision-making, it's really going to be exciting."
Forcier received a warm reception from Saturday's crowd of 109,933, both when he entered the game and when he left.
Although receiver Roy Roundtree said it felt like Forcier was the same player he was last season, when he started all 12 games as a true freshman, others noticed a difference.
"His focus is better," Michigan quarterbacks coach Rod Smith said. "His attention to detail is better. He just has to keep doing what he's doing. I know it means a lot to the kid and you could tell that by the way he performed tonight."
Asked if he felt rusty, Forcier said he didn't. He said the game had slowed down for him and "it was easy for me out there."
With starting quarterback Denard Robinson's knee injury not expected to be serious, Forcier said he's fine with his place in the rotation. Given the way the Wolverines' offense is centered around the quarterback, Forcier -- who battled his own injuries throughout his freshman year -- said he will continue to be ready in coming weeks.
"You never know when your number is going to be called. The Big Ten is a big conference, a rough conference, and it starts up next week," Forcier said. "You have to be prepared.
"Coach Rod is the coach and I'm going to let him make the decision and if they decide to go with (Robinson) and play with him, I'll be right there, ready."
Jeff Arnold covers sports for AnnArbor.com and can be reached at (734) 623-2554 or by e-mail at jeffarnold@annarbor.com. Follow him on Twitter @jeffreyparnold.