Posted on
Fri, Feb 12, 2010 : 11:13 a.m.
Michigan Stadium suite and seats sell slowly, steadily in sagging economy
By AnnArbor.com Staff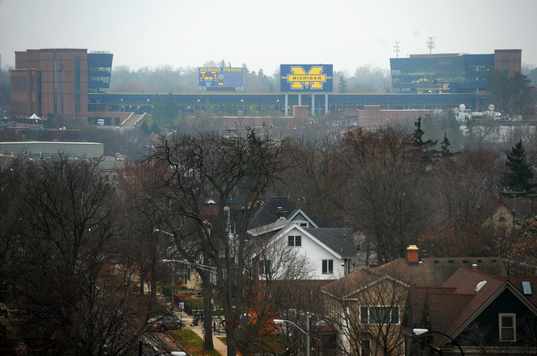 Melanie Maxwell | AnnArbor.com
The University of Michigan has commitments for 72 percent of the suites and 77 percent of club seats that will be unveiled at Michigan Stadium this fall.
"We're pleased with where we are given the realities of our economy," senior associate athletic director Joe Parker said. "We're hearing from some fans that they're skipping a vacation instead of missing out on Michigan football."

In addition to a sagging economy, the Wolverines' fortunes on the field probably haven't helped sales.
Michigan finished 5-7 last season after a 4-0 start one year after losing a school-record nine games in Rich Rodriguez's debut with college football's winningest team.
Parker said he's hopeful the rest of the premium seats will be sold by Sept. 4, when the Wolverines host Connecticut in the season opener at the Big House.
"We're going to have as many tours as we can this spring and into the summer," he said. "If people like what they see, they'll be able to pick their seat or suite right on the spot."
Suites range in price from $55,000 to $85,000 and include 16 tickets, parking and a three-, five- or seven-year pledge. Club seats cost between $1,500 to $4,000 per seat plus the cost of tickets and include a one-year term.
Eighty percent of costs for the suites and club seats are tax deductible.
(Click here for an earlier story and slideshow on the suites and renovations).
The suites and club seats were to be paid in full by Jan. 31, but Parker acknowledged that wasn't a hard deadline.
Parker did say, though, suites and club seats that haven't been paid for by April — when season-ticket renewals are mailed — will be released to the public.
Parker says 58 of the 81 suites are spoken for and 47 of them have been paid for completely, adding he's confident the other 11 will be soon. Delta Dental, Dow Chemical and Kellogg's are among the 21 entities that have a suite in their name. A total of 32 suites will be occupied by well-heeled individuals and the university will use five more.
Parker said the school has commitments for 2,822 of its 3,685 club seats.
"With the new revenue generated, we have more than enough money for our bond," Parker said, referring to the mortgage of sorts that the school has for the $226 million renovation of its iconic stadium.
Construction began the day after the Wolverines lost at Ohio State in November 2007 and is expected to be completed by June.