Posted on
Sat, Oct 15, 2011 : 6:52 p.m.
Michigan State plays 'dirty,' but Michigan lacked grit necessary to win the rivalry game
By Kyle Meinke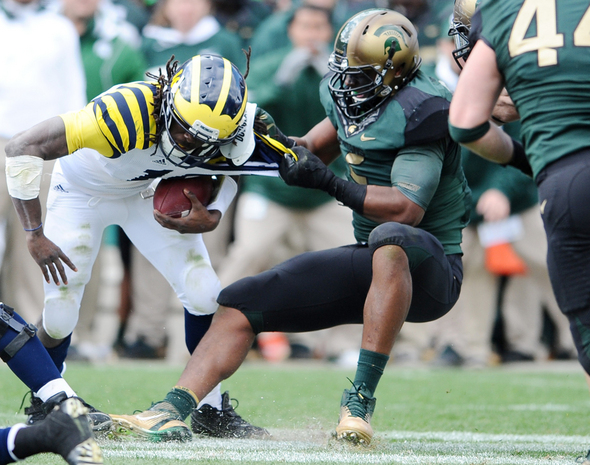 Melanie Maxwell | AnnArbor.com
EAST LANSING --
Jerel Worthy
said what Michigan players wouldn't.
This game was dirty.
It was all part of the Spartans' physical game plan against the No. 11 Wolverines (6-1, 2-1), who were beaten and battered in a 28-14 loss to Michigan State -- their fourth loss in a row to the in-state rival.
Several Michigan players and coach Brady Hoke brushed aside notions this was a dirty game, despite the Spartans' 13 penalties. They also committed six of the game's seven personal fouls, including a late hit on quarterback Denard Robinson that ended the junior's day late in the fourth quarter.
There was another roughing the passer, a horse-collar tackle on which a Michigan State player tried to bring down kick returner Martavious Odoms by his hair, a punch to Taylor Lewan's neck and a twist of Robinson's helmet at the bottom of a pile.
Spartans defensive end William Gholston, who picked up two of those personal fouls, including the one for twisting Robinson's head after a play had ended, said their game plan was to play with "reckless abandonment."
Hoke said after the game he didn't think the No. 23 Spartans (5-1, 2-0) played dirty, and would watch the film before saying more.
Worthy wasn't so modest.
Was this a dirty game?
"Definitely," Michigan State's star junior defensive tackle said. "Any rivalry you have like that, there's always going to be little cheap shots and everything like that. We just got to play through it.
"It's football, at the end of the day. It's man on man, and we got to overcome it."
But all the personal fouls went against the Spartans. What's up with that?
"Yeah, ya know, but it's rough out there," Worthy said, hat tugged low and sweat still dripping down his face. "I'm just happy that we were able to go out there and persevere through the adversity."
Worthy was very clear Michigan State does not take pride in personal fouls, but also said it was important the Spartans get inside Robinson's head.
Did Michigan State accomplish that goal? Of course it did, whether it was done cleanly or not. Robinson, who threw well against Minnesota two weeks ago and was coming off a torrid second half last week against Northwestern, never got on track.
He finished 9-of-24 passing for 123 yards, one touchdown and one interception. That's the lowest passing percentage of his career in games he's started.
Even the running game abandoned Robinson. He finished with 18 rushes for just 78 yards -- the lowest total of any game he's started. He averaged just 2.3 yards per carry, and was pummeled getting even that much.
And then there were the quarterback hits, sacks and two roughing the passer calls inflicted by that fearsome Michigan State front, which played as advertised.
Did Worthy see fear in Robinson's eyes?
"Oh yeah, definitely," he said. "He's a competitor, but no one wants to keep getting hit by 300-pound guys."
One of those guys — defensive end Marcus Rush — eventually landed the knock-out blow on a late hit of Robinson, a blow that was inflicted well after the quarterback had released the ball.
Robinson stopped short of calling it a cheap shot, but he also left little to the imagination.
"Did the referees call it?" he said.
Well, yeah, they did. Roughing the passer, 15 yards.
But, just like the other 12 penalties for 109 yards called against the Spartans, the Wolverines could not make them pay.
Michigan State entered the game with the nation's top overall defense, and held an offense averaging 38 points per game to 14. Michigan, whose offense is predicated on its seventh-ranked rushing attack, gained just 82 yards on the ground.
That, in the end, is why Michigan lost this game, dirty or not.
Michigan State was more physical than the Wolverines. It won the battle up front, sometimes handily, and that contributed to Michigan's woes on the ground. In a series decided 39 of the past 42 times by who wins the rushing battle, Michigan left itself little chance by being outgained 213-82 on the ground.
"I think they were definitely more physical," Michigan safety Jordan Kovacs said. "They pounded us. They beat us up."
Things got chippy, as they've been the past five years of this rivalry. The teams didn't even shake hands after the game, as is customary.
"The little brother comments and things like that kinda get to you," Worthy said. "So, you have to go out there and make a statement."
The Spartans did, and it said they remain the more physical team in this rivalry -- and in this rivalry, that means it remains the better team.
That'll stick with Michigan.
"They need to feel this one," Hoke said of his players. "We all need to feel this one for a while. But we'll turn the page."
Kyle Meinke covers Michigan football for AnnArbor.com. He can be reached at 734-623-2588, by email at kylemeinke@annarbor.com and followed on Twitter @kmeinke.