Posted on
Mon, Jan 16, 2012 : 11:09 a.m.
Michigan ties run deep for football team's latest preferred walk-on
By AnnArbor.com Staff
Mark Lawson watched from the stands when the Michigan football team rallied from a 17-point deficit to beat Michigan State 45-37 in triple overtime.
Since that day in 2004, he was determined to wear the maize and blue. According to Scout.com recruiting analyst Allen Trieu, he'll get his chance as a class of 2012 preferred walk-on.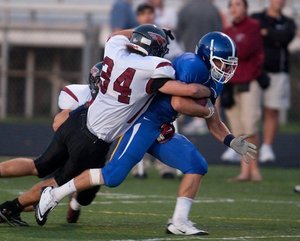 Grand Rapids Press
Lawson (6-2, 195) had 144 total tackles, four sacks and an interception as a linebacker at Ada Forest Hills Eastern High School.
Lawson has deep ties to the university and its athletic department, his father, Jeff Lawson, told Trieu.
His parents are Michigan graduates and his brother is currently attending the university's law school. His great grandfather was an employee of the athletic department and his great grandmother a Michigan graduate. A great uncle, Herb Frederick, has been a stadium volunteer for 68 years.
Lawson, a 4.0 student, reportedly received recruiting interest from several MAC and Ivy League schools.
He accumulated more than 400 tackles as a three-year starter at middle linebacker and a three-year all-conference selection at Forest Hills Eastern.
"He thrives on film study and knowing opponents' tendencies," his high school coach, Tim Gibson, told the Grand Rapids Press. "He plays sideline to sideline and doesn't give up on plays."