Posted on
Wed, Jan 4, 2012 : 3:06 a.m.
Michigan football team completes turnaround season, tops Va. Tech in OT
By Kyle Meinke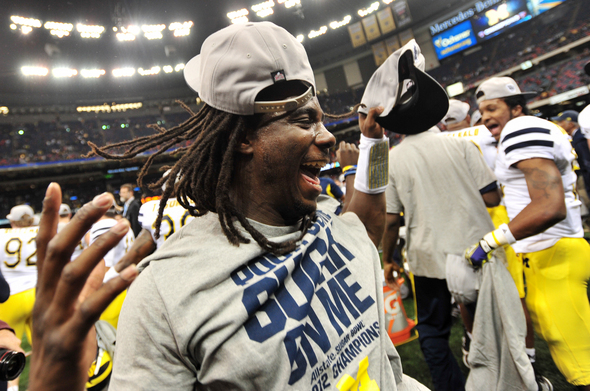 Melanie Maxwell | AnnArbor.com
NEW ORLEANS — A magical ending to a magical season.
A year in which everything seemed to fall into place for the Michigan football team culminated with a BCS game that was there for the taking.
And they took it, thanks to Brendan Gibbons.
The sophomore kicker, who was 1-of-5 last year and part of a Michigan field-goal kicking unit that finished last in the country, nailed a 39-yarder to help Michigan take this one to overtime.
After Virginia Tech went scoreless in the extra period, Gibbons hit from 37 yards to give Michigan a resilient 23-20 overtime victory against the Hokies.
"It was about will," coach Brady Hoke said. "When you play a game like that and both teams are getting after each other ... I can tell you down on the field, it was physical. You could hear it.
"The one thing that's great about this football team is they've continued to stay together. And they've continued to complement each other. And that's exciting. And that's why we've won 11 games."
Then the celebration started. Holder Drew Dileo, a Louisiana native, hugged and leaped on Gibbons. Michigan coach Brady Hoke was soaked in a traditional water bucket bath within seconds.
Michigan players pulled on T-shirts that read "POUR SOME SUGAR ON ME," as Michigan celebrated the 20th bowl victory in team history.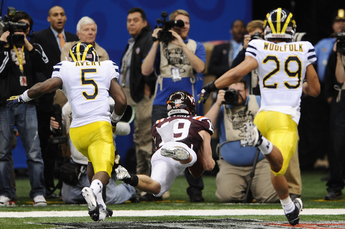 Melanie Maxwell | AnnArbor.com
It was a fabulous ending to an accomplished season, which culminated with the program's first BCS win since 2000 and its first bowl win of any kind since the 2007 season.
The Wolverines went 11-2 in coach Hoke's first season, just the fifth time they've won that many games in their modern era.
"This one cements our place in Michigan history for a long time," senior defensive lineman Ryan Van Bergen said. "Team 132 will be remembered, no doubt about it."
This team always was going to be remembered for the way it responded to a three-year run of futility, although it didn't always look like it was going to end on a positive note.
The Wolverines gave away an 11-point lead in the second half as its offense stalled and defense couldn't get off the field on third downs.
Michigan quarterback Denard Robinson was held to a career-low 13 yards rushing and was mostly ineffective in the passing game.
But he found receiver Junior Hemingway for two long touchdowns and engineered enough offense to cap Michigan's comeback season with a thrilling victory.
"I seen Denard getting ready to throw the ball (on the first one), but I didn't know who he was throwing the ball at," said Hemingway, who was named the game's MVP. "He threw it up and (I) didn't play the ball good. I caught it. I heard the safety coming over I didn't know if he was going to take me out or what. Snatched the ball in there, ran it in for six.
"On the second one, I got behind the safety, and I was thinking in my head, 'Please, Denard, throw this up, please, I want you to so bad.'
"And he threw it up. He threw it up. And I made a play on it." Michigan's defense struggled badly on third down, when it allowed Virginia Tech to convert six of 15 third-down plays, including several long attempts.
The Hokies tied the game early in the fourth quarter after converting third downs of 12, 8 and 11 yards and a fourth down of 11 yards. Quarterback Logan Thomas, who was terrific all night, finished off the drive with a 1-yard touchdown run to tie the game 17-17 with 10:22 left.
Thomas finished 19-of-28 for 214 yards and one interception. He also ran for 53 yards.
Virginia Tech had its turn first in overtime, and third-string kicker Justin Myer, who had made his first three attempts after being forced into duty because of an arrest and suspension, missed a 37-yarder to set up Gibbons' heroics. The miss came one play after Thomas appeared to find Danny Coale for a diving touchdown catch in the end zone. A review of the play overturned the call on the field.
Michigan was outplayed in every notable statistic in the first half, being outgained 185-145 in total yardage and achieving two fewer first downs.
"We were looking at the third quarter stats on the screen and they had more first downs, they had more total yards, they had more time of possession — but we were still up," tight end Kevin Koger said. "We had no idea why … it wasn't pretty, it was definitely ugly, but we got through it."
Michigan caught enough breaks to avoid taking any body blows.
Virginia Tech drove to Michigan's 4-yard line on its first possession, but tailback David Wilson backtracked 22 yards to set up a field goal by Myer. He made it for a 3-0 lead.
After an interception by Robinson, Myer drilled a 43-yarder — the Hokies' longest field goal of the year — to extend Michigan's deficit to 6-0.
The Wolverines again gave the Hokies solid field position on their next drive, thanks in part to a 24-yard punt by Will Hagerup, but senior defensive linemen Ryan Van Bergen and Mike Martin combined on a fourth-down stop to give Michigan a goal-line stand.
"We were bending but we never broke," Van Bergen said. "That was big for us, that fourth-and-one stop. Me and Mike called that play 'cause after seeing it on film. I don't remember who made the play cause we just dove down.
"People will say what they will say regardless of what the stats are. At the end of the day, we know, and I'm sure every other team that plays college football knows, is the only thing that matters is the score."
Kyle Meinke covers Michigan football for AnnArbor.com. He can be reached at 734-623-2588, by email at kylemeinke@annarbor.com and followed on Twitter @kmeinke.