Posted on
Sat, Oct 16, 2010 : 11:16 p.m.
Iowa 38, Michigan 28: Your comprehensive guide to Saturday's coverage
By Rich Rezler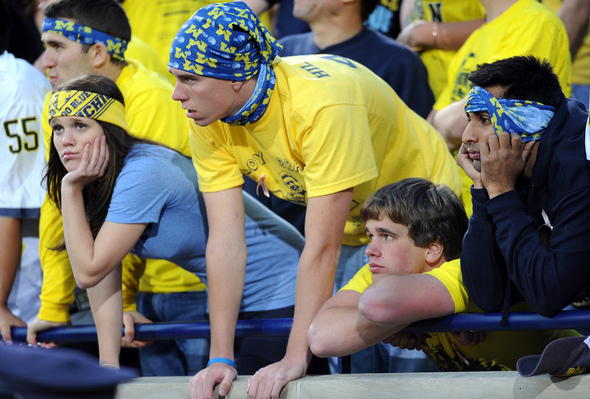 Melanie Maxwell I AnnArbor.com
The Michigan football team moved the ball practically at will against one of the nation's best defenses on Saturday. The Wolverines didn't, however, keep it long enough.
After turning the ball over just once while starting the season 5-0, they have given it away seven times in their last two games. That includes four more on Saturday -- three interceptions and a fumble -- in a 38-28 homecoming loss to Iowa.
And, for the second straight week, a field goal attempt was blocked to boot.
In the end, 522 yards of total offense against an Iowa defense that was allowing an average of 242.2 -- fourth best in the country -- wasn't enough. Michigan limps into its bye week with two straight losses.
AnnArbor.com had it covered from pregame homecoming revelry to post-game press conferences. Here's a comprehensive guide to everything you'll find on our site:
Post-Game Coverage
• Scoring summary and boxscore.
• Ridiculous. Inexcusable. And ridiculous again. No, Rich Rodriguez wasn't a happy man in his post-game press conference. As Pete Bigelow writes in his main game story, "instead of polishing the problems that contributed to last week's loss against the Spartans, Michigan's errors multiplied against Iowa."
• The Iowa offense executed to near perfection and converted in the fourth quarter, when it mattered most.
• Tate Forcier showed moxie in his relief role Saturday, but Denard Robinson -- "our starting quarterback," Rodriguez confirmed -- should be OK.
• Michigan safety Jordan Kovacs, a former walk-on, has turned into one of the Wolverines' most dependable run-stoppers.
• Iowa receiver Derrell Johnson-Koulianos leads the pack in Bigelow's game balls.
• In our notebook, we have stories about Michigan's field goal kicking woes, Taylor Lewan's interesting day and much more.
• Campus police arrest four and cite six at Michigan Stadium.
In-Game Updates
• AnnArbor.com photographers Melanie Maxwell and Lon Horwedel combined to bring a full day's worth of images that we've compiled in this slideshow:
• Jim Knight kept a running update file during the game. Check that out here.
• Rich Rezler and Mike Rothstein hosted a live chat during the game. Read that transcript here.
Summary, in Wordle We took every sentence from each of the stories linked to above and had a little fun with Wordle. The program generates "word clouds" from provided text with greater prominence given to words that appear most frequently.
Around the Big Ten (click on score for complete game recap)
• Wisconsin 31, Ohio State 18: David Gilreath returned the game's opening kickoff 97 yards for a touchdown and John Clay went over the century mark in rushing and had two scores in front of a rowdy crowd at Camp Randall Stadium. The Badgers (6-1, 2-1 Big Ten) built a three-touchdown lead before watching the Buckeyes get within three points early in the fourth quarter. James White answered with a 12-yard scoring run and Wisconsin held on to send the No. 1 team to a loss for the second straight week. Last Saturday, South Carolina pulled off its first ever win over a top-ranked team with a 35-21 triumph over Alabama.
• Michigan State 26, Illinois 6: The Spartans used a 23-point second half to improve to 7-0 for the first time since 1966. Illinois had a 123-77 advantage in total yards at halftime, but MSU led 294-255 by the end of the game. QB Kirk Cousins was 13-of-24 passing for 201 yards and a touchdown, Larry Caper led MSU rushers with 37 yards and a score and Don Conroy kicked four field goals.
• Purdue 28, Minnesota 17: Boilermaker quarterback Rob Henry, making his second career start, scored three rushing touchdowns and threw for another in West Lafayette. Henry was 13-of-20 passing for 163 yards and rushed 17 times for 57 yards. Minnesota QB Adam Weber was 20-of-45 passing for 214 yards, two touchdowns and two interceptions.
• Indiana 36, Arkansas State 34: Ben Chappell threw for 382 yards and four touchdowns and the Hoosiers survived a non-conference game at Memorial Stadium. Chappell threw for nearly 300 yards and three touchdowns in the second half alone, as IU (4-2) ended a two-game losing streak. Arkansas State QB Ryan Aplin set a school record with 33 completions for 275 yards. He threw for two TDs and ran for another.