Posted on
Fri, May 11, 2012 : 12:59 p.m.
Michigan's Brady Hoke ranked 24th-best coach in country; trails 3 in Big Ten, Brian Kelly
By Kyle Meinke
Brady Hoke inherited a Michigan football team that had won 15 games in three years, and went 11-2 in his debut season. He was named Big Ten coach of the year, and has attracted the nation's top 2013 recruiting class according to Scout.
But Sporting News isn't quite as high on him when it comes to the national coaching hierarchy.
Steve Greenberg and Matt Hayes posted their head coach rankings earlier this week, and pegged Hoke 24th in the country.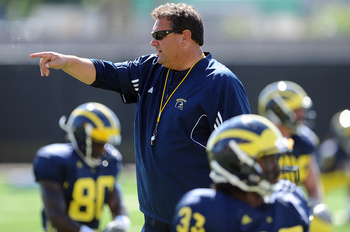 Melanie Maxwell | AnnArbor.com
He trails three Big Ten coaches, including his top-two rivals: Ohio State's Urban Meyer (No. 3), Wisconsin's Bret Bielema (No. 12) and Michigan State's Mark Dantonio (No. 13).
Alabama's Nick Saban, whom Hoke will face Sept. 1 in the Wolverines' season opener, is ranked No. 1.
Sporting News said this about Hoke: "Kind of hard to believe, isn't it, that Hoke was a sub-.500 coach pre-Michigan? But he slowly built Ball State into a prime MAC team, then turned San Diego State around more quickly. His first season in Ann Arbor was a mind-blower. It seems Hoke has improved throughout the first decade of his career—and that he's exactly the right guy at the right time for the Wolverines."
After only one season at Michigan, Hoke filing in behind Meyer and Bielema is sensible. Those guys have won for a long time, while Hoke has done it for only one year at at BCS school. And remember, while the turnaround last year was impressive, Hoke was a below-.500 coach before joining the Wolverines.
Meanwhile, arguments can be made for both sides between Hoke and Dantonio.
Dantonio has owned the Wolverines the past four years, and put together back-to-back 11-win seasons. He also beat Hoke in their only head-to-head matchup.
But Hoke also scaled to higher heights at Michigan last year, taking it to a BCS bowl -- and winning it, matching Dantonio's career bowl wins at Michigan State (and the Spartans haven't been to a BCS bowl under him).
Michigan also has soundly beaten the Spartans on the recruiting trail since Hoke's arrival.
So, some will take Dantonio, others take Hoke, and each side has a case.
But there are other coaches Sporting News ranked ahead of Hoke who are curious selections, most notably Notre Dame's Brian Kelly. He's ranked No. 18, despite losing 10 games in his two seasons with the Irish. He's also come under fire several times, for everything from frequent player arrests (and lax punishment for offenders) to sideline tirades.
He had impressive tenures at Central Michigan and Cincinnati, and could still do the same with Notre Dame. But he certainly hasn't done enough to merit a spot ahead of Hoke at this point.
The top 25 coaches, according to Sporting News:
1. Nick Saban, Alabama
2. Chris Peterson, Boise State
3. Urban Meyer, Ohio State
4. Les Miles, LSU
5. Bob Stoops, Oklahoma
6. Chip Kelly, Oregon
7. Gary Patterson, TCU
8. Steve Spurrier, South Carolina
9. Frank Beamer, Virginia Tech
10. Mike Gundy, Oklahoma State
11. Bill Snyder Kansas State
12. Bret Bielema, Wisconsin
13. Mark Dantonio, Michigan State
14. Mark Richt, Georgia
15. Bronco Mendenhall, BYU
16. Mack Brown, Texas
17. Mike Leach, Washington State
18. Brian Kelly, Notre Dame
19. Paul Johnson, Georgia Tech
20. Lane Kiffin, USC
21. Kyle Whittingham, Utah
22. June Jones, SMU
23. Chris Ault, Nevada
24. Brady Hoke, Michigan
25. James Franklin, Vanderbilt
(The rest of the rankings can be found by clicking here.)
Is Hoke too high, too low or just right? He probably should be ranked ahead of the likes of Mack Brown (who is 13-12 the past two years), Mike Leach (who hasn't coached a game at Washington State), Brian Kelly, June Jones and Chris Ault. But overall, it seems about right.
Where would you rank Hoke?
Kyle Meinke covers Michigan football for AnnArbor.com. He can be reached at 734-623-2588, by email at kylemeinke@annarbor.com and followed on Twitter @kmeinke.