Posted on
Thu, Jan 12, 2012 : 5:59 a.m.
Michigan's Kenny Demens OK with escaping spotlight, but is a big winner in our year-end grades
By Kyle Meinke
Melanie Maxwell | AnnArbor.com
He was sitting on a platform in a room full of people. Four teammates were interspersed throughout the room on similar platforms, speaking with reporters about the upcoming Sugar Bowl.
No one was talking to Kenny Demens.
The Michigan football team's middle linebacker should be a star. He led a top-20 defense in tackles, and was responsible for the defensive playcalls that confounded some very good offenses.
Yet, with coach Brady Hoke casting a spotlight on the defensive line and the secondary becoming a new source of strength, Demens was, more or less, lost in the shuffle. Not that it bothers him or anything.
"I don't mind. Not at all," he said during an interview in New Orleans. "Guys like Mike Martin and (Ryan) Van Bergen deserve the credit. Those guys take up the blocks that allow me to make plays. They deserve all the attention they've gotten.
"As long as I'm making plays and we're winning, I don't care at all who gets the credit."
In AnnArbor.com's year-end grades, Demens gets a tip of the cap for his effort this year by earning one of four "A's" doled out to defensive players.
We also graded every other offensive and defensive player on the two-deep roster, as well as the key specialists. The primary factors considered were overall performance and consistency, with expectation level also taken into account.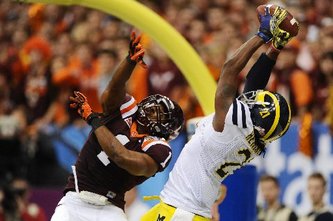 Melanie Maxwell I AnnArbor.com
Receivers
Junior Hemingway: His numbers (34 catches, 699 yards, four TDs) aren't elite, but few receivers made more of their chances than Big Play Hemingway. The emphasis on the running game diminished his stats, but he had few drops on the balls he did get and made jump balls seem routine. He finished third in the country with 20.1 yards per catch and was named Sugar Bowl MVP for his two acrobatic TD catches. A

Roy Roundtree: Some players benefit from coaching changes, and others don't. It's unavoidable, and Roundtree falls in the latter group. He fell from 72 catches last year to 19 this year, matching the sharpest decline in the Big Ten (and the guy he matched, Indiana's Damarlo Belcher, played just six games before getting kicked off his team). Coaches will say the drop off can't all be put on him, and that receivers do more than catch balls, both of which are true. But the fact stands that, for one reason or another, Roundtree disappeared too often from the passing game for someone of his talents. C+

Jeremy Gallon: Standing 5-foot-8, there were doubts about how, or if, the sophomore would fit into Al Borges' pro-style offense. Gallon responded by becoming the team's second-leading receiver (31 catches, 453 yards, three TDs), and Michigan doesn't beat Notre Dame without him. He also became a devastating blocker, instrumental in an offense that relies so heavily on the run. A-

Drew Dileo: The sophomore had just nine catches, but two went for TDs and another picked up a big first down on third-and-long against Ohio State. He could become a bigger part of the offense next year, particularly if Darryl Stonum doesn't return. B+

Martavious Odoms: The senior was a no-show for much of the year, slowed by an off-season forearm injury. But he turned it on late, snagging TDs in the final three regular-season games. B-

Kelvin Grady: The senior became a victim of Gallon's stellar play. The former basketball player had just five catches for 75 yards and could never find consistent playing time. INC

Melanie Maxwell I AnnArbor.com
Offensive linemen
Taylor Lewan: The sophomore is a two-year starter who is a physical specimen with great pro potential, but discipline was a question after committing seven penalties in seven starts last year. This year: Three penalties in 13 starts. Sky's the limit for him. A

Michael Schofield: The sophomore was thrust into starting duty due to the ankle injuries to left guard Ricky Barnum, and he responded by basically taking Barnum's spot. He played well and earned a starting spot next year either at left guard or right tackle. A-

David Molk: He won the Rimington Trophy as the nation's top center, and played in the Sugar Bowl on one leg. What more could you want from your center? A+

Patrick Omameh: After two tours as a starter, Omameh has shown to be a capable option at right guard. But he often was the weak link up front this year, and was consistently a step slow when he pulled. He was a major culprit for the breakdowns against Michigan State. B-

Mark Huyge: A quiet, steady producer at right tackle. Nothing more, nothing less. Now is making a run at the NFL and training with Mike Barwis. B+

Ricky Barnum: He was Wally Pipp'd by Schofield, more or less. He started the season with a one-game suspension, then played well through the rest of the nonconference season. He went down with ankle injuries, though, and never started in Big Ten play, even as he returned to health. D+

Elliott Mealer: There was such a sharp drop-off from the five starters and Barnum to Mealer, the junior never saw the field except in mop-up duty and after an injury to Lewan and Barnum. Has yet to show he can be an effective offensive lineman, and could be passed by a freshman next year. INC

Rocko Khoury: Khoury was the backup center this year, but never saw the field except late in blowouts and on the opening series in the Sugar Bowl, when he showed how fortunate Michigan is that Molk never went down with a serious injury. INC


Tight ends

Kevin Koger: The senior had a career year (third-leading receiver at 23 catches for 244 yards and a team-high four TDs) despite the inconsistencies of the passing game. Was a vocal leader off the field and solid blocker on it. Has great pro potential. A-

Steve Watson: He was overshadowed and buried on the depth chart by Koger. Not much of a factor, other than as a blocker in power sequences. INC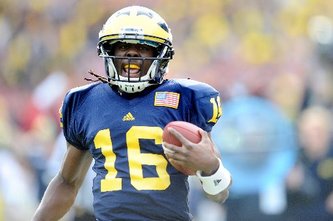 Melanie Maxwell I AnnArbor.com
Quarterbacks
Denard Robinson: OK, he was sixth in interceptions this year with 15 and his accuracy was, let's say, inconsistent. But put it this way: Do the Wolverines win 11 games without him? Hell, do they win 11 with Michigan State's Kirk Cousins, whom the coaches ranked the second-best quarterback in the Big Ten this year? No. There's room for improvement — miles of it — but he makes Michigan a winner. B+

Devin Gardner: The sophomore got some key snaps this year, which should pay dividends as he works his way into the lineup down the road. He showed mobility in the running game and found success on bootlegs, but was erratic in the passing game. B-


Fullbacks

Stephen Hopkins: After losing the tailback battle, the sophomore switched positions midseason and found a home. He still has a case of the dropsies, but showed growth in the protection schemes and showcased plus-speed for a fullback. He also could add a dimension in the passing game as his role expands. B+

John McColgan: He is what he is: A walk-on who, as someone built like a truck, was a capable blocker but limited to just that. C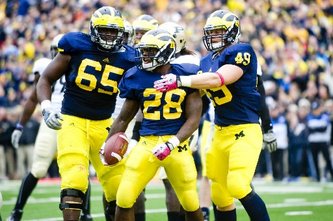 Joseph Tobianski | AnnArbor.com
Tailbacks
Fitz Toussaint: He answered questions about his health (missed only one game) and vision (biggest growth area this year) while reaching 1,000 yards in his first tour as a starter. Not enough can be said about his ability to keep the offense churning, and Robinson in one piece. Only blemishes are no-shows in two of the season's three biggest games: Loss to MSU and Sugar Bowl win against Virginia Tech. A-

Vincent Smith: He had such a strong fall, he was able to steal snaps from Toussaint well into the season before finally giving way against Purdue. He's a smaller, shiftier runner and should provide a nice complement as a senior next year. He also is the team's best blocker and receiver at this position. B

Michael Shaw: He was considered the favorite to become the team's lead tailback throughout fall camp, then faded into an afterthought during the season. His 31 carries were a career low. D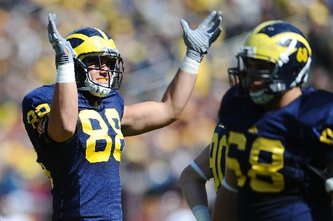 Melanie Maxwell I AnnArbor.com
Defensive line
Craig Roh: The junior didn't record a tackle in the first two weeks after enduring a difficult fall camp and adjusting to the new scheme. In the final 11 games, he came on strong with 32 tackles, four sacks and a forced fumble. Only knock was a bout of inconsistency with holding containment against outside runs. A-

Mike Martin: Facing perpetual double teams, the senior was able to rack up 64 tackles, a team high among defensive linemen, 3.5 sacks and the program's first safety in almost a decade. A

Will Heininger: The senior surpassed all expectations in his career, going from a 220-pound baseball player to a scout-team punching bag for Jake Long to a starter at tackle this year. He wasn't a star, but also wasn't expected to be on this line. He was solid, carving out a nice legacy for himself. B+

Ryan Van Bergen: He became the captain of the resurgent defensive line, calling out the plays and audibling with Martin on the line. The senior finished with 45 tackles, a team-high 5.5 sacks, three recovered fumbles and one forced fumble. Played on one leg in the Sugar Bowl because of the injuries to Heininger and Brink. He was a warrior. A

Jibreel Black: A nice young piece for this team, Black was able to challenge Roh for snaps at weak-side end despite Roh playing so well. Expect to see both in the lineup next year. A-

Frank Clark: He didn't play much until the Purdue game, and remained buried behind Roh and Black even then. Still, he showcased the raw athleticism players rave about and appears to have a bright future. B+

Will Campbell: The former five-star recruit appeared in every game this year, a first for the junior, and started the finale against Virginia Tech. That's growth. However, it's becoming evident that, barring an off-season revelation, he'll never fulfill the lofty expectations set for him. He's simply too inconsistent, and his technique remains flawed. C

Nathan Brink: Coaches rave about the sophomore for his technique and coachability, but he remains limited in talent and size (he's only 6-foot-5, 263 pounds). Could make a jump next year with another off-season to bulk up. C-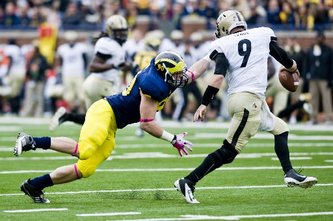 Joseph Tobianski I AnnArbor.com
Linebackers
Jake Ryan: Coaches refer to him as "unorthodox," but they can't help but smile as they say it because they know what they have on their hands in the redshirt freshman: An elite playmaker in the making. A-

Kenny Demens: Has there ever been a more quiet season from a leading tackler on a top-20 defense? The junior, often overshadowed by the dominant line, finished with 94 tackles and was instrumental in the team's great success on third- and fourth-and-shorts. A

Desmond Morgan: The second leg of a stellar freshman pair at linebacker, Morgan suffered an injury in fall camp and still was able to work his way into the lineup. He had more dips than Ryan, but flashed intelligence and instincts. His greatest potential, though, might come in the middle once Demens graduates. B+

Brandin Hawthorne: Hawthorne made five consecutive starts early in the season before giving way to Morgan and playing little down the stretch. He was spectacular against Notre Dame, but his play slowly waned from there. C

Brennen Beyer: Another freshman who saw time on defense. Was solid in limited action. B-

Mike Jones: It's easy to forget he was listed as a starter for the opener. It's easy to forget because he didn't play a significant snap all year. F

Brandon Herron: He'll be remembered for his two touchdowns in the opener — a school record for a defensive player — but otherwise forgotten. Well-liked by his teammates, but his playing time was victimized by the youth movement at linebacker. D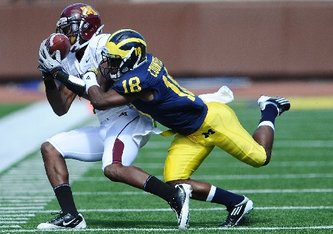 Melanie Maxwell I AnnArbor.com
Defensive backs
Blake Countess: He made several all-freshmen teams, and deservedly so, as he never really looked like a freshmen after catapulting into meaningful minutes against San Diego State. The only crack in his freshman resume was a sub-par performance in the Sugar Bowl. Otherwise, he showcased the kind of talent, instincts and persona that could make him the next great Michigan corner. A-

J.T. Floyd: A leg injury sabotaged his 2010 season. Nothing could dampen his 2011. Floyd finished with two picks, eight pass break-ups and a forced fumble during a breakout season, performing well even when paired with the ineffective Troy Woolfolk. A-

Jordan Kovacs: I said in the preseason the junior would experience a drop-off this year in the new scheme. I'm a fool. Kovacs is one of the Big Ten's surest tacklers and finest safeties. He'll be the defense's undisputed leader next year as a fourth-year starter. A

Thomas Gordon: He seems to be inconsistent in practices, which led the staff to start Woolfolk over him three times in the final four weeks of the regular season, but there's no disputing what he's done in games. He had 67 tackles and became a wrecking ball when it came to turnovers. Recovered a league-high four fumbles, forced two others and picked off one pass. A-

Troy Woolfolk: The senior entered the season saying he was faster and smarter than ever after losing 2010 to a leg injury, but never did find his form. He struggled at corner before being displaced by Countess and moving to safety. He wasn't much better there. C-

Courtney Avery: The sophomore was a nice player in nickel packages and made few mistakes in his limited role. He'll be remembered best for picking off the pass that sealed the win against Ohio State. B+

Raymon Taylor: He didn't see the field much as a true freshman, but coaches rave about his ability to play. INC

Marvin Robinson: He was the primary backup at safety until Woolfolk was moved there, then his legal troubles caught up with him. F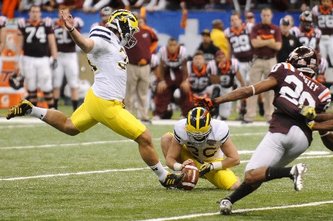 Melanie Maxwell I AnnArbor.com
Specialists
Brendan Gibbons: The contrast between last year and this is tremendous. Gibbons, 1-of-5 last year, has clicked nicely with Hoke and special teams coach Dan Ferrigno and turned in a 13-of-17 effort this year, including making all three attempts (and the overtime winner) in the Sugar Bowl. It's a true testament to the power girls wield over college guys. A

Matt Wile: Hoke criticized his placement on kickoffs early in the season, but the true freshman got better and was excellent against Ohio State and Virginia Tech. He has the strongest leg among field-goal kickers and could factor in there as well going forward. B+

Jeremy Gallon: The sophomore hit the gas on offense, and did the same on special teams, where he became a revelation as a punt returner. After averaging just 4.3 yards per return last year and struggling to secure the ball, Gallon was third in the Big Ten this year at 10.1 yards per return. A-

Martavious Odoms: He was forced into being the primary kick returner when Darryl Stonum was redshirted. He averaged just 21.2 yards per attempt (none longer than 33) and Michigan finished ahead of only Illinois in the Big Ten. D+

Drew Dileo: It's not often the holder becomes a key component of field-goal units, but the sophomore receiver was 3-for-3 in picking up first downs this year on fakes, providing an added dimension for which opponents must account. Only mistake all year was a bobbled snap on an extra-point try. A

Kyle Meinke covers Michigan football for AnnArbor.com. He can be reached at 734-623-2588, by email at kylemeinke@annarbor.com and followed on Twitter @kmeinke.