Posted on
Sun, Feb 26, 2012 : 3:56 p.m.
Michigan's Mike Martin falls short of combine record, former teammate in bench press
By Kyle Meinke
INDIANAPOLIS -- Mike Martin said last month he was aiming to break the combine's bench-press record. It wasn't bombast, but rather the confidence of a player who already had posted more than 40 repetitions even before the start of his combine training.
Then, after former Michigan teammate David Molk registered a 41 on Friday, Martin arrived in Indianapolis offering the dictum, "I'm happy for him, but I have to beat that. I'm not leaving here without beating him."
Martin benched Sunday afternoon. He's surely disappointed with the results.
The defensive tackle posted 36 reps in the 225-pound bench press at Lucas Oil Stadium, 13 off Stephen Paea's event record and five fewer than Molk.
Molk said he fell short of his own goal for the lift because he slipped on the bench during his drill. It's unclear if a similar problem plagued Martin.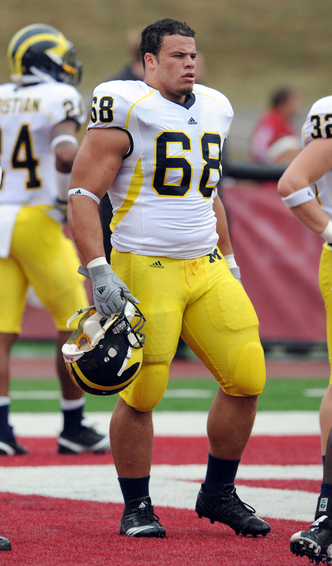 Lon Horwedel | AnnArbor.com
"Thirty-six is a good number. One of the best in the country," Martin's trainer, Mike Barwis, texted AnnArbor.com. "I am never disappointed in Mike. He and Dave both have two of the highest numbers in the country.
"The thing that is great about both guys is they expect to exceed the expectations of everybody. That's what they want. That is why they are the best."
For as disappointed as Martin will be with his result, it still is an overall impressive performance. Bench-press results had not been posted as of 3:45 p.m. Sunday, but his number beats everyone except Molk from the first two days.
It would have placed third among defensive tackles last year.
Martin told AnnArbor.com on Saturday he planned to attend Michigan's pro day March 15, but which drills he participated in were contingent on his performance at the combine. The bench press could be a candidate now.
All isn't lost for him in Indianapolis, though. Martin said he prepared to impress scouts not only with his strength, but also his quickness and agility. He competes in those events Monday.
"The strength factor isn't a big deal for me to showcase here," he said Saturday. "It's really my ability to move and my athleticism, and I think that'll be the most impressive thing for scouts to see -- for a guy my size to be able to move."
Martin weighed in at 6-foot-1, 306 pounds. That's an inch shorter and two pounds heavier than his listed size at Michigan.
He said he's received a lot of interest during private interviews with teams, including the Houston Texans, Pittsburgh Steelers and Tampa Bay Buccaneers.
He is listed by most analysts as a mid-round pick, although his stock has been on the rise after a strong Senior Bowl showing. ESPN's Todd McShay lists him No. 1 among defensive tackles in "toughness/motor."
Kyle Meinke covers Michigan football for AnnArbor.com. He can be reached at 734-623-2588, by email at kylemeinke@annarbor.com and followed on Twitter @kmeinke.