Posted on
Wed, Feb 15, 2012 : 5:59 a.m.
Michigan's Mike Martin staying mum on combine goals, except one: Set bench press record
By Kyle Meinke
A day after returning from the Senior Bowl, Mike Martin sat down in his Novi apartment with pen, paper and an envelope.
He used them to chart his path to the NFL.
Martin just completed a celebrated four-year career with the Michigan football team, which culminated with second-team all-Big Ten honors. He finished with 64 tackles and 3.5 sacks this past season, despite facing constant double teams.
He was named for a third consecutive year the Wolverines' defensive lineman of the year.
Martin then traveled to Mobile, Ala., where he was one of the biggest stars of Senior Bowl practices. NFL personnel -- including general managers, coaches and scouts -- were on hand and impressed, Martin said.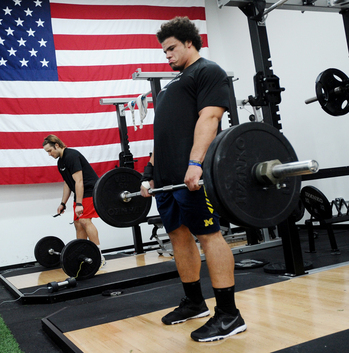 Melanie Maxwell | AnnArbor.com
He especially hit it off with Houston Texans general manager Rick Smith, who told Martin the club was looking for a defensive lineman such as him.
"There were a few question marks about me overall, I guess, and to go there and play against the nation's best, and do as well as I did, opened up a lot of eyes," Martin said during a recent phone conversation. "All these teams just had positive things to say, and said they wanted to see me down in Indianapolis for the combine."
It's positioned him nicely for the NFL Draft in April, but there also are enough questions about his size that it's paramount he excels at next week's combine to secure an early-round slot.
He might do just that.
Martin said he sat down in front of his laptop after returning from the Senior Bowl and went online to find how previous defensive tackles fared in the combine drills. Then, he grabbed a sheet of paper and wrote down numbers that compared to -- or exceeded -- those performances.
He tucked the sheet of paper in an envelope. Those are his goals.
He's not letting anyone peek inside the envelope, though -- not even his personal trainer, former Michigan strength and conditioning coach Mike Barwis.
"That's something I have done, and that's something I am not going to tell Barwis, or my best friend, or anybody," Martin said. "I have an envelope that is for me, and it's something that is driving me every single day."
There is one goal he's made very clear, though: He wants to be the first player in combine history to reach 50 reps in the bench press (225 pounds).
"I knew it as soon as (Stephen) Paea hit 49 last year," Martin said of the former Oregon State defensive tackle, who was taken in the second round by the Chicago Bears. "I saw that and right away was like, 'I can beat that. I'll beat that.'
"With the adrenaline, and all the hard work I've put into the bench, it's something I would like to do, and that I think is possible. ... Can't isn't in my vocabulary, and we'll just leave it at that."
Martin, who benched 500 pounds during a recent training session with Barwis, is one of the strongest players in the country. He already has benched 225 pounds 40 times, something only six players have done in combine history.
He also has exceptional quickness, and scouts rave about his motor. After turning in a strong performance at the Senior Bowl, it's clear his stock his rising.
"He's leaned out a lot in the belly, and he's added strength in his upper and lower body," Barwis said. "He's significantly increased his bench and his explosiveness. He's significantly increased his speed, while actually getting bigger.
"Mike's a freak, a brawler. There isn't anyone quite like him."
Martin slowly is making his way up the draft board of several notable prognosticators. He is ranked the No. 13 defensive tackle by ESPN, up from No. 15 in December.
He is No. 10 according to CBS, up from 14th in December, and has climbed 51 spots in the overall rankings to No. 96. He is projected to be taken in the third round.
An AFC scout told AnnArbor.com he is Michigan's strongest prospect for the draft, and expects him to be taken in the early rounds.
Martin's biggest weakness is his compact frame, which is a stocky 6-foot-1. But he does weigh 307 pounds now, up almost 10 pounds from the start of his offseason training, and is carrying it well. The New York Times said he "looked like a champion bodybuilder" at his Senior Bowl weigh-in.
He'll try to act the part next week.
(Video of Martin's 500-pound bench press at Barwis Methods. Please note that it includes some strong language.)
Kyle Meinke covers Michigan football for AnnArbor.com. He can be reached at 734-623-2588, by email at kylemeinke@annarbor.com and followed on Twitter @kmeinke.