Posted on
Sat, Feb 25, 2012 : 3:49 p.m.
Michigan's Mike Martin won't let David Molk beat him on bench press; discusses 3 interested teams
By Kyle Meinke
INDIANAPOLIS — Mike Martin loves his former teammate, David Molk, like a brother.
And, as tends to be the case, he won't settle for anything less than one-upping his brother.
Molk, the Michigan football team's Rimington Award-winning center, blew away the field Friday during the first day of the bench press at the NFL Scouting Combine in Indianapolis. His 41 reps were the high of the day, and seven more than any other offensive lineman.
They're a high among centers going back to at least 2005, when records began being kept online for the position.
"I'm happy for him, but I have to beat that," Martin said, laughing. "I'm not leaving here without beating him, so that's my benchmark."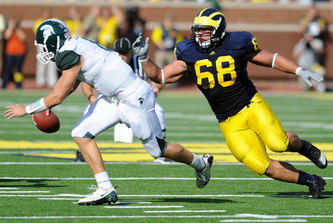 Martin, a defensive tackle projected to be a mid-round pick in April's NFL Draft, has kept all but one of his combine goals a secret:
He wants to topple Stephen Paea's record of 49 reps
in the bench press.
He thinks he has a shot to do it, after seven weeks of training with former Michigan strength and conditioning coach Mike Barwis. Their workouts began Jan. 4 — the day after the Sugar Bowl.
Martin said his personal best is 42 reps of 225 pounds, although that came after an exhaustive workout.
Molk had a similar combine training philosophy. His personal best entering the week was 39, which came after a long workout. He said he was primed to hit at least the mid-40s, but slipped on the bench, which limited him to 41.
"I'm beating that, definitely," Martin said, laughing again. "You can put that down on the record. There's no way I'm letting him beat me, and I'll tell him that."
Martin checked in at 6-foot-1, 306 pounds. That's an inch shorter than his listed Michigan height, and a pound lighter than his Senior Bowl weight.
"Probably used the bathroom a little bit too late," Martin quipped.
The combine is as much about the meetings with team personnel as it is about bench presses or 40-yard dash times, and Martin said that end of things has gotten off to a good start as well.
Martin said the Houston Texans, Pittsburgh Steelers and Tampa Bay Buccaneers have told his agent, Chicago-based Rick Smith of Priority Sports, they are seeking a defensive tackle and are interested in him.
The Texans have shown consistent interest in Martin since the end of the college season. Martin said the best conversation he had at the Senior Bowl was with their general manager, Rick Smith (yes, the same name as his agent).
Martin said the Texans were one of two teams that requested to meet with him his first day at the combine.
He also said he'd love to play with the Steelers, who feature former Michigan standout LaMarr Woodley, a friend of Martin's.
"My boy Woodley, he's putting in a good word for me," Martin said. "That'd be sweet (to play with him), man. That'd be sweet."
Kyle Meinke covers Michigan football for AnnArbor.com. He can be reached at 734-623-2588, by email at kylemeinke@annarbor.com and followed on Twitter @kmeinke.