Posted on
Fri, Apr 6, 2012 : 5:59 a.m.
Thomas Rawls following Fitz Toussaint's path into Michigan football team's backfield
By Kyle Meinke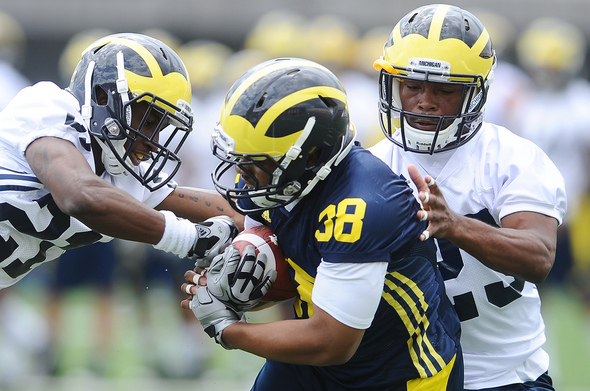 Melanie Maxwell I AnnArbor.com
Long before Fitz Toussaint was a 1,000-yard rusher, he was a guy who ran into bodies, who didn't recognize coverages -- who didn't play.
Before he could run, he had to see.
Thomas Rawls seems to be traveling a similar path.
The Michigan football team's sophomore tailback played sparingly last year while Toussaint and Vincent Smith paced the nation's 13th-best rushing attack (with a little help from quarterback Denard Robinson).
But Rawls wasn't idle, either.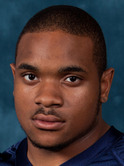 He closely analyzed Toussaint's rise from a nobody with bad vision into one of the Big Ten's most productive players. He picked up a thing or two without having to endure the lumps that most freshmen incur when thrust into action.
"I think those are good mental reps, I call them, where you can steal repetition from a guy who may not have done it right, and then not have to bull it yourself," offensive coordinator Al Borges said during a news conference Thursday.
Toussaint is a good model for Rawls, considering what he went through last year is exactly what Rawls is going through this year.
Entering last season, Toussaint was a sophomore with eight career carries for 87 yards. He was a physical runner who wasn't afraid of contact, but hadn't yet learned how to avoid it.
He sharpened his vision as the year progressed, though, and finished last season as Michigan's first 1,000-yard tailback in four years. Borges, more than anything, credits the revelation to simply getting Toussaint more snaps.
Rawls, who'll be a sophomore himself, has 13 career carries for 79 yards and has struggled with the same vision problem. The solution probably isn't so different from Toussaint's, either: More snaps.
And that's what Michigan has done this spring, increasing Rawls' reps at tailback as well as giving him a look at fullback. After 11 practices, Borges is noticing a difference.
"He's starting to see the line of scrimmage better and make better cuts and not run into bodies," Borges said. "Coming out of high school -- and a lot of the guys do this -- the power backs just tend to want to run straight ahead and run over guys because they can't tackle them, and the scat backs tend to want to juke everybody and never get up the field.
"Well the perfect back is somewhere in between. They understand when to use their power and understand when to use their stop and go ability, and Thomas has now gotten to a point where he's not simply trying to run over everybody every time he gets the ball."
One difference between the two backs is opportunity. The Wolverines had an open derby last year for the lead tailback job, and Toussaint won it. He went on to gain 1,041 yards, fifth most in the Big Ten.
This year, there is no such competition. Borges confirmed Thursday that Toussaint will be the team's featured back, noting, "If he isn't, I'm not very smart."
Still, there will be opportunities for others to fill complementary roles.
Smith, a senior, is expected to be the Wolverines' primary change-of-pace back. He is the team's best blocker and its most capable pass-catcher out of the backfield, which makes him a good fit for third-down situations.
But no one in Michigan's stable of tailbacks features the kind of pure power for which Rawls has become known. The 5-foot-10, 219-pounder could enter the fray next year, if he continues to improve his vision and sorts out his issues in the protection schemes.
"He's more of a power back," Borges said of Rawls. "He brings a load now, because he's a thick, strong, solid player with good speed. He's going to generally fall forward when he hits you, and there's going to be some impact when he hits you.
"Whoever's trying to tackle him, particularly in the open field, is going to feel him."
Kyle Meinke covers Michigan football for AnnArbor.com. He can be reached at 734-623-2588, by email at kylemeinke@annarbor.com and followed on Twitter @kmeinke.