Posted on
Thu, Dec 2, 2010 : 6 a.m.
More Big Ten expansion? Michigan athletic director Dave Brandon says there's a good chance
By Pete Bigelow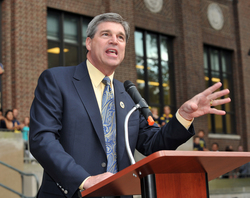 Lon Horwedel | AnnArbor.com
Shuffling across the college sports landscape has started again.
In recent days, Texas Christian fled the Mountain West for the Big East, geography overcome by the lure of an automatic-qualifying bid to a BCS bowl. UMass, meanwhile, is pondering a football-only move to the Mid-American Conference.
Could the Big Ten - the conference that started the realignment wave last summer - be next? Commissioner Jim Delany will address the expansion question at the next meeting of the Big Ten Council of Presidents/Chancellors in early December.
The group, which approved Nebraska's membership application over the summer, is expected to decide whether to pursue further expansion or conclude the process, according to Big Ten spokesperson Scott Chipman.
Michigan athletic director Dave Brandon believes the 12-school conference will eventually add more members. "We're in a really good place," he said. "Having said that, if I were a betting man, I'd say there's more change ahead and more expansion ahead. That review continues and discussions continue, and there's still possibilities out there." Brandon said Nebraska's inclusion occurred much faster than anybody in the conference anticipated, and that the rescheduling of the 2011 and 2012 seasons was an unintended byproduct.
"That wasn't the way it was supposed to happen," he said.
Originally, Delany outlined a review of the expansion topic that would take place in a 12-to-18 month. That period began in December 2009.
The addition of Nebraska, the 12th school, accomplished one of the primary goals of the conference - fielding enough competitors under NCAA rules to host a league championship game, the first of which will be held Dec. 3, 2011 at Lucas Oil Stadium in Indianapolis.
Not everyone agrees with Brandon. In October, Ohio State athletic director Gene Smith told The Lantern, "We're done with it. We're finished." Two months later, he maintains that position, according to OSU spokesperson Shelly Poe.
But Brandon believes the chances are good that the Big Ten will further expand.
"We've accomplished a lot of what we needed to accomplish," he said. "I know I'm happy, but not that we've kind of digested that, we're still in the same mode of looking at the bigger picture and seeing if there's more we can or should do.
"That's far from a guarantee, but I'd say there's a higher likelihood there's expansion in the future."
Pete Bigelow covers Michigan football for AnnArbor.com. He can be reached at (734) 623-2556, via e-mail at petebigelow@annarbor.com and followed on Twitter @PeterCBigelow.