Posted on
Tue, Jan 17, 2012 : 4:06 p.m.
Receiver Darryl Stonum dismissed from Michigan football team for violation of team rules
By Kyle Meinke
The Darryl Stonum saga is over at the University of Michigan.
The school announced via a press release this afternoon that the senior receiver has been dismissed from the football team for a violation of team rules.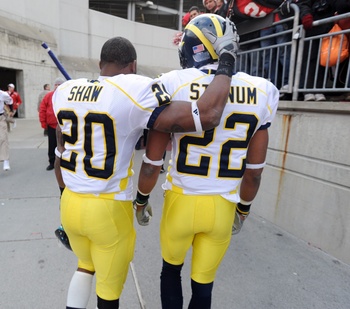 AnnArbor.com file photo
"I love Darryl and wish him nothing but the absolute best," Michigan coach Brady Hoke said in the release. "However, there is a responsibility and a higher standard you must be accountable to as a University of Michigan football student-athlete. That does not and will not change.
"It's unfortunate because I believe he has grown a great deal as a person since the beginning of the season. My hope is that maturing process continues."
The release did not explicitly state Stonum's violation, but it's believed to be his latest probation violation, which earned him a 10-day jail sentence. He was released Saturday, ending his stint two days early.
Stonum's probation stems from a drunken driving arrest last year, the second of his career. He was redshirted for the season and was expected to return next year to play out his final year of eligibility.
He was expected to start at receiver and kick returner.
"I appreciate everything the University of Michigan, (athletic director) Dave Brandon and Coach Hoke have done for me," Stonum said in the statement. "I look forward to continuing my football career down the road, but more importantly, right now I'm focused on graduating from Michigan this Spring.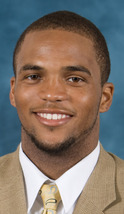 "I understand only I am responsible for my actions. I'm sad about how all of this turned out, but I completely understand. I love this school and my team and will miss them all greatly. But I'll always be a Wolverine."
Stonum, from Denton, Texas, made 25 starts in his first three season.s He finishes his career with 76 catches for 1,008 yards and six touchdowns. He also returned 62 kickoffs for 1,538 yards and holds the single-season kickoff return mark with 39 returns for 1,001 yards in 2009.
"I know I have grown and matured as a person over the last nine months, and I will continue to learn and grow every day," Stonum said. "I want to thank everyone for all of their support, and I hope they will support me in the future."
Stonum is the first player to be dismissed by Hoke, who just completed his first season as Michigan's coach. Six other players left the team before or during the season.
The Wolverines also lose No. 1 receiver Junior Hemingway to graduation, meaning the top returners at that position will be Jeremy Gallon (31 receptions for 453 yards, three touchdowns), Drew Dileo (nine for 121 yards, two TDs) and Jeremy Jackson (three for 36 yards, no touchdowns).
Roy Roundtree and Gallon are expected to start next year, but it's unclear who will be alongside them. The frontrunners for the spot likely are Jerald Robinson, whom coaches were high on during fall camp, and Jackson.
It also could open the way for an incoming freshman. Michigan has verbal commitments from four-star Amara Darboh and three-star Jehu Chesson, and now could sign one more receiver.
The staff is expected to make an in-home visit to four-star wideout Jordan Payton on Thursday, per Payton's Twitter account. Payton is a former Michigan target who recently committed to California.
Kyle Meinke covers Michigan football for AnnArbor.com. He can be reached at 734-623-2588, by email at kylemeinke@annarbor.com and followed on Twitter @kmeinke.