Posted on
Sun, Apr 1, 2012 : 3:44 p.m.
Kenny Demens, Michigan's reigning leading tackler, practicing with cast on left arm
By Kyle Meinke
Michigan linebacker Kenny Demens is sporting a hard cast on his left hand/wrist, as seen in a video of Saturday's closed scrimmage that was posted by the school.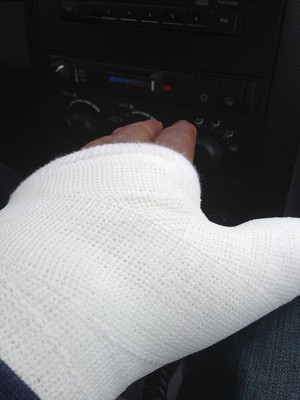 Demens is shown making several plays with the first-team defense. The cast can be seen 9 seconds and 20 seconds into the video.
The senior from Detroit Country Day tweeted about the cast in the wee hours of Sunday morning -- April Fool's Day -- and included an up-close photo of it. His first tweet said he was out of the season, but he later clarified that was a joke.
"Ok...April Fools everyone. I'm not out for the season...only in a cast for a couple of weeks!!" he tweeted.
Demens is an important piece to Michigan's defense. He has started the past two seasons at middle linebacker, and was the Wolverines' leading tackler last year. With three new starters on the defensive line, his presence in the 4-3 defense is key.
Considering he's shown in the tape making tackles with the starters, it seems it's nothing to fret about with five months left until the opener against Alabama.
He later tweeted at someone that he is practicing every day.
Kyle Meinke covers Michigan football for AnnArbor.com. He can be reached at 734-623-2588, by email at kylemeinke@annarbor.com and followed on Twitter @kmeinke.