Posted on
Mon, Jul 23, 2012 : 2:04 p.m.
Michigan starting tailback Fitz Toussaint suspended after drunken-driving arrest
By Kyle Meinke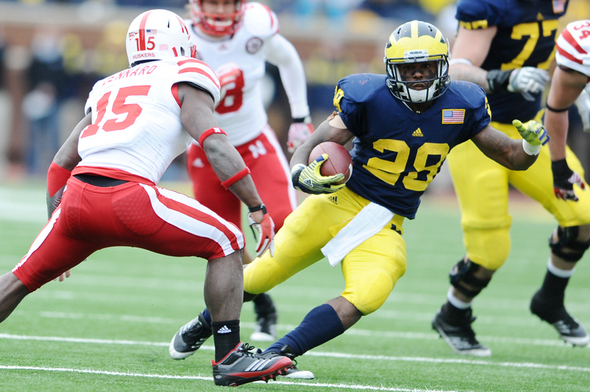 Melanie Maxwell | AnnArbor.com
This story was updated at 2:25 p.m. to include Fitz Toussaint's indefinite suspension from the Michigan football team and at 3:25 p.m. to include information from the Saline Police Department.
Starting tailback Fitz Toussaint has been suspended indefinitely from the Michigan football team after his weekend arrest on suspicion of drunken driving.
"Fitz made a poor decision and has been suspended indefinitely because of that action," Michigan coach Brady Hoke said in a statement. "There are expectations that come with being a football student-athlete at the University of Michigan and those responsibilities were not met in this instance.
"We will use this as an opportunity to educate Fitz and make sure he understands the high standards that we have established within our program."
The suspension is a blow for the Wolverines. Toussaint ran for 1,041 yards last season, becoming the first Michigan tailback to cross the 1,000-yard mark since Mike Hart in 2007.
He is expected to be an integral component to the team's run-heavy offense this year, including as its featured back.
Compounding matters is Michigan opens the season against Alabama, which featured the No. 1 defense in the country last year. It's unclear whether Toussaint's suspension will cost him game time, but if it does, his absence could prove costly.
Toussaint was stopped in a white Ford F-150 pickup truck that ran a red light at South Forest and Washtenaw avenues at 11:45 p.m. Saturday night in downtown Ann Arbor. , police said in a press release.
Saline police were in the area with multiple other agencies for what is known as "high visibility enforcement," said Det. Don Lupi of the Saline Police Department.
Toussaint's breath test showed a blood-alcohol content above the legal Michigan limit of .08 percent. Toussaint was taken to the Saline Police Department, where he was given another test to determine his blood alcohol content, which was .12 percent, Saline police said in a press release. He was lodged until Sunday morning at the police department when he was released on a personal recognizance bond, Lupi said.
"(Prosecutors) will be reviewing the incident and choosing the appropriate charge," Lupi said.
Crime reporter John Counts contributed to this story.
Kyle Meinke covers Michigan football for AnnArbor.com. He can be reached at 734-623-2588, by email at kylemeinke@annarbor.com and followed on Twitter @kmeinke.