Posted on
Mon, Mar 26, 2012 : 5:59 a.m.
Ricky Barnum, the Michigan football team's newest center, developing rhythm with QB Denard Robinson
By Kyle Meinke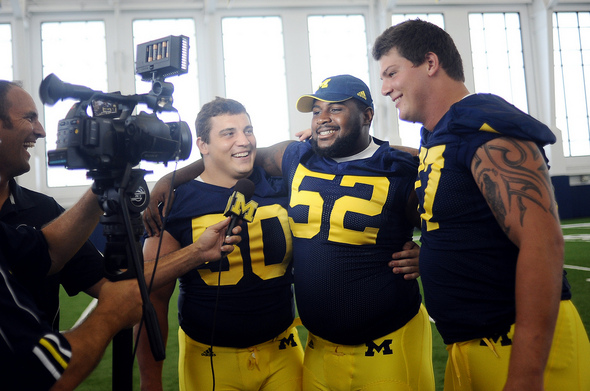 Melanie Maxwell | AnnArbor.com
Ricky Barnum snapping a football to Denard Robinson is novel to the free world. It is not to Ricky Barnum and Denard Robinson.
Turns out, they've been doing it since Robinson first joined the Michigan football team in 2009. The pair developed a rapport the Wolverines hope will expedite Barnum's spring transition from guard to center.
"Ricky's one of the guys from Florida, so we can relate to each other," Robinson said. "When he makes a mistake, I'm right on him and telling him, 'Let's go. I'm right behind you 100 percent.'"
Barnum, from Lakeland, also speaks "Florida," Robinson's fast-paced Southern accent that made it difficult for Northern teammates to decipher play calls early in his career.
"He helps me a lot in the huddle," said Robinson, who hails from Deerfield Beach. "Sometimes, he tells the other offensive linemen what the play is. When (center David) Molk and (guard) Patrick (Omameh) used to get on me all the time, Ricky would help me out."
The snap is the most fundamental play in football, and one that was a given for Michigan the past four years with Rimington Award-winning Molk anchoring its line.
Molk started for the better part of the past four seasons, except for stretches of an injury-plagued 2009, and became an All-American last year. His loss will be difficult, if not impossible, to fully replace this fall.
This is the first time Robinson has changed centers in his career.
Complicating matters is Michigan faces defending national champion Alabama in its season opener. The Crimson Tide return two-thirds of a fearsome defensive line that was one of the country's finest last year.
"He's doing OK," coach Brady Hoke said of Barnum last week. "We did so much with him a year ago. ... I couldn't count the number for you, but I think he's doing OK."
Hoke has been optimistic about Barnum's transition, but his measured praise is a nod to the difficulties inherent to picking up the blocking schemes and subtleties of the position.
Barnum has ideal size for center at 6-foot-3, 292 pounds, but he's never played the position in nine career games. Each of his three starts came at left guard, and he's also appeared at tackle.
"Once a kid plays center for a while, they usually prefer it because they know exactly when the ball is coming up," offensive coordinator Al Borges said. "But center is a different animal than tackle or guard because our center quarterbacks the offensive line -- he puts them all on the same page with regard to targeting fronts, whether it's pass protecting or running.
"I could go into all the nuances, but it's endless what that kid has to do. It's not an easy position to play."
There is other movement on the offensive line, with left guard Michael Schofield sliding to right tackle. Fifth-year senior Elliott Mealer and redshirt freshman Chris Bryant are battling for the left guard spot.
Those three combine for zero starts at those positions.
The offensive line's overall depth also is a pressing issue after losing two starters from last year's mix of eight scholarship players.
Still, the Wolverines' overarching concern remains Barnum's assimilation to center.
"We've got some growing to do," Robinson said.
Kyle Meinke covers Michigan football for AnnArbor.com. He can be reached at 734-623-2588, by email at kylemeinke@annarbor.com and followed on Twitter @kmeinke.