Posted on
Sat, Apr 28, 2012 : 8:15 p.m.
Ryan Van Bergen agrees to join Carolina Panthers as free agent minutes after draft ends
By Kyle Meinke
Ryan Van Bergen was told he wouldn't last past the sixth round of the NFL Draft. As the dust began to settle on the day's final rounds, though, the Michigan defensive lineman was left without a team.
But he had an ace up his sleeve.
Carolina Panthers college scout Mike Szabo called Van Bergen midway through the final four rounds Saturday and told him he was the club's top free agent target.
When the Indianapolis Colts concluded the draft by making Northern Illinois quarterback Chandler Harnish the 253rd and final selection -- Mr. Irrelevant -- Van Bergen quickly pulled the trigger on joining Carolina.
He has yet to sign a contract, but has agreed in principle to join the Panthers.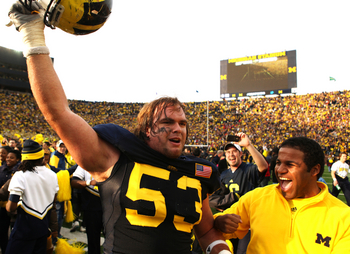 "Feels good. I can't tell you how good this feels," Van Bergen said. "It would have been awesome to be drafted, and that's what I wanted, and there's no getting around that.
"But, right now, I feel like it's just going to be motivation to get to where I'm going."
Van Bergen told AnnArbor.com the Houston Texans intended to select him in the sixth round, if he were still available. However, Houston used that pick to select Purdue offensive lineman Nick Mondek.
Van Bergen's chances of landing there likely took a hit when the Texans selected a pair of Big Ten defensive ends earlier in the draft, including first-rounder Whitney Mercilus of Illinois. Later, they took Jared Crick of Nebraska.
"When the seventh round rolled around, I was getting pretty anxious," Van Bergen said.
But knowing he had a safety net in Carolina helped to put him at ease.
Van Bergen, who spent the day at his parents' home in Whitehall, said he spoke to the Panthers only once during the draft process. That conversation took place about a week ago.
He didn't think much of it, since other clubs such as Houston, Denver and Baltimore were showing a lot more interest.
"But I feel like they were the most honest and truthful team through this whole process," Van Bergen said. "I knew that would be the best situation for me."
After Van Bergen received Carolina's offer, he called three or four other teams to gauge their interest. It became apparent the Panthers were most interested in him, and he quickly settled on them.
He announced his decision just minutes later via Twitter.
"I got my call and officially announce i will be signing w the carolina panthers as a free agent!" he tweeted. "Grateful for the opportunity"
Van Bergen played in every game of his Michigan career, and missed only one start in the past three years. He finished with 134 tackles, 26.5 tackles for loss and 13.5 sacks.
He enters the NFL ranks with Michigan's three draftees: defensive lineman Mike Martin (third round, Titans), center David Molk (seventh round, Chargers) and Junior Hemingway (seventh round, Chiefs).
Former Michigan cornerback Troy Woolfolk will also have a free agent tryout with the Dallas Cowboys, according to his agent.
Other free agent candidates include offensive lineman Mark Huyge and tight ends Kevin Koger and Steve Watson. Receivers Martavious Odoms and Kelvin Grady also are fighting for spots.
Kyle Meinke covers Michigan football for AnnArbor.com. He can be reached at 734-623-2588, by email at kylemeinke@annarbor.com and followed on Twitter @kmeinke.