Posted on
Mon, Mar 12, 2012 : 2:16 p.m.
Saline teen seeks Michigan football scholarship, one peanut butter sandwich at a time
By Rich Rezler
Two raw eggs. One-third cup of olive oil. A big scoop of ice cream. Fresh fruit. Blend. Enjoy.
That unusual concoction is only part of Taybor Pepper's nightly weight-gain routine.
He also whips up three peanut butter sandwiches. One goes on his nightstand, near the alarm clock set for 2 a.m., when he'll wake and devour it in the dark.
The other two go in his backpack, a mid-morning snack during class at Saline High School that bridges a high-calorie breakfast and lunch.
Sure, it's extreme, but it's not so bad when considering what Pepper believes is at stake: A starting position with the Michigan football team and a scholarship at the university worth about $25,000 each year.
It's the life of a 6-foot-3, 190-pound, walk-on long snapper.

An unusual skill
At a youth football practice in Owasso, Okla., about 15 kids lined up over footballs and launched them backward between their legs.
"I was the only one with two hands on the ball, so the coach knew I knew a little bit about what to do," Pepper says. "He told everybody else 'You're fired' and said 'Pepper, you're hired.' Ever since then, I started on every team that I've played on."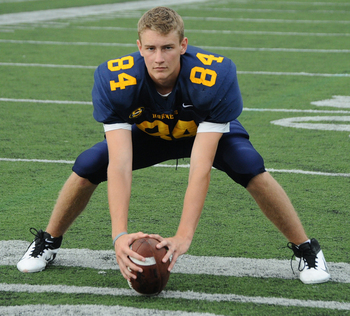 Courtesy Pepper family
Truth be told, he did have an unfair advantage over those 14 other kids. His father, Cam Pepper, honed the often-overlooked skill in an effort to stick on an NFL roster in the 1990s.
Cam Pepper, a junior college All-American and starting guard at Illinois in 1989 and 1990, made his soon-to-be wife, Donna, catch snaps in an elementary school yard in Urbana, Ill.
"If only I had known then what I know now about long snapping technique," Donna Pepper said. "And, believe me, his dad snapped nowhere near as fast or hard as Taybor does."
Cut on the last day of camp with the Philadelphia Eagles, Cam Pepper spent some time in an indoor professional football league, then eventually passed along his long-snapping knowledge to his son.
It snowballed from there.
Finding a skill he was good at kept Taybor Pepper interested enough to start attending specialty camps to get better. Excelling at those camps made him realize playing college football was a reality. And that realization, in turn, led to more camps.
"I knew I wanted to play in college, but I had no idea how I would get to that point," said Pepper, who was also a defensive end for the Hornets. "It was an easy way for me to start … I had a knack for it. But I had to work hard to get there."
The Peppers sought out Chris Rubio, a long-snapping specialist, and Taybor has been working with him for more than four years -- roughly the time the family has been in Saline.
Today, Rubio ranks Pepper as the sixth-best long-snapping prospect in the nation -- the top five outweigh him by 30 pounds -- and says his long-snapping motion is the second-fastest out of the roughly 500 players he's worked with this year.
Rubio has timed Pepper's 15-yard snap at five-tenths of a second, which is "amazing in the long snapping world." An average college long snapper, he says, is closer to seven-tenths of a second.
"Taybor is an extremely long athlete that has perfect form for a long snapper," Rubio wrote in an email to AnnArbor.com. "In having such exceptional form and utilizing his length, Taybor is able to generate an immense amount of speed on the ball."



Bulking up
What Cam Pepper didn't pass along -- at least, not yet -- is his 6-foot-5, 350-pound frame. But the family did use it in the recruiting process. If Dad couldn't go on a visit, Mom was sure to mention his height and weight to coaches.
Cam Pepper says he was also long and lean until he started to fill out before his senior year in high school. He figures Taybor, who is young for his grade, may still follow the same pattern.
Or maybe Taybor Pepper has his mother's genes, something he may appreciate later in life. Donna Pepper weighs the same today as she did in high school and says she "can eat whatever I want."
She passes on the olive oil-infused milkshakes and countless peanut butter sandwiches that her son ingests.
At this time last year, Taybor Pepper weighed 160 pounds. He hopes to be at 200 pounds by the end of the school year and 210 when he reports to Michigan in June.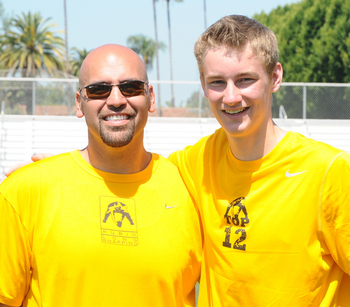 Courtesy Pepper family
That's when the real work starts, on the field and at the training table. Pepper and his camp figure getting close to 250 pounds is the ideal weight to compete for a starting position, and the scholarship that could come with it.
Taybor Pepper isn't behind the curve, since few long snappers earn a scholarship out of high school. Rubio puts that number "in the teens" for the 2012 recruiting class. Pepper's skills made him a candidate. His size likely prevented it.
"I have been telling Taybor for years to read, work on his form and eat," Rubio said. "I am very confident in saying that if Taybor was 225 right now, there would be no question he would be offered (a scholarship)."
He came close.
Cam Pepper said Toledo planned to offer a scholarship, but then Rockets coach Tim Beckman was hired by Illinois and those conversations ended.
Michigan State special teams coach Mike Tressell also reportedly considered extending a scholarship offer before the 2011 season, but first wanted to see how his own walk-on long snappers performed. Freshman Matt Giamapa, another Rubio pupil, started all 13 games and nailed down the position for the Spartans.
Michigan special teams coordinator Dan Ferrigno and recruiting coordinator Jeff Hecklinski told the Peppers their program's needs in the 2012 recruiting class prevented them from offering a scholarship, but that he'd get a fair shot as a preferred walk-on.
Taybor accepted the spot in mid-February.
Michigan must fill the long-snapper position this season. Tom Pomarico, who started all 13 games in 2012, was a fifth-year senior.
Jareth Glanda, who'll be a fourth-year junior, is the only other long snapper on the Wolverines' roster that has seen game action. He even has a reception to his credit after pulling in a deflected pass on a fake field goal attempt during the Sugar Bowl.
Michigan also extended a preferred walk-on position to Tyler Tokarsky of Fenton High School, the long-snapping champion at last year's Korblue Kicking Fab50 Fall Challenge.
"Everything I've heard about coach Hoke, he's going to take care of his own first," Cam Pepper said. "If he's got a kid that's starting for him, there's going to be something for him."
The quest continues. One peanut butter sandwich at a time.
Rich Rezler covers sports for AnnArbor.com. Contact him at richrezler@annarbor.com or 734-623-2553.