Posted on
Sat, Feb 25, 2012 : 5:59 a.m.
Michigan's David Molk talks about overcoming injury to post strong combine, create buzz
By Kyle Meinke
INDIANAPOLIS — David Molk had his fellow NFL prospects buzzing after he posted an impressive 41 reps Friday in the 225-pound bench press.
It was a breathless display of strength on the first day of physical drills at the NFL Scouting Combine, as no other offensive lineman came within seven reps of him. In fact, it's the best mark by an offensive lineman since Arkansas' Mitch Petrus reached 45 in 2010.
It's the best performance by a center since online records began being kept for the position in 2005.
And what was Molk's reaction as he rose from the bench at Lucas Oil Stadium?
"I came off the bench, and I was pissed off," the former Michigan center said. "All the other guys were just like, 'Oh man that was incredible.' I was just like, '(to hell with) them, it was too easy. Shoulda got way more than that.'
"Everyone thought I was crazy, but it's true because I was slipping around on the bench. I ended up sliding and sliding and sliding all over the place, which killed me, because the more stuck you are on the bench, you can do way more reps.
"It's driving me nuts."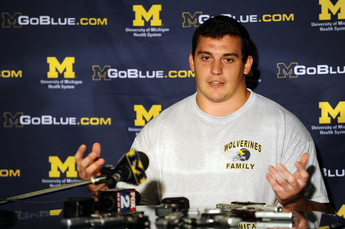 File photo
Molk discussed the lift, and his combine as a whole, during an interview Friday night at the Omni Severin Hotel, which is hosting the combine participants this week.
He's in better spirits than he thought he would be at this point, after three grueling days in Indianapolis. It helps that just about everything has gone his way, despite a foot injury that is preventing him from fully participating.
Molk arrived in town Wednesday afternoon. An hour later, he was whisked to a local hospital, where he underwent seven hours of X-rays, blood tests and other examinations. Everything checked out well.
That wasn't a given, after he suffered four right leg injuries in his Michigan career, including an ACL tear in 2009.
He also said the tendon tear he sustained Jan. 3 in his right foot, which will prevent him from participating in the other drills this week, is progressing ahead of schedule.
"Six weeks out of surgery, and six weeks ahead of schedule," said Molk, who still hopes to run a 40-yard dash at Michigan's pro day March 15. There also is a possibility he will hold a private workout between an April 13 checkup in Indianapolis and the start of the draft April 26.
After the hospital testing, Molk had his first round of formal team interviews, which are held in a large hotel ballroom and last 15 minutes apiece. He didn't get to bed that first night until around 1 a.m., then had to rise at 4 a.m. Thursday for a drug test.
That means he went through his first full day of tests and interviews on three hours sleep.
"It was endless," Molk said. "My agent said it best: 'The combine is just one endless inconvenience.' And that's really what it is."
Molk already had met with about 25 teams by Friday evening, including all 11 teams that have told his agent, Chicago-based Rick Smith of Priority Sports, they are searching for a center.
Those teams are the Atlanta Falcons, Baltimore Ravens, Chicago Bears, Detroit Lions, Green Bay Packers, Indianapolis Colts, Jacksonville Jaguars, Kansas City Chiefs, New York Giants, San Diego Chargers, St. Louis Rams and Tampa Bay Buccaneers.
Molk said scouts and coaches told him in those meetings they were particularly impressed with his bulked-up physique. He measured just 6-foot-1 at the combine, which is an inch shorter than his listed height at Michigan and could be of concern to some teams.
However, he also weighed in at 298 pounds. That's up 12 pounds from his playing weight at Michigan, and more than 20 from his post-surgery weight. He credits a 6,600-calorie diet that was designed by former Michigan strength coach Mike Barwis, who has trained him since the end of the season.
"Dude's a genius," Molk said matter-of-factly.
The diet included five meals per day and featured foods such as rolled oats, cottage cheese, almonds, craisins, four eggs, three egg whites, greek yogurt, peanut butter and honey sandwiches, four chicken breasts, brown rice and sweet potatoes.
Or, as Molk puts it, "The worst food you can ever imagine."
The size and strength have his stock rising, with several analysts calling him one of the most impressive players of his position group. ESPN draft guru Mel Kiper Jr. is particularly high on Molk, slotting him behind only Wisconsin's Peter Konz in his latest rankings.
Most pre-combine rankings called Molk a mid-round pick, with the NFL Network's Mike Mayock saying he could even fall to the late rounds. Now, Molk said his agent told him he's projected to be taken in the first three rounds.
"All I know is there's a lot of centers needed in this draft," Molk said with characteristic bravado. "The fact they could consider any center better than me is pretty stupid."
Kyle Meinke covers Michigan football for AnnArbor.com. He can be reached at 734-623-2588, by email at kylemeinke@annarbor.com and followed on Twitter @kmeinke.