Posted on
Mon, Feb 13, 2012 : 9:10 a.m.
The best love song to Michigan quarterback Denard Robinson you'll ever hear
By Jim Knight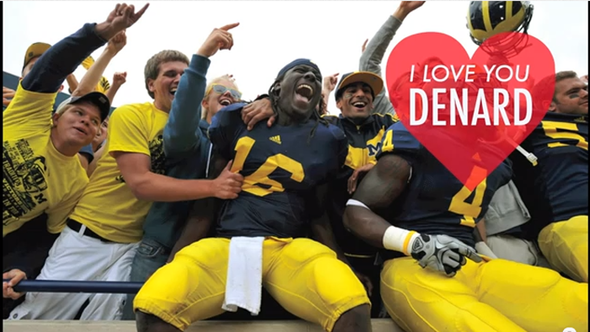 Pat Stansik
loves Michigan football, comedy and music. But most of all, he loves Michigan quarterback
Denard Robinson
.
Simply put, here's what may be the best 2 minutes, 32 seconds of your day as the Ann Arbor band Mind's Eyes sings Stansik's tribute to Robinson, who has 3,229 rushing yards, 4,931 passing yards and a combined 75 touchdowns rushing and passing in his career at Michigan.
There are clever lyrics all the way through the song, but it's tough to top, "You could win the Heisman, it's your senior year; If you cut your dreads I want a souvenir."
Like Stansik's work? You can follow him on Twitter, too.
The lyrics to "I Love You Denard:"
Henne Brady Grbac Navarre
All of these men could throw very far
Slow white quarterbacks most were five stars
Pro-style offense run by Lloyd Carr

When he retired I was still all smiles
Herbstreit told me that we'd get Les Miles
Didn't know what to think about the spread
Mallett left and I thought we were dead

First year under Rich Rod was a disaster
Spread offense needs a QB much faster
I suffered for two miserable years
But then you dried up all my tears

I think I'm in love I've never felt like this
Nothing compares not even my first kiss
My heart skips a beat every time you gain a yard
I know this might sound strange but I love you Denard

I love you Denard I don't know how to show it
I used to be scared every time you would throw it
You're the QB for me and I want everyone to know it

When you took your first snap vs. Western Michigan
That's when we found you were made of dilitihium
Always my favorite even when Tate started
Now the whole campus gets Denarded

No D coordinator seems to have an answer
A Michigan Man so glad you didn't transfer
Under the lights my heart still races
Because of you I don't mind tripping over laces

They say you can't play QB in the NFL
Well I think you play QB pretty damn well
You could win the Heisman, it's your senior year
If you cut your dreads I want a souvenir

Together so long can't stand to be apart
16 on the field number one in my heart
Without you it's gonna be hard
I wish you never had to leave I love you Denard

And the second-best Denard Robinson song you'll hear today: