Posted on
Fri, Sep 30, 2011 : 5:59 a.m.
They haven't all been blowouts: Here are 5 entertaining battles for the Little Brown Jug
By Nick Baumgardner
Rivalries, by traditional definition, stand the test of time for several reasons.
The Michigan and Ohio State game makes a terrific rivalry in part because the schools (and states, for that matter) genuinely loathe one another. Any Wolverine and Spartan game always is interesting for obvious reasons, and when Michigan and Notre Dame tangle, it's college football history come to life.
But above all else, those games are defined as rivalries because they're competitive.
Michigan and Minnesota's fight for the Little Brown Jug? You can call that game a lot of things. But "rivalry" really isn't one of them.
From Bo Schembechler's first year at Michigan (1969) until now, the average score between Michigan and Minnesota: Wolverines 36.5, Golden Gophers 12.7.
The term "blowout" comes to mind when skimming the results of the past 50 or so years in this series (which Michigan leads 66-22-3, by the way). Michigan has actually put up at least 35 points in 21 of the past 38 meetings.
But blowouts are boring.
So for the sake of making things interesting, let's take a look back at a few quality Brown Jug battles from the Schembechler years and beyond.
Minnesota 23, No. 24 Michigan 20
Oct. 8, 2005

File photo
Nineteen years of Brown Jug blues finally came to an end for Minnesota in a last-second comeback victory.
It started as most Michigan-Minnesota games have over the past 50 years: With the Wolverines jumping out in front.
The Gophers kept close, erasing a 10-point deficit early in the third on a 26-yard field goal by Jason Giannini to tie the game at 13-13.
The game would eventually move to a 20-20 tie late in the quarter, and the Wolverines had a chance to go back in front midway through the fourth. But Garrett Rivas missed a 34-yard field goal try (his second miss of the half) to end the threat.
Both teams would then exchange punts before Minnesota received the ball on its own 13 with 2:49 to play. The Gophers had to cover a lot of ground, but Lawrence Maroney and Gary Russell made it look easy. Minnesota never attempted a pass on its final possession, and Russell's 61-yard run on a third-and-10 play put the Gophers in field-goal range with a minute to play.
Unlike Rivas earlier, Giannini wouldn't squander his field goal try. He booted a 30-yarder with 1 second to play, giving coach Glen Mason and Minnesota the Little Brown Jug for the first time since 1986 and just the third time since 1969.

No. 20 Michigan 38, No. 17 Minnesota 35
Oct. 11, 2003
A Friday night miracle at the Metrodome.
A 21-point fourth-quarter deficit and one of Minnesota's better teams in years was no match for former Michigan quarterback John Navarre in the 100th fight for the jug.
The Golden Gophers used the running of future NFLers Marion Barber and Lawrence Maroney to push Michigan all over the field for the game's first 45 minutes.
The final 15, though, belonged to Navarre and the Wolverines.
Trailing 28-7, Navarre gave Michigan new life with a 10-yard touchdown pass to Chris Perry. Jacob Stewart made things even more interesting a minute later when he intercepted Asad Abdul-Khaliq and returned the ball 34 yards for a touchdown.
Abdul-Khaliq would calm the frenzy on Minnesota's next drive with a 52-yard scoring run of his own to make it 35-21 Gophers with 11:11 to go.
It wouldn't be enough. Navarre hit Braylon Edwards on a 52-yard touchdown pass less than a minute later. After a 10-yard touchdown run from Perry with 5:48 to go, the game sat in a 35-35 tie.
Following a quick Minnesota three and out, Navarre led Michigan on 12-play drive that covered 42 yards and ate nearly four minutes of clock. The march culminated with a 33-yard field goal by Garrett Rivas with just 47 seconds to go. Minnesota had one last chance, but a Markus Curry interception with 8 seconds left sealed the game.
The win was the biggest comeback in Michigan history and it picked the Wolverines off the ground following a narrow loss at Iowa a week prior. Michigan would win its final five games of the regular season to capture the Big Ten championship before falling to USC in the Rose Bowl.

Minnesota 20, No. 2 Michigan 17
Nov. 16, 1986
What was supposed to be an easy win for a previously unbeaten Michigan squad ended up being a shocking upset that cost the Wolverines a shot at the national championship.
Michigan hadn't lost a game in 15 previous tries, but the second-ranked Wolverines coughed the ball up five times, allowing the underdog Gophers to keep things close.
After Michigan fought back to tie things up late, Minnesota quarterback Rickey Foggie broke off a 31-yard run that set up an 30-yard field goal try by future NFLer Chip Lohmiler with time running out. Lohmiller's kick was good as time expired.
The loss left Michigan Stadium in shock, kept Bo Schembechler tied with Fielding H. Yost for the school's all-time wins mark and gave Minnesota the Little Brown Jug for the first time since 1977.
"I want to play in the Rose Bowl," former linebacker Andy Moeller said following the game. "It's been a goal of the team and me since the beginning of the season and we can still go.
"This does not ruin the season. My gosh, we're 9-1."
Moeller was right, sort of. The season wasn't completely lost as Michigan rebounded to nip Ohio State in Columbus a week later before wrapping the regular season up with a win at Hawaii.
The Wolverines finished the year with a share of the Big Ten crown before falling to Arizona State in the Rose Bowl.

No. 22 Michigan 15, Minnesota 10
Oct. 31, 1998
The final of three ugly, low-scoring victories for the 1998 Wolverines.
After Tai Streets hauled in a 76-yard touchdown pass from Tom Brady midway through the first quarter to make it 7-3, the Wolverines made a costly mistake.
Punter Jason Vinson bobbled a poor snap deep in Michigan territory, and after a scrum of players pushed and kicked the ball into the end zone, Minnesota's Trevis Graham ended up on top of it for a touchdown. Vinson's miscue was one of four Michigan fumbles.
Michigan would rebound to tie the game on a second-quarter Jay Feely field goal. Then Minnesota quarterback Billy Cockerham held onto the ball just a second too long behind his own goal line, allowing Michigan's James Hall to rack up a safety, giving the Wolverines a 12-10 lead early in the fourth.
Feely would extend the edge to five with 5:14 to play, and that's all Michigan would need. Cockerham would have two more shots for a game-winning score late, but one drive ended with a William Peterson interception, and the other fell short after a marvelous pass breakup in the end zone by DeWayne Patmon and an eventual interception by James Whitley.
Michigan actually finished with a team rushing total of minus-23 yards. And the only player that was able to hold his head high after the offensive slop fest was Streets, who finished with six catches for 192 yards and a touchdown.

No. 14 Michigan 27, No. 13 Minnesota 24
Oct. 9, 2004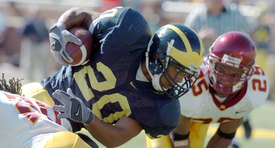 File photo
The second of three straight Brown Jug nail biters featured big moments from several future NFL players. But perhaps no one shined brighter than a pair of Michigan freshmen.
Chad Henne and Mike Hart continued to rewrite the Wolverine freshmen record book early on, as Hart scored on an 8-yard burst before Henne hit Braylon Edwards early in the second quarter to give Michigan a 17-7 edge.
Minnesota wasn't rattled. The previously unbeaten Golden Gophers fought back with its NFL-caliber backfield. Following an 80-yard touchdown run by Lawrence Maroney in the first quarter, Marion Barber got into the action early in the third with a 19-yard scamper that cut Michigan's lead to three.
The Gophers then took their first lead on a touchdown pass from Brian Cupito to Jared Ellerson, making it 21-17 early in the third.
The Gophers would add to that lead early in the fourth when a muffed punt by Leon Hall turned into a Rhys Lloyd field goal to make it 24-17 with 13:14 to play.
Hart and Henne began the comeback almost immediately, though, marching Michigan into Gopher territory before Garrett Rivas cut the deficit to four with a 29-yard field goal.
Both teams would trade punts over the next 10 minutes before Henne engineered the eventual game-winning drive. The Michigan freshman went 5-for-6 for 87 yards in just over a minute, the final completion coming by way of a 31-yard touchdown to Tyler Ecker to put Michigan up 27-24 with just 1:57 to play.
The Michigan defense would hold strong, and both Henne (33-for-49 for 328 yards and two touchdowns) and Hart (36 carries, 160 yards and a touchdown) would set Wolverine freshmen records.
Nick Baumgardner covers Michigan basketball for AnnArbor.com. He can be reached at 734-623-2514, by email at nickbaumgardner@annarbor.com and followed on Twitter @nickbaumgardner.