Posted on
Mon, Oct 3, 2011 : 5:58 a.m.
'Three and Out' is a behind-the-scenes look at Rich Rodriguez's tenure: It's drama, friction and football
By Jim Knight
John U. Bacon has rarely strayed far from the University of Michigan. He studied there, teaches there and frequently writes about it.
For the most part, his books about Michigan athletics have been uncritical and warm as he delved deeply into the history and traditions of Michigan football ("Bo's Lasting Lessons," and "A Legacy of Champions: The Story of the Men Who Built University of Michigan Football") and hockey ("Blue Ice").
That changes with "Three and Out," an unflinching behind-the-scenes look at how the Michigan football program went 15-22 in three seasons under coach Rich Rodriguez and lost its status as one of the premier programs in the Big Ten Conference.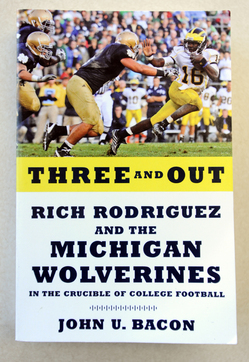 Bacon, an Ann Arbor-based freelance writer, author, blogger and instructor, spent all three seasons embedded in the program. He was at team meetings, watched film with coaches, hung around practices and was in the locker rooms. He worked out with the strength and conditioning team, attended class with quarterback Denard Robinson and even went to a party with some players.
Outside of the players and the strength coaches, hardly anyone gets out of "Three and Out" unscathed. The three seasons were every bit as dramatic off the field as they were on, and the book is filled with day-to-day drama, internal friction and football.
Rodriguez, ultimately shown as a sympathetic character by Bacon, is confident in his vision and coaching abilities, open and charming to those who get to know him, but awkward with the media and naive about factions at Michigan.
The factions — and yes, Bacon writes, they truly existed — were evident from the start. Bacon writes of people in the Michigan family taking sides once Bo Schembechler died in 2006, well before Rodriguez's arrival.
After a five-chapter scene setter, Bacon cuts loose, starting with then-athletic director Bill Martin trying to find a football coach after Lloyd Carr retired following the 2007 season. Martin is portrayed as an unprepared, unsophisticated leader who offends his search committee, angers Michigan President Mary Sue Coleman and then has trouble working his new cell phone at a point when he's needed most.
Carr is cool and distant. Regents can't be trusted. Every member of the Michigan athletics program is convinced two reporters disliked Rodriguez, leading to a 2009 article that prompted an NCAA investigation.
Rodriguez, meanwhile, circles the wagons. He's criticized internally and externally for not being the undefined "Michigan Man." Even a little thing, like his use of the word "ain't," draws criticism.
Top that with a lengthy NCAA investigation, an expensive buyout of Rodriguez's contract at West Virginia and a Michigan defense that struggles to stop any team, and you have a simmering, stressed football coach.
When a form used internally at Michigan to document the practice hours of individual athletes became the focal point of a Free Press investigation, the university's minimalistic response angers Rodriguez.
"Since when is telling the truth a bad idea?" Rodriguez asks aloud in Chapter 29. "Why are we so scared of the regents? Why are we so scared of the NCAA? Why are we so scared of telling the truth! For cryin' out loud — we haven't done anything wrong! They have the (expletive) forms! They're not even required!
"And you want to protect them, at my expense? I'm always taking the hit. 'Oh, he can take it.' Well, I'm reaching my limit. And they seem to forget, I'm Michigan too! On my hat there's a big block 'M,' and that stands for 'Michigan!'"
It's not all stress, investigations and yelling after losses. Bacon explores the close relationships the players form, and their dedication to Rodriguez is evident.
Here, we see Robinson, a shy but gifted athlete, suddenly gain national prominence that even includes Heisman Trophy talk. Robinson is hounded for autographs by fans and for interviews by the media, and he'd rather just go to class and play football. He's balanced by roommate and fellow quarterback Devin Gardner, whose humor keeps Robinson loose. Gardner's ongoing teasing of Robinson is laugh-out-loud funny.
"Three and Out," has plenty of surprising behind-the-scenes action, and it informs further the well-known moments from Rodriguez's time at Michigan, starting with his stilted and rushed first press conference to his soul-baring rendition of "You Raise Me Up" at the 2010 team banquet, just weeks before he was fired.
"Three and Out: Rich Rodriguez and the Michigan Wolverines in the Crucible of College Football" by John U. Bacon. (438 pages, $27)
Jim Knight is the sports director at AnnArbor.com. He can be reached at jimknight@annarbor.com or 734-623-2551. Follow him on Twitter @JimKnight62.