Posted on
Tue, Feb 21, 2012 : 10:30 a.m.
Top 5 players Mike Martin, Junior Hemingway, David Molk will battle for position at NFL Combine
By Kyle Meinke
The Michigan football team will send three players to this week's NFL Combine in Indianapolis, none of whom is locked in as a high-round draft pick.
One is fighting just to be drafted.
Here is a look at the three, and the top-five players with whom they are jockeying for position:
Junior Hemingway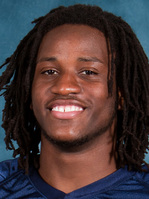 Position:
Receiver
Size:
6-foot-1, 228 pounds
ESPN/CBS position ranks:
34th, 49th
Projection:
Late-round pick to undrafted free agent
Top-five competitors
Gerell Robinson, Arizona State:
Position rankings for Hemingway largely span 30th to 50th, while just 28 receivers were taken last year. The wideout is going to have to put on a show to rise into the late rounds. Passing another big-bodied wideout such as Robinson (25th to CBS, 14th to ESPN), who is 6-foot-3, 223 pounds, would be key.
DeVier Posey, Ohio State: The 6-foot-2, 210-pound wideout is another big receiver with whom Hemingway will jockey for position. Posey was more involved in his college offense, finishing with 136 catches for 1,955 yards and 18 TDs (Hemingway had 88 catches for 1,638 yards and 11 TDs), but played in just three games last season because of a suspension.
File photo
Jarrett Boykin, Virginia Tech:
The 6-2, 218-pounder is projected to be taken toward the end of the draft, so he could be a direct competitor for Hemingway. He finished his career with 184 catches for 2,884 yards and 18 touchdowns (including four catches for 30 yards against Michigan in his final game).
B.J. Cunningham, Michigan State: He is projected by most to be taken in the sixth or seventh round after posting a career year as a senior (72 catches for 1,240 yards and 12 TDs). That's a better year than Hemingway's ever posted, although Cunningham also had a more capable passer throwing to him in Kirk Cousins.
Lance Lewis, East Carolina: He's similar in build (6-1, 209 pounds) to Hemingway, but has run a 4.50-second 40-yard dash. Hemingway's current time is 4.54 seconds. The speed drills are going to be crucial for Hemingway, and this is one player he could catch with a striking performance.
****
Mike Martin

Position:
Defensive tackle
Size:
6-foot-2, 307 pounds
ESPN/CBS position ranks:
13th, 10th
Projection:
Early- to mid-round selection
Top-five competitors
Dajohn Harris, USC: He's slightly bigger than Martin at 6-foot-3, 308 pounds, but his fundamentals sometimes betray him, according to Dane Brugler of CBS. Martin, who has terrific technique, could leap Harris if he shows he's on the same level as an athlete. Harris is ranked one spot higher than Martin, according to CBS, and five, according to ESPN.
Kendall Reyes, Connecticut: Like Martin, Reyes' stock has climbed in the postseason thanks to a strong Senior Bowl. ESPN draft expert Mel Kiper Jr. slotted him as a first-round selection in his latest mock draft, going No. 31 to the New England Patriots. Any hope Martin has of climbing into the end of the first round likely rests on surpassing Reyes.
Kheeston Randall, Texas: ESPN ranks the 6-foot-5, 297-pound tackle one spot ahead of Martin. He was a solid college player, but is considered more of a project, especially after experiencing a drop-off as a senior. Martin, who is more polished, should be able to pass him with a strong combine.
Brandon Thompson, Clemson: He's ranked by most to go late first or early second round, which is exactly where Martin said he would like to go. Thompson's stock has slipped a bit, and Martin is trending upward, so it may be possible for Martin to catch him. Thompson is 6-foot-2, 310 pounds, which is similar to Martin.
Marcus Forston, Miami: The junior decided to leave school early, and now is projected by CBS and others to be taken ahead of Martin. Two spots separate them. Martin is superior athletically, and needs to show it at the combine to avoid losing a spot of position.
****
David Molk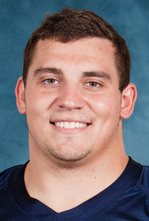 Position:
Center
Size:
6-foot-2, 287 pounds
ESPN/CBS position rank:
Fifth/sixth
Projection:
Mid- to late-round pick
Top-five competitors
Peter Konz, Wisconsin: The 6-foot-5, 315-pounder was a force as a starter the past three seasons. He beat out Molk, the Rimington Award winner as the country's best center, for first-team all-Big Ten honors, according to the media. His size makes him a better fit than Molk for more NFL teams, and is widely considered the best center prospect in this draft. Molk isn't likely to pass him.
Ben Jones, Georgia: The four-year starter joined Konz and Molk as a Rimington finalist. He's the same height as Molk (6-foot-2), but 25 pounds heavier. He also will get credit by NFL teams for standing out in the SEC, which features the country's greatest collection of defensive tackles. He is ranked ahead of Molk by nearly every draft expert, with Kiper a notable exception.
Mike Brewster, Ohio State: He stands 6-foot-4, 310 pounds, which is ideal for most NFL teams. He was one of the nation's best centers last year, but slotted behind Molk for the all-Big Ten teams, major All-America teams and the Rimington Trophy. However, Brewster is listed ahead of Molk in most draft projections.
Philip Blake, Baylor: The 6-foot-3, 320-pounder made the unusual move of going from right tackle to center in 2010, and quickly has risen into the top-five centers of most NFL draft boards. Passed Molk, according to ESPN, since the conclusion of the 2011 season.
William Vlachos, Alabama: He stands just 6-foot. Only one NFL center was that short last year. However, he's ranked the No. 5 center, according to CBS, one spot ahead of Molk. A strong combine from Molk likely would propel him ahead of Vlachos in the draft, since the two fit the same scheme (zone).
Kyle Meinke covers Michigan football for AnnArbor.com. He can be reached at 734-623-2588, by email at kylemeinke@annarbor.com and followed on Twitter @kmeinke.