Posted on
Sun, May 20, 2012 : 5:59 a.m.
Tradition or change? Former Michigan football players split on alternate uniforms
By Nick Baumgardner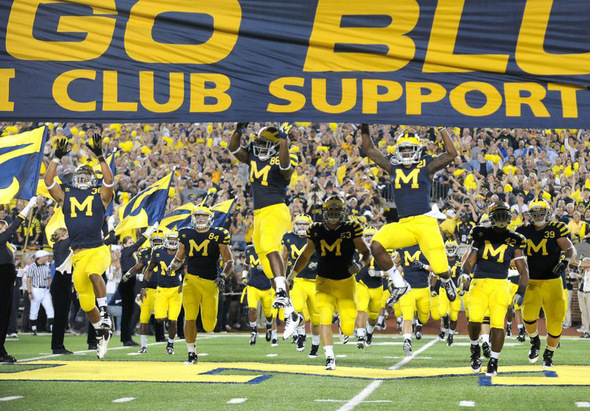 Melanie Maxwell | AnnArbor.com
Should change be embraced or feared?
Apparently, when it comes to the Michigan football program's beloved uniforms, it all depends on who you ask.
"I like a little change," Heisman Trophy winner Charles Woodson said during WTKA's "Mott Takeover" radio event Friday. "I especially like the one with the 'M' on the front. I like a little change up. I played for three teams: Michigan, Oakland (Raiders) and Green Bay (Packers). Three teams with great tradition. Green Bay ain't changing, Michigan's worn some different jerseys and Oakland wasn't changing.
"I've been fortunate to play for teams that have had strong tradition, but I like a little change up. It looks good to me."
Michigan athletic director Dave Brandon said earlier this week in Chicago that he continues to support the idea of varying the Wolverines' uniform schemes throughout the season, and more alternate dress combinations could be on the way for Michigan next season.
Last season, Michigan wore a total of six different uniform/helmet combinations during a 13-game season.
The Wolverines wore their traditional home jerseys, pants and helmets against Western Michigan, Eastern Michigan and San Diego State.
During Big Ten play, the Wolverines wore traditional home and road jersey/pant combinations, but added numbers to their helmets for the first time since 1968.
Against Notre Dame at Michigan Stadium in September, the Wolverines unveiled their "Under the Lights" legacy home uniforms. Then, a month later in East Lansing, Michigan pulled a last-minute switch and brought out their legacy road uniforms.
To cap it off, Michigan tweaked its dress code once again, wearing an alternate road version of the legacy-schemed uniforms in its Sugar Bowl victory over Virginia Tech.
That's a lot of change. Too much, in fact, for some.
"I'm traditional," former Michigan offensive lineman Steve Hutchinson said. "There's a reason I grew up in south Florida watching Michigan on TV and there's a reason that I came up here to go to school. It's because I saw those uniforms.
"I watched them growing up my whole life. Nothing against Adidas, I'm sure they make a great product."
A member of Hutchinson's offensive line brethren, former All-American tackle Jake Long, completely agreed -- calling Michigan's traditional uniforms a college football classic.
"It's classic, it's a staple in college football," Long said. "Me, personally, I like the old-school regular uniforms."
Whether the former players are on board with the jersey tweaks or not doesn't matter much to former Michigan safety Marlin Jackson.
Jackson values everyone's opinion on the matter, but believes the new and unique jersey schemes have a positive impact on recruiting -- something Oregon has taken to a completely different level with their brightly-colored Nike-created combinations.
If changing uniforms bring in top talent, Jackson says he's all for it.
"I like them, I think it's sweet and I think it's good for recruiting, too," Jackson said. "You're showing kids you've got a little bit of flavor, a little bit of change. I think kids like that.
"I was at the Notre Dame game, and the environment was amazing. That was the best college football atmosphere I've ever been in."
As far as current members of the program are concerned, winning is more important than any uniform combination. Offensive coordinator Al Borges said his wife, Nikki, might have a stronger opinion than he has.
However, he was a pretty big fan of at least one alternate jersey.
"I like how we look every game," Borges said. "Though I will say this, the uniforms we wore against Notre Dame were pretty cool."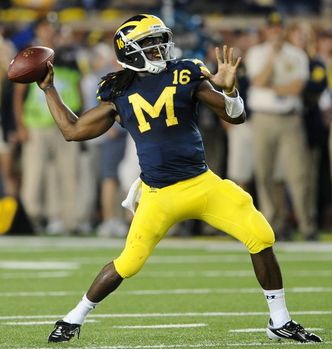 Melanie Maxwell | AnnArbor.com
Brandon further explained the process behind alternate uniforms on WTKA during Friday's radiothon, saying the ultimate decision on when and where Michigan changes uniforms is made by coach Brady Hoke and the players.
He added that minutes following Michigan's win over Notre Dame, quarterback Denard Robinson approached him with one simple request: "Can I keep the jersey?"
According to Hoke, that says plenty about the program's stance on alternating uniforms.
"I think the throwbacks the kids wore against Notre Dame, they were excited," Michigan football coach Brady Hoke said. "They thought they were great, they were excited about it and the fan base was excited about it.
"Football's changed. How kids perceived and how kids look at things. Michigan is still always going to be Michigan and we're going to be as traditional as anybody. But once in a while, there's an opportunity to maybe do something different. And I think our kids embrace that."
New jerseys? Old jerseys? Throwbacks? Futuristic looks?
As Michigan forges forward in the Hoke era, there is no shortage of opinions on what the program should do with regard to how it looks.
Some like change, others can't stand it.
And then there's Steve Everitt -- an always outspoken former star center who perhaps put it better than anyone Friday: Everything else is changing in football anyway, so what's one more thing?
"If it was my choice, it would be straight traditional, but that is so far gone and in the rearview mirror, those days are gone," Everitt said. "I remember getting interviewed my senior year before the Rose Bowl about a playoff system. It was in its infancy stage back then, now it looks like it's going to happen. Then you had Miami playing in the Rose Bowl, and all traditions went out the window.
"So, what the hell's a jersey at this point?"
Nick Baumgardner covers Michigan sports for AnnArbor.com. He can be reached at 734-623-2514, by email at nickbaumgardner@annarbor.com and followed on Twitter @nickbaumgardner.