Posted on
Sun, Jun 26, 2011 : 5:55 a.m.
Troy Woolfolk ready to put injuries behind him for senior season
By Pete Cunningham
Troy Woolfolk sat down across a table from Ann Arbor radio host Lucy Ann Lance and caused her to gasp.
Woolfolk, on the air to promote a charity event he organized, had his right pinky finger in a splint.
A broken finger kept Woolfolk out of Michigan's 2010 spring game and a serious leg injury sidelined him for the entire 2010 season. So Lance had no trouble coming up with her first questions for Woolfolk: What happened? And, is it serious?
Woolfolk laughed off Lance's concerns, and insisted the injury -- a dislocation suffered in a recent 7-on-7 practice -- wasn't severe.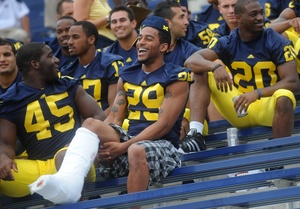 AnnArbor.com file photo
Even if Woolfolk's prognosis wasn't accurate, short of the finger actually being ripped off, it really shouldn't hinder the his effectiveness at the cornerback position.
The bigger question surrounding Woolfolk's health coming into his fifth-year senior season will be if he's fully recovered from the ankle dislocation and fibula fracture that kept him from anchoring the Wolverine's secondary, as expected.
That concern was heightened when Woolfolk was held out of the spring game this April. The senior-to-be insists he's back to full strength, and said on Friday that the injury may end up helping him in the long run.
Woolfolk's father, former Michigan running back Butch Woolfolk, stressed to his son the importance of film study and putting in the extra work away from the practice field. But it wasn't until his injury that Troy Woolfolk truly became a student of the game.
"It made it hit home. I think I took it for granted," Woolfolk said. "Once I got hurt, it allowed me to appreciate my position and maybe work harder to be a better athlete knowing that in one second it all can be taken away."
What made the 2010 season especially unbearable for Woolfolk was not being able to watch games with his teammates.
His leg injury was so serious that he couldn't stand on the sidelines on game day. He had to watch sitting or lying down, with his leg elevated.
Woolfolk had to suffer in silence as the Wolverine defense experienced the worst statistical season in program history, and hear the often scathing remarks of television commentators.
"It really frustrated me, not because I was hurt, but because my team was hurting as well," Woolfolk said. "Due to the fact that we weren't doing so hot, and that I could have been out there to help to contribute to help them be at least a little bit better. That just hurt.
"I felt like a let down the team a little bit by getting hurt.""
Staying healthy and earning back his starting spot is now a priority for Woolfolk. So is preparing himself for a possible professional football career. That's a dream he didn't have as a young boy in Sugar Land, Texas, when he really didn't care much for football.
Woolfolk didn't know about his father's Michigan exploits until he came to Ann Arbor and was educated by all the people calling him "Butch's son." When his older brother and dad would watch the Super Bowl, Troy would go to another room and play video games.
He knew his father played in the NFL and at Michigan, but didn't so much as Google his name to find out how good he was.
He didn't know Butch Woolfolk left Michigan in 1981 as its all-time rushing leader with 3,850 yards nor that he was a three-time, first-team All-Big Ten selection.
"I would have if I had an interest in football, but I really just wasn't interested in it and I really didn't like it that much," Woolfolk said.
He was more of a track guy. Before his junior year at Dulles High School, he nearly quit football, but his father convinced him to stick with it.
Woolfolk said he started loving and enjoying the game prior to that season and has ever since. Because it's a relatively new passion for him, he thinks he is less vulnerable to burnout.
"With burnout, some people lose their love of football, I'm just gaining it," Woolfolk said. "If I go pro, I think I'll still have a passion for the game, versus it being just a business."
Pete Cunningham covers sports for AnnArbor.com. He can be reached at petercunningham@annarbor.com or by phone at 734-623-2561. Follow him on Twitter @petcunningham.