Posted on
Tue, Aug 16, 2011 : 9:50 p.m.
Walk-on Nathan Brink's toughness earns him first-team reps on the Michigan football team's defensive line
By Kyle Meinke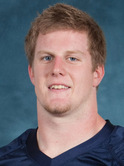 Michigan football
coaches have talked a lot in recent weeks about how they're trying to forge competition during fall camp.
They pulled the curtain back Tuesday on some of those battles.
The media was allowed to watch about 20 minutes of the team's practice, and some of that included stretching and warmups. But from the few sets that were run, there were a couple notable takeaways.
Most prominently, junior defensive tackle Will Campbell took snaps with the second-unit defense, and unheralded walk-on Nathan Brink took his place on the first team.
Brink is a relative unknown from Holland Christian. The sophomore redshirted in 2009, and his only appearance last year was as a reserve defensive end in a 65-21 win against Bowing Green.
But he put on about 17 pounds in the offseason, exceeding the coaches' goal of 15 pounds, and the 6-foot-5 sophomore now weighs about 267 pounds. It's a big reason why Brink's been able to rocket from an end-of-the-roster afterthought to running sets with the first team.
"I've just been working to compete every day," Brink said Sunday. "I came in a couple years ago at 220, so I've put on about 45 pounds since I've been here. It was a lot of work, but it was definitely worth it.
"(The new coaching staff) really challenges us and expects a lot out of us, but I appreciate it, and it's … it's Michigan."
Defensive coordinator Greg Mattison said Brink was discussed among the coaches during the spring because of his toughness and coachability up front.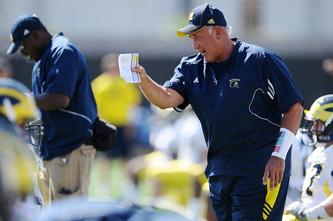 Melanie Maxwell | AnnArbor.com
"I hate to talk about a young man because, when I do, he goes down the tubes. But, this guy has come out every day as tough as he possibly can," Mattison said Tuesday at his weekly news conference. "Michigan people are going to be happy about him.
"He shows that want-to, that toughness, and that's what we want. What we need is 11 guys playing with the attitude he's shown."
Brink's name first was mentioned by Michigan coach Brady Hoke on Sunday during the team's media day. Hoke said he likes Brink's physicality, and thought he stood out during spring practices.
"He's going to be able to help us," defensive line coach Jerry Montgomery said Sunday. "There's still a lot of competition going on and you don't know how it's going to end up, but he's working extremely hard."
Coaches have a way of lauding players during camps, but it was notable to see Brink, who wasn't even all-state honorable mention at Holland Christian, slotted ahead of Campbell, one of the country's top defensive tackles at Detroit Cass Tech.
Campbell, who has five tackles in two seasons and often been relegated to special teams duties because of inconsistent play and effort, has been mostly a bust so far at Michigan. However, he has been complimented this offseason for his renewed commitment to weight loss and technique.
The media's session during practice was brief, and it's only the second week of camp, so it's important not to draw too much from Brink playing ahead of Campbell.
Still, Hoke said Sunday this would be a pivotal time of camp, because it's the team's first full week with full pads, there are three two-a-days and there is a scrimmage Saturday. He hopes to make out his first two-deep roster around that time.
So, Brink getting reps at this juncture does mean something — if he's not a candidate for playing time, then at least there is a message being sent to Campbell. Either way, that's significant.
It also wasn't the only surprise on the defensive line.
Sophomore defensive end Jibreel Black took snaps with the first unit, and returning starter Craig Roh was with the second unit. Mattison said last week Black has been impressive in camp, but needs to be more consistent.
True freshman Brennen Beyer, who also has drawn praise from the coaching staff, was at defensive end/outside linebacker with the first unit.
Elsewhere on the defense, senior Troy Woolfolk and sophomore Courtney Avery started at cornerback with the first unit, and junior J.T. Floyd, a starter the first nine games last year before suffering a season-ending ankle injury in practice, was with the second team.
Hoke has said no one has locked up a starting spot in the Michigan secondary, and that Avery and Floyd, in particular, are battling for the corner job opposite Woolfolk. Terrence Talbott also could factor in there.
Kyle Meinke covers Michigan football for AnnArbor.com. He can be reached at 734-623-2588, by email at kylemeinke@annarbor.com and followed on Twitter @kmeinke.