Posted on
Sat, Nov 14, 2009 : 5:59 p.m.
Wisconsin hands Michigan football team its 6th straight Big Ten loss
By Dave Birkett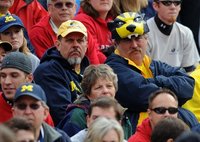 MADISON, Wis. - They worried about
John Clay
and Wisconsin's big, physical offensive line all week, and, in the end, the Michigan football team figured its best defense was to make quarterback
Scott Tolzien
beat them. He did.
Tolzien threw for 240 yards and four touchdowns and added a rushing score for good measure as Wisconsin wore down reeling Michigan at Camp Randall Stadium, 45-24.
The loss - Michigan's sixth straight in the Big Ten - leaves the Wolverines one win from bowl eligibility heading into next week's showdown with 10th-ranked Ohio State.
Michigan (5-6, 1-6) hasn't beaten the Buckeyes since 2003, and is on the verge of its first back-to-back losing seasons since 1962-63.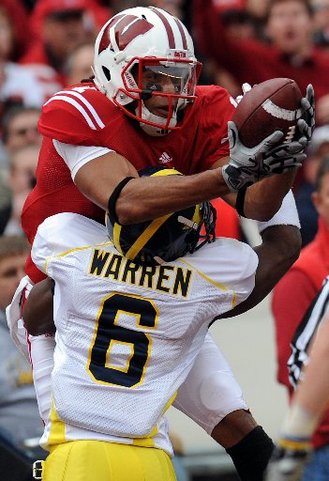 "This is the biggest game of the year, every year, and our guys know that," Michigan coach Rich Rodriguez said. "We got a lot at stake. It's at our place, it's our seniors' last home game. I'm sure we'll have a great week of practice. The focus this week should be great. I just hope the play next Saturday is." This Saturday, Michigan played, at best, mediocre football. The Wolverines couldn't get off the field on third down, couldn't sustain anything offensively and again fizzled in a dreadful second half. Wisconsin scored on its first four second-half drives - Michigan's only "stop" came when the Badgers took a knee on the final play of the game - and controlled possession for nearly 23 of 30 second-half minutes. In its last four games, losses to Penn State, Illinois, Purdue and Wisconsin, Michigan has been outscored 99-19 in the second half and outgained 1,122 yards to 598. "I just didn't like how we came out the second half and just let it go," defensive end Brandon Graham said. "We were right there. I know we kept working hard and kept pushing, but it just wasn't going our way." Rodriguez promised to evaluate "everything; players, scheme … to come up with answers," but he's tried that in recent weeks, too. Michigan made several lineup changes Saturday, starting Obi Ezeh at middle linebacker for the first time in three weeks and benching safety Mike Williams. Linebacker Brandon Smith started in Williams place, giving the Wolverines' an eight-man front to try and stop Clay. "Reaching," Rodriguez said. "I think they're really, defensively, really reaching to find an answer to try to stop them." Forced to the air early, Tolzien had his most productive day of the season. He completed 16 of 24 passes, and his four touchdowns - two to
Nick Toon
and one each to tight ends
Garrett Graham
and
Lance Kendricks
- matched a career high. Michigan stayed close for a half despite of its own shortcomings. The Wolverines failed to convert a first-and-goal from the Wisconsin 6 late in the first quarter. Two Brandon Minor runs moved the ball to the 1, but quarterback Tate Forcier ran a designed sweep for a 1-yard loss on third down and Jason Olesnavage had his 19-yard field goal blocked after Wisconsin declined a delay-of-game penalty. Jordan Kovacs intercepted a Tolzien pass three plays later at the Wisconsin 25, but Michigan had to settle for a 37-yard field goal when it failed to pick up a first down. Wisconsin's next series nearly stalled at midfield, but Smith was called for roughing the punter on fourth-and-20 and Tolzien found Toon five plays later to give the Badgers a 14-10 lead. Ryan Van Bergen scored on a fumble return in the second quarter for Michigan, but Clay punched in a 1-yard run just before halftime and Wisconsin never trailed again. Clay finished with 151 yards rushing, including 109 in the second half. "I think the most impressive thing was the very last drive we had when they were loading up the box," Tolzien said. "They knew we were going to run the ball, we knew it, and our offensive line just took it to them in the back. We finished the game off strong." Vincent Smith, playing most of the game in place of the injured Minor, finished with 82 total yards for Michigan and scored on a 21-yard pass. Forcier was 20-of-26 passing for 188 yards and two touchdowns. He started at quarterback after a mid-week spat with Rodriguez over practice habits and a missed study table led to Internet rumors that Denard Robinson would see more playing time. Robinson played some quarterback and made his first career start at running back, leading the Wolverines with five carries for 36 yards. "I'm going to do what I have to do to get (the seniors) to a bowl game, but I'm going to get them to a bowl game," Forcier said. "If it's spending 10 hours in film this week, I'm going to do that. But we're going to get them to a bowl game and we're going to come out and do what we can do against Ohio State."
Dave Birkett covers University of Michigan football for AnnArbor.com. He can be reached by phone at 734-623-2552 or by e-mail at davidbirkett@annarbor.com. Follow him on Twitter @davebirkett.