Posted on
Thu, Apr 15, 2010 : 4:52 p.m.
Michigan softball pitcher Jordan Taylor changes motion, finds perfection
By Michael Rothstein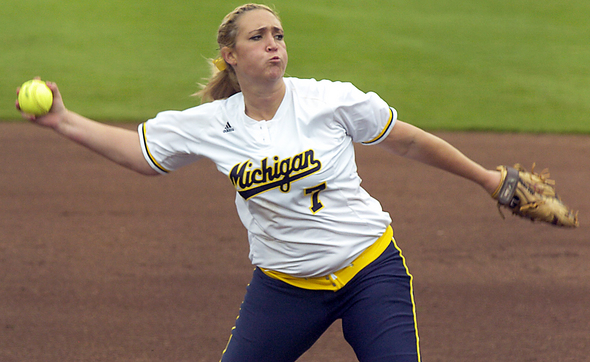 Jordan Taylor found out she needed to change the way she pitches one month ago. The tough part: It happened in the middle of a game.
Pitching for the Michigan softball team in Southern California against Texas on March 20, Taylor threw illegal pitch after illegal pitch - 33 of them by her count. She'd throw a strike, and the umpires called it illegal and an automatic ball.
The play-by-play looked like a middle schooler was pitching. Or similar to when Taylor, a junior right-hander, first learned to pitch.
"It was extremely frustrating," Taylor said. "It happened the day before, and I just gave up because literally on every pitch they would call it, no matter what I did. I could throw a perfect strike and they could call an illegal pitch and it ends up being a ball and if there are runners on base, they could move around.
"I was walking runners in. Someone could get on, they'd call three illegal pitches in a row and the person has walked right around the bases."
The problem came in Taylor's pitching motion, the same motion she learned when she forced her parents to move her from the outfield to pitching at age 12. She crow hopped, meaning she'd take a small forward hop or step off the mound.
She'd been called for it before - and her style is common among pitchers - but never like this. So when Michigan returned from the Judi Garman Classic - also the last time the No. 2 Wolverines (31-5) lost a game, a 5-2 loss to Texas - Taylor and Michigan coach Carol Hutchins decided she needed to make a change.
Instead of crow hopping, Taylor had to learn how to drag. In the middle of a season. In the middle of her Michigan career. It left Hutchins concerned.
"Absolutely. It's unfair to them. You can't change things in the middle of the season for these kids," Hutchins said. "Especially pitching, which is such a repetitious activity. Kids throw 200 pitches a day for years, and she's been pitching this way since she can remember.
"So to ask her to now make a change in the middle of her career, in the middle of a really great season for her, and she's not all the way there but she's really worked at it."
The discussion took place in the practices prior to Michigan's home opener on March 24. Every bullpen session Taylor threw, she'd work at keeping her foot down. In the process, she'd try and keep her velocity and hit her spots.
Gradually, she grew comfortable. She slowed her motion in the bullpen sessions in order to understand and learn the movement - the first major change she made since she was in her early-teen years when she was sending pitches over the backstop.
"I've thrown at least a million pitches in my career," Taylor said. "And it's all been the same way. So to come back and completely learn a different style of pitching, it's interesting."
It also seems to work. Despite learning the different motion, Taylor pitched a perfect game Saturday against Minnesota - the fifth in Michigan history - in a game she called one of the better ones she's had this year.
She faced 15 batters and struck out 10, the peak so far in a season where she's gone 16-2 with 1.17 ERA and 190 strikeouts. Just three Minnesota batters even came put enough pressure on Taylor to force three balls and set up the potential for a walk.
Her control was back. Her motion was changed. She, once again, felt comfortable throwing the ball.
"The most impressive thing to me was no walks," Hutchins said. "Even more so than no hits. Throwing a no-hitter is pretty awesome, don't get me wrong, but the ability to keep the ball away from their bats to hit it yet not put them on base, that's fabulous."
Michael Rothstein covers University of Michigan sports for AnnArbor.com. He can be reached at (734) 623-2558, by e-mail at michaelrothstein@annarbor.com or follow along on Twitter @mikerothstein.