Posted on
Wed, Jan 26, 2011 : 10:54 a.m.
Argo Dam control system fails, causing Huron River to rise and fall quickly
By Edward Vielmetti
Water levels on the Huron River began fluctuating wildly late on Saturday, according to a stream gage monitored by the US Geological Survey. At peak flow levels, water discharge reached near 700 cubic feet per second, a high water mark with conditions that make it difficult and dangerous to wade in the river. At the low water mark, less than 70 cubic feet per second of water went down the river, leaving the bottom of the river mostly dry. Tom Weaver of the Michigan Water Science Center confirmed that the gauge was reading properly and was not malfunctioning.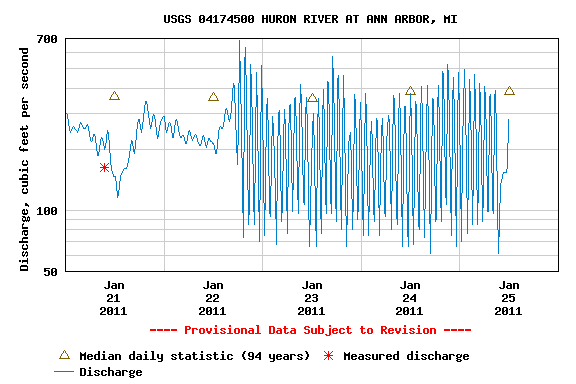 US Geological Survey
The gates on the dam were switched to manual control mid-day Tuesday in an attempt to even out the flows while the system was being worked on. Technicians replaced a failed transducer at the
Argo Dam
on Tuesday afternoon, according to
Molly Wade
, water treatment services manager at the City of Ann Arbor. The problems with the control system persisted overnight, and river levels are still in a state of rapid flux as of Wednesday morning. A crew was on site this morning, working to diagnose and repair the system.
Edward Vielmetti | AnnArbor.com
A transducer is a pressure gauge used to measure water levels on Argo Pond. The transducer is placed in a stilling well, which draws water from the pond through intakes beneath the pond's surface. Signals from the transducer are sent to control systems at the dam which cause the gates on the dam to move, letting more or less water downstream in order to keep the pond at a constant level. If the transducer fails, or if the intake valves are blocked by debris, ice, or zebra mussels, the water level as measured at the dam will be incorrect.
The control systems on Argo Dam have failed before, with similar results. In April 2010, the river's flow went from 50 cubic feet per second to more than 1,000 cubic feet per second in a few hours. Rapid water rises cause anglers wading in the river to scramble for the banks, and rapid water drops leave canoeists beached on river bottom mud. The Huron River Watershed Council, led by executive director Laura Rubin, conducted public meetings last July to discuss river fluctuations.
Aquatic biologist Dave Fanslow noted the poor flow management of the river in an electronic mail message on Tuesday to the watershed council. In a telephone interview, he described the impact of these extreme flow variations on the mayflies, caddis flies, and stoneflies that provide food for fish on the river.
"The dam needs some tweaking if it's going to stay," said Fanslow, noting that these issues were "ampiflying the environmental degradation" associated with dams.
Edward Vielmetti writes about the Huron River for AnnArbor.com. Contact him at edwardvielmetti@annarbor.com.